STUDENTFILMMAKERS: What changes have you seen in the computer animation and VFX industry over the years?
Lee Lanier: When I began working as a 3D animator, in 1994, there were only a few places that possessed the technology usable for film – Los Angeles and San Francisco. Now, 3D animation software is available to everyone at a much lower cost; so there are major VFX studios as well as independent 3D artists in just about every country in the world.
STUDENTFILMMAKERS: How do you look at a shot and determine what is important?
Lee Lanier: It comes down to story. What mood do you want to create? What part of the scene do you want to highlight?
STUDENTFILMMAKERS: What are your Top 3 Tips for Lighting in 3D?
Lee Lanier: Lighting in 3D is similar to lighting in real-life. Study the basics of lighting in traditional painting, photography, and cinematography.
Here are 3 tips:
(#1.)   Set one light at a time, starting with your key.
(#2.)   Be selective with your shadows. Not every light needs to cast a shadow. This is one advantage of 3D over the real world.
(#3.)   3-point lighting is often discussed but is not an all-encompassing solution. For many scenes, it does not work. For example, sometimes 1-point, 2-point, or naturalistic – arbitrary number of lights used to replicate lighting at a real location – lighting works better.
STUDENTFILMMAKERS: What advice would you give to students wanting to break into this industry?
Lee Lanier: Stay as flexible as possible. Look for opportunities in your home city, and well as other parts of the world. Assign yourself extra homework to help round out your demo reel. Keep up with software trends – the learning should never stop.

Pictured above: A still from "Shrek," which Lee Lanier lit and composited.

Pictured above: A still from "Welcome To Your Own Private Hell," a 360 VR short Lee Lanier produced and animated.

Book Spotlight
Aesthetic 3D Lighting:
History, Theory, and Application, 1st Edition
By Lee Lanier
Aesthetic 3D Lighting: History, Theory, and Application delves into the history, the theory, and the practical and aesthetic application of lighting in the fine arts and 3D animation. In this book, animation industry veteran and lighting expert Lee Lanier examines the importance of lighting and its ability to communicate information to the viewer. Lee examines the history of lighting as applied to the fine arts, film, photography, and 3D animation. He discusses the use of light color, light location and direction, and light shadow types to recreate specific locations and to generate moods. He includes guides for successful lighting in 3D animation. Software-agnostic examples lead you through useful 3D lighting set-ups. Chapter-long case studies step you through more complex 3D lighting projects in Autodesk Maya. An accompanying eResource (www.routledge.com/9781138737570) features 3D model files, scene files, and texture bitmaps, allowing you to practice the discussed techniques in Autodesk Maya and many other 3D programs. The lighting techniques covered in this book include:
History of lighting as used in the fine arts
The scientific mechanisms of light
Light types and light application in 3D programs
Light qualities including shadows variations
Basic and advanced 3D lighting approaches
1-, 2-, 3-point, naturalistic, and stylistic lighting techniques
Replication of real-world lighting scenarios and locations
Overview of advanced 3D lighting and rendering systems
Order your copy of "Aesthetic 3D Lighting" at the StudentFilmmakers Online Store >>

Lee Lanier has worked as a professional computer animator and VFX (visual effects) artist since 1994. He has more than 70 features, shorts, music videos, trailers, and commercials to his credit. Lee has written a dozen high-end software books that have sold more than 35,000 copies, has authored VFX training videos for LinkedIn and lynda.com, has taught VFX compositing at the Gnomon School of Visual Effects in Hollywood, and is a member of the Visual Effects Society. A strong supporter of the arts, Lee co-founded the Dam Short Film Festival and is an avid painter and illustrator.
beezlebugbit.com; diabolica-art.com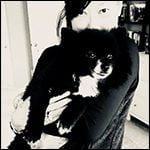 Interview conducted by Jody Michelle Solis. Associate Publisher for StudentFilmmakers Magazine (www.studentfilmmakers.com), HD Pro Guide Magazine (www.hdproguide.com), and Sports Video Tech (www.sportsvideotech.com) Magazine. "Lifelines, not deadlines. Motion Arts. Fusion Everything." If you're in Dallas, sign up for Jody's Yoga Class.