Announcing an exciting opportunity to learn lighting techniques from an expert in the field, Peter Stein, ASC.
StudentFilmmakers.com and StudentFilmmakers Magazine is proud to announce the Lighting to Create a Mood, with Peter Stein, ASC, which will take place in New York, New York on Saturday, March 5, 2011, from 1:00pm to 5:00pm, at the StudentFilmmakers Workshop Studio, 1123 Broadway, Suite 307, New York, New York, between 25th & 26th Street.
This event will feature a four-hour workshop led by Peter Stein, ASC. He will be demonstrating lighting techniques to achieve different "looks" and create moods with light.
"With the new technologies at hand, current film students have the chance to be the innovators creating the newest and most daring styles in future filmmaking." -Peter Stein, ASC
When:
Saturday, March 5, 2011, 1:00pm - 5:00pm
Where:
StudentFilmmakers.com Workshop Studio
1123 Broadway, Suite 307, New York, NY 10010
(entrance open at 1133 Broadway on weekends)
Schedule:
12:30pm
Check-in and Networking
1:00pm-5:00pm
Workshop
Cost:
$175.00. Early bird registrants receive $25 off. Register online now! Click here to sign up and receive the early bird discount. (Students with ID receive additional 10% off.) We have limited seating and registration is on a first-come, first-serve basis.
Program Details
Understanding basic 3 point lighting. We will use small lighting units including softlights, fresnel (lensed) lights and open face lights.
Hard light and soft light. What are the benefits and problems of each type? We will change a hard light into a softlight.
When to use fresnel lights and when to use open face lights.
How to cut lights with barndoors, flags and nets. Using the barndoors of a lamp is not as simple as it may seem to control the light - especially if the light is diffused. Placement of the net or flag is also important in controlling the light.
Where to place the key light to help achieve the desired look.
The ratio of the key to fill.
How to make a background more interesting.
If time permits - the use of color.
Who Should Attend
Student and professional film and video makers are encouraged to attend this continuing education workshop and exciting networking opportunity.
What Will You Learn?
Creating and controlling light is at the heart of cinematography. Whether it is a drama, a comedy, or a mystery, the way a scene is lit will determine the mood, and help to shape the story.

In this workshop, Peter Stein, ASC will demonstrate some techniques to achieve different "looks" and create moods with light. These concepts can be utilized on productions of any scale.
Quality of Light
Lighting Control
Direction of Light
Lighting Ratios
Lighting Backgrounds
Click here to register online today, or call (212) 255-5454.
As the Director of Photography on over 50 feature films, TV movies, and documentaries, Peter Stein, ASC has photographed classic cult films in various genres, including comedy and horror, as well as major studio and independent releases, and noted documentaries. He was invited to join the prestigious American Society of Cinematographers in 1999.
One of his first feature films as a Director of Photography was the horror film classic Friday the 13th Part 2, the second largest grossing film in 1981 for Paramount. He then went on to shoot the literary comedy Reuben, Reuben for 20th Century Fox, which was nominated for two Academy Awards: Best Actor, Tom Conti, and Best Screenplay, Julis Epstein (Casablanca), and was the film debut of the actress Kelly McGillis.
Among other horror genre films he shot are Stephen King's blockbuster hit Pet Sematary, C.H.U.D. and Steven King's Graveyard Shift. He was the DP on two of Touchstone's children's movies, Ernest Saves Christmas and Ernest Goes to Jail and New Line's hit children's comedy Mr. Nanny starring Hulk Hogan and Sherman Helmsley. Among other films he shot are Paramount's football comedy Necessary Roughness with Scott Bakula, Robert Loggia and Kathy Ireland, and Orion's A Great Wall, directed by Peter Wang, the first Chinese/American co-production.
His TV films include Izzy and Moe, with Jackie Gleason and Art Carney, The Con starring William Macy and Rebecca De Mornay, The Last Fling with John Ritter and Connie Selleca, Parent Trap Two with Haley Mills,and Private Contentment with Peter Gallagher for PBS' American Playhouse - directed by Tony Award winning director Vivian Matalon. Peter also lensed the groundbreaking NBC special event mini-series Under Siege with E. G. Marshall, Hal Holbrook, and Peter Strauss, and was nominated for 2 Emmy Awards.
He has photographed numerous documentaries such as the critically acclaimed A Midwife's Tale for PBS' American Experience and the feature documentary Just Crazy about Horses which played theatrically in New York and LA. Among other documentary work is HBO's Laughs and The Mystery of the Morro Castle. He also shot the PBS documentary Tupperware which was the front cover story in theSunday NY TIMES television section.
Peter Stein, ASC has taught at SUNY Purchase and The School of Visual Arts, and has lectured on cinematography at many of the area's universities. He has been on the NYU graduate faculty since 2002 where he is Head of Production. Currently he is producing and directing a documentary film for American Public Television about his father the noted photographer Fred Stein.
StudentFilmmakers.com is dedicated to helping both new-and-emerging filmmakers and working professionals in the motion picture industry advance in their careers, keep abreast of ever-changing and evolving technologies, and learn real-world, practical, and must-have skills necessary to work in the motion picture industry.StudentFilmmakers.com also serves as a place for filmmakers and members of the motion picture industry to network with each other, staff members of StudentFilmmakers.com, workshop leaders and speakers, and company partners. StudentFilmmakers.com offers practical seminars and interactive workshops developed for industry and taught by industry professionals, university professors, and A-List and award-winning filmmakers. Workshops feature Q&A sessions with speakers, and short, intensified programs.
Join us in New York, NY, on Saturday, March 5th for a four-hour Lighting to Create a Mood Workshop with Peter Stein, ASC.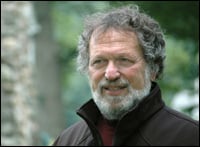 Sponsors:
"As a Director of Photography one should always go into a lighting set-up with a firm plan in mind, but be ready to throw it out the window if necessary. It is often the innumerable chance occurrences that happen as the lighting progresses that are the stuff that brilliance is made up of." -Peter Stein, ASC
Credits Include:
FEATURE FILMS
Mr. Nanny - Comedy, starring Hulk Hogan, New Line Cinema, 1993
Missing Pieces - Comedy starring Eric Idle and Lauren Hutton, Orion Pictures, 1991
Necessary Roughness - Comedy starring Scott Bakula, Paramount Pictures, 1991
Stephen King's Graveyard Shift - Paramount Pictures, 1990
Ernest Goes to Jail - Comedy starring Jim Varney,Touchstone Pictures, 1990
After the Rain - Starring Ned Beatty, Brian Keith, New Century Vista, 1990
Pet Sematary - written by Stephen King, Paramount Pictures, 1989
Ernest Saves Christmas - Comedy starring Jim Varney, Touchstone Pictures, 1988
The Wild Pair - Starring Beau Bridges, Trans World Entertainment 1987
A Great Wall - Orion Pictures, 1986
Billions for Boris - Starring Lee Grant, Comworld Pictures, 1985
Wildrose - Starring Lisa Eichorn and Tom Bower
C.H.U.D. - Starring John Heard, Daniel Stern, New World Pictures, 1984
Reuben, Reuben - Starring Tom Conti and Kelly McGillis, 20th Century Fox, 1983
Friday the 13th - Part 2 - Paramount Pictures, 1981

TV MOVIES
Cold Feet - TV Pilot, NBC
The Con - USA Movie, 1998
A Midwife's Tale - The American Experience - PBS, 1996
Harambee! - PBS, 1996
Desparate Choices - NBC, 1992
Night Visions - MGM Television for NBC, 1990
The Call - Showtime, 1989
Elvis and Me - New World Television, ABC, 1988
The Last Fling - ABC Movie of the Week, 1985
Under Siege - NBC Special Event, 1986
The Parent Trap 2 - ABC Disney Movie, 1986
Izzy and Moe - CBS Movie of the Week, 1985
Private Contentment - PBS Playhouse, 1982
A Good Dissonance Like a Man - PBS Special, 1977

DOCUMENTARIES
Brick by Brick: A Civil Rights Story - PBS 2007
Tupperware!, PBS Playhouse - 2004
Politics of Cancer - Theatrical Release - 1994
Streetsmart Kids - HBO Special, 1985
Laughs - HBO Special, 1981
Just Crazy About Horses - Theatrical Release - 1978
The Lighting to Create A Mood Workshop with Peter Stein, ASC is presented by StudentFilmmakers.com. Sponsorship opportunities are available. Contact Kim Welch 212.255.5454 or click here to fill out the contact form.
---
Workshop Photography and Recording Policy
Studentfilmmakers.com records the workshops using any media (Stills, Video, or Audio). By attending a workshop/class, the participant allows us to use his/her image(s) in any manner or media for the purpose of advertising and promotion, without compensation, further notice or consent. Any concerns must be in written notice and be received prior to the commencement of the workshop by StudentFilmmakers.com.
Workshop Cancellation and Refund Policy
Please read the policies regarding refunds, transfer credits and other important items before you register.
Withdrawals & Refunds
Registration fees are non-refundable unless a participant provides StudentFilmmakers.com with written notice that he or she intends to withdraw from a workshop.
* Written withdrawal notice must be received by the StudentFilmmakers.com at least Ten business days prior to the workshop.
* Withdrawals or requests for a refund may not be made by telephone.
* Please note that absence from workshop does not constitute notice of withdrawal.
* An administrative fee of $25 will be deducted from the refund amount.
* Payments by credit card will be processed only as a refund to the same card.
No Show
When a participant is confirmed in a workshop and fails to attend, the participant will be charged the full workshop fee.
Workshop Cancellations
StudentFilmmakers.com reserves the right to cancel any Workshop.
When a Workshop has been cancelled by StudentFilmmakers.com, full refunds are offered to all registered participants.