StudentFilmmakers.com talks with Independent Filmmaker Jared Isham on Zoom. Interview conducted by Jody Michelle Solis, Associate Publisher/Editor for StudentFilmmakers Magazine.
Jared Isham (Bounty, 2009; Turn Around Jake, 2015) is an independent filmmaker and head of motion pictures at Stage Ham Entertainment. He also creates videos focused on helping filmmakers to make better films on a micro-budget. We first met Jared back in 2004 in the StudentFilmmakers.com Filmmakers Forums. Sixteen years later, we ask Jared about changes in independent filmmaking and how he obtained distribution for his independent film, Bounty.
We asked Jared these 3 Questions:
Question #1:
How have you seen independent filmmaking change over the years and since you graduated film school in 2004? What are the most important things?
Question #2:
How have you seen independent filmmaking change over the past 10 months? And what are your thoughts on how some productions and projects, ranging from web to film to television, have been utilizing solutions, tools, and alternatives such as: remote filmmaking; VR, VFX, and animation; mobile media and portable gear, and apps like Zoom?
Question #3:
How are you navigating and keeping active and creative during these COVID pandemic months? Can you share some inspirational words with fellow filmmakers and creatives?
Jared Isham's official websites:
www.jaredisham.com
www.stageham.com
Watch and subscribe to Jared Isham's YouTube Channel:
www.youtube.com/user/jisham​
Explore the StudentFilmmakers.com website:
www.studentfilmmakers.com
Student Filmmakers Magazine, 1-Year Print ( Poly Bag ) Subscription.
Sign up today:
studentfilmmakersstore.com/products/sfm
StudentFilmmakers Magazine Digital Collection:
Get 80 Digital Editions!
studentfilmmakersstore.com/products/studentfilmmakers-magazine-digital-collection-80-digital-editions
Sign up for the StudentFilmmakers Digital Newsletter:
studentfilmmakers.com/signup-studentfilmmakers-magazine/
Subscribe to the StudentFilmmakers Magazine YouTube Channel!
www.youtube.com/c/StudentFilmmakers
Follow StudentFilmmakers' official instagram @studentfilmmakers
Tweets @StudentFilmMag
Join Filmmaking Discussions Online in the Filmmakers Forums:
studentfilmmakers.com/forums
Create Your Free Profile in the Filmmakers Networking Community Online:
networking.studentfilmmakers.com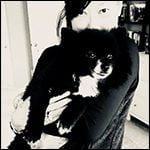 Interview conducted by Jody Michelle Solis. Associate Publisher for StudentFilmmakers Magazine (www.studentfilmmakers.com), HD Pro Guide Magazine (www.hdproguide.com), and Sports Video Tech (www.sportsvideotech.com) Magazine.
"With the rapid application of the changing technologies, we are all students."
Recommend

0

recommendations
Published in Interviews