StudentFilmmakers Magazine: Can you tell us a little bit about the evolution of copyright as it relates to photography/film/music?
Michelle Bogre: This is a dense topic.  I will start with a few key ideas.
Copyright is an intangible right that protects the expression of an idea once it is "fixed" in a tangible medium – paper, film, digital sensor, computer memory.
You get a copyright the moment you fix your expression. You don't have to do anything else, although you should register your work with the Copyright Office. The only exception to this is if you are an employee or you have signed a work for hire agreement in which case the employer owns all the copyright.
Copyright lasts 70 years after the death of the author.
Copyright allows you the exclusive control of the reproduction and distribution of your work and that includes all digital distribution. It also allows you to control derivative works, which are works that re-uses another work to create a new work and all public performances and public displays of your work.
The Copyright Office website, www.copyright.gov is a great resource.
One of the main concerns that photographers have today is how to protect their work once it's posted on social media. Honestly, you really can't protect it completely.  We live in a world where creators and users are often the same and where we almost cannot imagine a day without "sharing" knowledge or artistic works that we find on our social media feeds even though that "sharing" most likely violates copyright law. Once a work is posted online, it can be easily republished and redistributed by a simple right click without the owner's consent.
The Digital Millennium Copyright Act, (DMCA) which became part of the Copyright Act in 1998, was an attempt to protect both internet service providers –to ensure a robust and innovative internet – and the economic rights of copyright holders whose livelihoods are threatened when work is illegally shared rather than licensed.  The DMCA has failed to live up to its potential to protect creators, because although it provides a mechanism by which a copyright holder may initiate a notice to have work taken down (because it was posted without permission), the process imposes an undue burden on the copyright holder.  The DMCA succeeds in section 1201 which imposes consequences if anyone removes metadata, for example, from a photograph.  Damages for doing this can be monetary – between $2500 and $25,000 and in egregious cases, even a jail sentence of up to give years.
What happens to work posted on social media is less clear. In one instance, photographer Daniel Morel won a large settlement against Getty and AFP.  He had been in Haiti during the earthquake in 2010 and sent 15 of his best images out via a now defunct Twitter service called TwitPic with information on how to contact him if anyone wanted to license the photographs.  Another photographer downloaded them, put his name on them and reposted them. AFP and Getty picked up those images and distributed them (with the other person's byline) to their client list.  Morel sued both Getty and AFP, which argued that Morel had forfeited his copyright because he sent his images out via Twitter.  The court rejected AFP's argument, awarded Morel a seven-figure amount, reinforcing that a photographer does not forfeit copyright by posting work on social media.
However, in a more recent case, Pulitzer prize winning photographer Stephanie Sinclair lost her case against Mashable. (Sinclair v. Ziff Davis, LLC, No. 18-CV-790-KMW, 2020 WL 1847841 (S.D.N.Y. Apr. 13, 2020)) Mashable had contacted Sinclair for permission to use one of her images and offered to pay $50.  She said no.  Undeterred, Mashable found the image on Sinclair's public Instagram account and posted it on their website via an embedding process (which means they inserted code into their site that displayed Sinclair's Instagram post).  Based on a reading of a series of highly complex, arcane, convoluted and interconnected documents that govern Instagram users, the court ruled that because Sinclair had made her Instagram "public" she essentially granted all Instagram users a license to "embed" her images because they were publicly posted content.  Even though this case is highly fact specific, it muddies the water about what can happen legally to work posted on social media platforms.  So, what is a photographer to do? Making Instagram posts private defeats the purpose of using the platform to remain visible to potential clients. A simple solution would be for Instagram to allow a "do not embed" option for its users.  We will see what it does.
StudentFilmmakers Magazine: What are the most important skills a documentary photographer must possess?
Michelle Bogre: First, it's obvious that photographic skills are important. You should know everything about your camera so using it in the field becomes rote. You don't want to miss a shot because you are fumbling with dials. Embrace technology, but don't obsess about it.  The camera doesn't make the photograph, you do.  You also must have business skills if you want a successful career as a photographer.  Learn as much as you can about business and copyright law because your photographs are your assets and you need to know how to protect them.
A life as a documentary photographer can be the greatest luxury.  Our work allows us to engage with the world and the people in it in a deep and intense way.  So, on a more esoteric level, today, I think a strong sense of ethics – maybe more of a characteristic than a skill – is paramount. When we post work, it is simultaneously shared with thousands or millions of people, and once posted, remains available somewhere in the virtual sphere forever. Because documentary photography will always be rooted somewhere in the ether of reality, someone or something other than the photographer will always be at the center of the practice and that imposes accountability.  We tiptoe in and out of  people's lives and with that privilege comes an obligation to always consider whose truth our photographs represent, whose story we are telling and why we are telling it.
Finally, on a lighter note, learn to drive a stick shift.  You never know when that will come in handy.
StudentFilmmakers Magazine: What was one of the most important things you learned photographing on location?
Michelle Bogre: To be organized and prepared for anything, that is, to not overthink the story before I get there, or get rattled if equipment malfunctions, or someone doesn't show up, or the weather changes or my jeep breaks on a deserted mountain road in Haiti and the only tools I have are a roll of gaffers tape and a Swiss Army knife.  You just have to roll with it, or as we like to say, always have a Plan B (or C or D).
StudentFilmmakers Magazine: If you could share your Top 3 Tips for aspiring documentary photographers, what would they be?
Michelle Bogre:
(#1.) Be curious. Curiosity may kill the cat, but it will save the photographer. Talk to everybody.  Read newspapers, magazines, novels, non-fiction stories, whatever,  because you never know where you will find your next story.
(#2.) Be persistent. Never take no for an answer. Keep asking until you find that one person who will say yes.
(#3.) Make images every day.  Every single day.
Photo by Michelle Bogre. Bud Adams, 4th-generation cattle rancher, Ft. Pierce, FL. Bud Adams, who runs Adams Ranch, the 15th largest cow-calf ranch in the USA,  is committed to preserving the natural vegetation and wildlife and its Florida heritage through environmental stewardship and a program of total ranch management. His goal now after a lifetime of farming is for his farm to continue.  As he wrote in his book, A Florida Cattle Ranch, "No one has a greater stake in preserving the land in its natural condition than those whose families have lived for generations with its endless change, its perpetual beauty and its occasional cruelties…Whoever owns and uses the land merely holds it in trust for future generations."
Artist's Statement
The Farm Stories: Against All Odds
By Michelle Bogre
In 1935, America had 6.8 million farms. In 2019 fewer than 2 million farms remain with less than 600,000 of them true "family" operations.  We lose about 4000 acres of productive farmland to development daily. Some sources estimate that 300 farmers leave their land every week, a number that increased significantly in 2019 when farm debt rose to $416 billion dollars. More than half of all farmers have lost money every year since 2013 and median household income from farming in 2018 was negative $1735. However, the average farm family income is $76,000 because to survive, the average family farmer must rely on off farm income. Farmers are aging – the average age in 2018 was 58.3 – and fewer than a third have an identified younger family member willing to farm.
Photo by Michelle Bogre. Leo Smith, crawfish farmer, Gueydan, LA. Leo Smith runs 2500 crawfish traps on 176 acres of land on which he previously grew rice.  He sets out to pull his traps well before dawn." Every sunrise and every sunset is just amazing.  I see them all. If you've missed the sunrise, you've missed the best part of the day," he says.
Farming is hard work for limited revenue.  As one farmer in the West said to me, "You don't have to go to Reno to gamble.  Just become a farmer." Even so, most farmers wouldn't choose to do anything else.  In clichéd terms farmers are the heart and soul of America, the blood that flows through its veins.  In less clichéd terms, family farms are important to American culture because farmers are stewards of the land, the last holdouts against the corporate behemoths that are destroying our food and polluting our land.
Photo by Michelle Bogre. Edwin Miller, 3rd generation rice and crawfish farmer, Gueydan, LA. "What I love about farming is the interaction with the crop that I grow and the harvest I have," says 3rd generation farmer, Edwin Miller who manages 500 acres of rice and 100 acres of crawfish in Gueydan, LA.  "It's not the money at the end.  If I break even and live all year, I'm happy because I get to do what I want to do when I want to do it. I don't have to answer to anybody.  It's a good way to live."
Ironically at a time when the real farming statistics are alarming, the consumer interest in supporting family farms (as opposed to corporate farms, whose ownership of U.S. farms increased by more than 46 percent between 1974 and 2002 ) is higher than ever. Americans recognize that safe, fresh and sustainably grown food is important to their health and our national security.  Eighty-two percent of Americans are somewhat or very concerned about the decreasing number of American farms, and 85 percent trust smaller scale farms to produce safe nutritious food more than they trust corporate farming.  They recognize that while family farms may never be as "efficient" as huge corporate operations, they do not pollute communities with massive amounts of pesticides, noxious fumes and excess manure. They also are far better stewards of the land than the developers who turn lush fields into McMansion developments.
Photo by Michelle Bogre. Molly Manzanares, sheep rancher, Tierra Amarilla, NM. Molly Manzanares checks on a herd of sheep, protected by the watchful eye of a shepherd, who stays with the flock, still grazed on wild land in the high mountains near Tierra Amarilla, New Mexico. Under the label Shepherd's Lamb, Molly and her husband, Antonio, are the only producers of certified organic lamb in New Mexico.
The Farm Stories is a long form documentary project that attempts to raise awareness of, and support for, family farms by focusing on the farmers themselves through portraits and video interviews.  My methodology differs slightly from what might be expected.  Rather than work through the Farm Bureaus in each state, or even just knock on doors, I only photograph a farmer if someone I know is connected to the farmer. Then that farmer introduces me to others in the locale so I have "hubs" of farmers.  Even though I live near and work in New York City, my immediate circle of friends, acquaintances and professional contacts initially generated a list of more than 160 farmers, and the list has continued to grow. This methodology makes a statement about how connected many of us still are to the land, and yields a more interesting and socio-economically diverse group of farmers, from crawfish farmers in Gueydan, LA, to poor sheep ranchers in Cedar Rapids, Iowa to successful sugar cane and cattle farmers in Louisiana.
I also decided early on to shoot medium format film and not to light the portraits in the field because just as farmers are impacted by the weather, so would I be.  The resulting images are more poetic, with color and tonal nuance that reflects the personality of the farmer.
Photo by Michelle Bogre. The Sottiles, sugarcane and cattle farmers, Donaldson, LA. Frank Sottile, (left) and son Frank, Jr. primarily run a 300 acre plus sugarcane farm in Donaldson, Louisiana, but like many farmers, they have additional revenue streams, such as raising prize Angus cattle.

Michelle Bogre, Esq. is a Professor Emerita from Parsons School of Design in New York City, where she taught photography and copyright law for artists and designers. She is the author of three other books: Photography As Activism: Images for Social Change, Photography 4.0: A Teaching Guide for the 21stCentury, and her newest, Documentary Photography Reconsidered: Theory, History and Practice.
www.michellebogre.com
Book Spotlight
The Routledge Companion to Copyright and Creativity in the 21st Century
Edited By Michelle Bogre and Nancy Wolff
"A helpful guide for lawyers and creators in all sectors of arts and entertainment, this collection assembles contributions from many of the leading figures in law practice and academia. The book offers a useful summary of copyright basics, then explores particular fields through a general introduction, contributor essays, and a "landmark case" illustrating the application of copyright norms to a dispute of legal and human interest. The concluding chapter forecasts future treatment of the key legal issues explored in this volume."
~Jane C. Ginsburg, Morton L. Janklow Professor of Literary and Artistic Property Law, Columbia University School of Law
These collected chapters and interviews explore the current issues and debates about how copyright will or should adapt to meet the practices of 21st century creators and internet users.
The book begins with an overview of copyright law basics. It is organized by parts that correspond to creative genres: Literary Works; Visual Arts; Fine Art; Music; Video Games and Virtual Worlds; Fashion; and Technology. The chapters and interviews address issues such as: copyright ownership in work created by AI; the musical remix market; is appropriation ever a fair use of a copyrighted work, or is it theft?; and should internet-based platforms do more to deter piracy of creators' works? Each part ends with an essay explaining the significance of one or two landmark or trend setting cases to help the reader understand the practical implications of the law.
Written to be accessible to both lay and legal audiences, this unique collection, addresses contemporary legal issues that all creators need to understand and will be essential reading to artists, designers and musicians, as well as lawyers who represent them.
Available for pre-order. Book will ship after November 30, 2020. Purchase your copy today!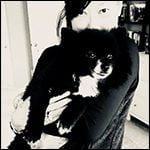 Interview conducted by Jody Michelle Solis. Associate Publisher for StudentFilmmakers Magazine (www.studentfilmmakers.com), HD Pro Guide Magazine (www.hdproguide.com), and Sports Video Tech (www.sportsvideotech.com) Magazine. "Lifelines, not deadlines. Motion Arts. Fusion Everything." If you're in Dallas, sign up for Jody's Yoga Class.