StudentFilmmakers Magazine: What was one of the most important things you learned on set in regard to location sound?
Michael Tierno: Getting great sound happens when location sound recording is given as much regard as cinematography. Perhaps the challenge in getting filmmakers to realize that sound is important stems from the fact that there is less of an individualistic stamp of how location sound recording is done, as compared to the way a DP might give a very distinct look to a film. But, nevertheless, great location sound can make the difference between a good or bad film. Period.  In Turn Back Night, (the film that the book, "Location and Postproduction Sound for Low-Budget Filmmakers",  is based on), the location recordings came out so rich and full of information, it will make for a finished film where you can experience the actor's performance which resides largely in their voices. An actor's voice is more than 50% of their total instrument in film; if you don't capture it in its full range, the audience won't experience the performance as well as it can be experienced. Good sound helps understanding the dialogue, and it also helps to feel the reality of the scene you're trying to communicate.
Michael Tierno: I also learned that a sound team will need the following:
"Sides" (script pages) for the day's shoot before beginning.
Let sound make the shooting environment more sound friendly (turn off refrigerators and air conditioners, close windows to shut traffic noise. Let them watch and practice booming during rehearsal, wait for traffic noise and/or airplanes to pass, etc.)
You can have your sound recordist create the file naming structure, time code, etc. The book goes into this.
If possible do some location scouting with them so they can listen to the locations and know what awaits them in terms of sound difficulties.
From a technical aspect, good location sound recording will have a strong "signal to noise ratio" of dialogue over any other sounds on the track like ambient noise, etc.  This signal to noise ration provides room to work with in postproduction.  Good location sound means dialogue is "on-axis" and evenly as far as booming technique. Again, none of this needs to be expensive to achieve, but you have to know the basic principles to get good sound you can do it on any film you make.
StudentFilmmakers Magazine: What was one of the most challenging problems solved on set in regard to location sound?
Michael Tierno: The hardest part for me is I work very fast, and sometimes, a location recordist might want to slow down and tell me things about an actor's voice being low or mumbling, etc. In my case, we moved fast, so the recordist had to work at a faster than normal pace. The other thing is dealing with the sometimes-harsh environment sound recordists create. We were shooting in a heat wave in a small NYC apartment. Every take, the sound mixer turned off the AC and closed the windows. We were all dying in there, but it was worth it. The sound came out great.
StudentFilmmakers Magazine: What should student filmmakers and startup filmmakers know about location sound and post-production sound?
Michael Tierno: You don't need a big budget (or any budget) to get great sound in your movies if you have some sense of what you are going for when you record and post sound for film. You can learn from what the higher budget filmmakers have at their disposal and use their tools and craft in a scaled down, very effective way. The important thing to achieving great sound isn't expensive gear or a world class sound crew (though these things help), but it's more important you understand the concepts professionals are deploying on big budget films and replicate them.
For example, anyone on any shoot can turn the refrigerator and AC off and close the windows. That's not a budget issue. But many student filmmakers don't do this. Any filmmaker on any sized film can make sure shoes clomping on the ground don't interfere with dialogue on the track.  But the main thing I believe students need to learn is that every single camera set up with sound, including every take should be treated with special individual care. You wouldn't just make one standard setting for cinematography and for every set up, correct? For every set up, there is new camera focusing, different lenses, exposure, framing, blocking, etc. Sound recording should be treated with the same care and specific attention. It's not a passive activity. Just "hearing" the sound or being able to make out the dialogue in the headphones isn't enough. Your ears can process on the fly wonderfully; however, the machines you will be working with in post aren't as great as your ears. You have to learn what good, strong, clean signal recorded evenly on axis sounds like. It's not hard to learn, but it's not intuitive.
StudentFilmmakers Magazine: If you could share your Top 3 Audio Tips for aspiring filmmakers, what would they be?
Michael Tierno:
Tip #1: Location sound recording is not a passive activity. Every set up requires individual attention and focus and tweaking and practice. Have the goals of clean, even, on axis dialogue recorded with strong signal to noise ratio without dialogue being ruined by extraneous noise either from the boom, walking, rustling, traffic, or anything else. Try to emulate sound you'd record in an isolation booth as much as possible.
Tip #2: Post-production sound is a whole other post-production process, just like picture editing. I see too many students work like dogs to get their film edited, and the day before a screening they turn to sound. Give sound a protracted period in post-production to get it right. At least half as much time as you give picture editing.
Tip #3: And learn how to organize for the sound production and post-production process; it's essential.
Book Spotlight
Location and Postproduction Sound
for Low-Budget Filmmakers
By Michael Tierno
This book covers everything you need to know to master the fundamentals of location sound recording and postproduction sound in a comprehensive one-stop guide.
This user-friendly book provides real world situations to analyze the many kinds of location recording configurations and postproduction scenarios and offers easy-to-adopt, budget-conscious solutions to some of the most common issues that arise when working with sound. Chapters cover the theory of sound, preproduction with a sound emphasis, microphone selection, testing equipment, how to boom and mix on set, synchronization and time code, and editing sound while doing a picture cut in a traditional picture software platform. Additionally, the book discusses bringing a project into a Digital Audio Workstation and explores basic sound design, dialogue editing, Automated Dialogue Replacement, Foley, sound effects, music for film, re-recording the final mix, and outputting sound to finish a project. Accompanying examples allow readers the opportunity to try out the various techniques and drills on location, in postproduction, or both.
Aimed at students, early career and independent filmmakers, as well as those considering a vocation in location and postproduction sound, Location and Postproduction Sound for Low-Budget Filmmakers makes achieving great sound attainable for all, and is an invaluable tool for anyone wanting to better understand the art of film sound.
Order your copy of the book, "Location and Postproduction Sound for Low-Budget Filmmakers", at the StudentFilmmakers Online Store today.
About Michael Tierno: Michael Tierno is a former Miramax Story analyst and an independent writer/director/editor of feature films. He is author of the best-selling book Aristotle's Poetics for Screenwriters and has made four feature films including Turn Back Night, a sci-fi comedy. He is Associate Professor of Film Production at East Carolina University.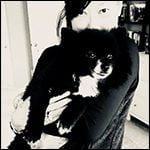 Interview conducted by Jody Michelle Solis. Jody serves as Associate Publisher for StudentFilmmakers Magazine (www.studentfilmmakers.com), HD Pro Guide Magazine (www.hdproguide.com), and Sports Video Tech (www.sportsvideotech.com) Magazine. She enjoys content creation, shooting/editing video, and teaching dance/yoga.