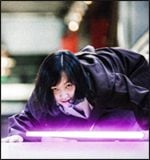 Di Lu is an animator who graduated from Ringling College of Art and Design in 2020. By studying the whole animation pipeline, she rediscovered her passion for animation, modeling, visual development and problem solving in animation. Her thesis film, "Super Generic," was a finalist in the 2020 Student Academy Awards, Animation Category. She's currently working as a fix animator in Pixar.
Di Lu was born in Qingdao, Shandong, China. Her influences include Xiangsheng, Manzai and Stephen Chow comedy films.
STUDENTFILMMAKERS: Was the concept for your short film inspired by your experiences collaborating with people on your character designs?
Di Lu: At the second round of pitching thesis ideas, I discovered that it might be easier to make a story based on real-life personal experiences, and the idea also needs to be easy to understand culture wise.
I found a pitch painting I had in a visual development class. There was a little boy standing on a giant snake. I had a hard time figuring out the design for that little boy. The feedback I got was, he's cute but 'super generic'. Then I went on a path of figuring out what 'generic' means for character design and how to make that character not generic. In the end after many different versions, I ended up going back to the first version of the design and just tweaked the pose a little bit rather than change the style completely.
I made this story based on that experience. Just a generic character trying to not be generic but still can't get it right. The original pitch was just reflecting the teacher/student relationship. "A generic character feels sad about how generic he is and tries to change himself to be more specific. And in the end, he becomes a Cyborg (like Ginkotsu in 'Inuyasha')."
STUDENTFILMMAKERS: Can you describe the development and pre-production stages for 'Super Generic'?
Di Lu: While working on the project at Ringling, we created an animatic first, which is a video version of the storyboards. In my case, I had a lot of different versions of how 'Generic' is changing himself and how this story should end. For me, the logic behind the different designs was very important. Once I figured that out, the final animatic looked pretty good and hasn't changed that much since then. The design for each version he became was pretty easy to come up with. Most of them just needed to follow the rule of 'generic'. Such as a generic 'bad anime boy', generic cute, or generic scary character.
The 'too complicated' design was the funniest one to do in this film. It's basically referencing Gundam design. Same to other character sheets in this film, I made the model, did the basic texture on it, then got a render image, then drew over the rendered image.
STUDENTFILMMAKERS: How did you direct your voice actor?
Di Lu: Justin Gross is the voice actor who did the instructor voice for the final film. I had my classmate, David Coole, do the temp voice for the instructor first for the animatic. In my case, I sent Justin the temp version first and described the spirit of the instructor character which was tired and impatient. We communicated through messages. I also sent him the script with my thoughts on each phrase and tried to be as detailed as possible. I was not confident with my written details, so the temp recording for the instructor's voice really helped.
STUDENTFILMMAKERS: If you could share your Top 3 Animation Tips for new students of animation and one-person crews, what would they be?
Di Lu: There are some tips that I got from my respected instructor and director that I would like to pass on.
First, the story/idea is the most important thing in your film. If the story doesn't make sense, the animation will just become useless no matter how good your animation is.
Second, try to figure out what's the best element, the golden part of your film and just make sure that part doesn't get changed. As a student filmmaker, your thesis film also needs to be a showcase of how much you learned at school. In my case there were a lot of thesis film requirements I needed to follow. Plus, there was a lot of technical difficulty that I couldn't figure out and needed to change some shots accordingly. You also need to listen to your faculty advisor or the feedback from other faculty members. So, while making those changes and being open to the feedback, remember to keep the 'best element'.
Last, but not the least, the most important thing in making a film is to finish it. As a one-person crew, it's pretty easy to get tired of the film. And after watching it so many times, the gag might become not funny anymore, the emotional impact might feel flat. When that happens, just remember to finish your film. That's how you can start the next one and finish, and keep going.

Interview conducted by Johnny Lee Solis; NJ/NY based musician, composer and writer.