Exploring through the Filmmakers Global Network Community this week, StudentFilmmakers staff spotted 3D Artist Designer Laura Innes.
"I am a person who loves to design and create things, no matter what or how, it is only a matter of doing something that did not exist before where it is today … I am inspired by everything that surrounds me and the people who are not afraid to tell you that many times they have failed and that they have been able to get out of it. Getting out of the box is what I always try to do and go the extra mile. The sky's the limit…"
We asked Laura these 4 questions!
What is your favorite aspect of creating and designing 3D graphics? What is your specialty, and what do you enjoy the most? 
Laura Innes: Once you discover that world, it is difficult to go back. With that being said, I particularly like the fact that there are no limits to create in three dimensions. The options are endless, the styles are very varied, it is just a matter of it is a matter of trying to learn all of them and then see which one people like the most, my favourite style is photorealism, but they are a lot…
I am a generalist, but my specialty is hard surface modelling, is everything that is not breathing and has a rigid surface [smiles]. For example, Cars, Buildings, Accessories, etc.
I honestly enjoy every part of the creation process, from searching for information to have references, to creating textures and post-production. It is the kind of work where you get paid to play and imagine worlds, objects and everything that can be replicated on a PC.
Can you share with us some of your thoughts on 3D design as it relates to visual storytelling?
Laura Innes: In recent years, the use of 3d design has been diversifying, not only in the entertainment or advertising world, but it is also considered very useful in the field of science, from astronomy to medicine. You can see in a way closer to reality everything that in real life would be very difficult to demonstrate.
If we talk about VFX, in addition to being able to create imaginary worlds or places that have been destroyed over time by different factors, we can show characters or scenes with more precision and in a more secure way, among other things. 3D Animated movies are also here to stay, like video games … They are different things that tell amazing stories, that have the same working methodology and the same workflow.
Who or what inspires you today? Also, how have you been staying creative and active during the COVID pandemic months? Can you share some inspiring words with fellow creatives?
Laura Innes: Everything really inspires me, I like to create assets for video games or short films, but then I watch a movie or music video, or advertising and I want to learn how to create the things that I saw and that interested me. I also look at tutorials to create characters and try to follow them step by step, the idea is that my brain never stops dreaming and creating … Look around and try to copy it and understand its mechanism, its texture …
This terrible pandemic on the one hand showed me how important are the things that are not bought with money, affections, friendships, interpersonal relationships. It also gave me the possibility to constantly generate new ideas, learn new things, add value to what I had already learned, meet people from all over the world who shared the same feelings about what was happening and try to help each other. It is true that it is not easy to keep a mind moving on a creative level, but on a psychological level, it is the best therapy a person can have … And best of all, it is FREE … Something that I say to my mother when she starts to make a drawing and it doesn't come out well is: Don't ever give up, enjoy the trip because once you start you don't want to stop. Put on a song that you like, and you will see that with time everything flows … Everyone can create, just don't listen to those who tell you that you can't.
If you could share 3 Short Tips for creating 3D graphics, what would they be? By the way, what are your favorite software programs and tools for designing in 3D?
Laura Innes:
Tip # 1: OBSERVE EVERYTHING AROUND.
Tip # 2: PRACTICE A LOT AND DO NOT BE AFRAID, SOFTWARES DO NOT BITE.
Tip # 3: EVERYTHING IS IN THE MIND.
Depending on my state of mind or the work that I have to do, I have several softwares that I like. 3D Studio Max is the one with which I discovered the world of 3D in 2008, then I continued with Cinema 4D, Maya, ZBrush, Blender, Marvelous Designer, to texture Substance Painter and Substance Designer … To render Keyshot and Marmoset Toolbag.

Works by Laura Innes, 3D Artist Designer, Buenos Aires, Argentina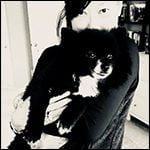 Interview conducted by Jody Michelle Solis. Associate Publisher for StudentFilmmakers Magazine (www.studentfilmmakers.com), HD Pro Guide Magazine (www.hdproguide.com), and Sports Video Tech (www.sportsvideotech.com) Magazine.
"With the rapid application of the changing technologies, we are all students."