Above background photo by Joe Ciciarelli. | www.shotbyclarity.com | Follow on Instagram @ClarityControl


Hello Filmmakers and Visual Storytellers!
This is Jody with StudentFilmmakers.com and StudentFilmmakers Magazine.
In this Zoom Interview, I'm talking with Bart Weiss.
Bart is an award-winning filmmaker, educator and director/founder of the Dallas VideoFest and produces "Frame of Mind" on KERA TV. He was President of AIVF and was a video columnist for The Dallas Morning News, and United Features Syndicate. He writes for Student Filmmakers Magazine.
When I first met Bart Weiss, it was at one of the UFVA Conferences. It was in the year 2008, at a "Stop By and Shoot Film" Kodak Workshop.
It is now the year 2021, and filmmaking methods and technologies have dramatically evolved.
In this Zoom Interview, I ask Bart Weiss 3 Questions.
Question # 1:
How has film and video production changed over the years? What are the most important things?
Question # 2:
How has film and video production changed for many film and video production students and professors over the past 10 months?
Question #3:
How are you navigating and keeping active and creative during these COVID pandemic months? Can you share some inspirational words for students and new generation filmmakers?
Dallas VideoFest's official website:
www.videofest.org
Explore the StudentFilmmakers.com website:
www.studentfilmmakers.com
Student Filmmakers Magazine, 1-Year Print ( Poly Bag ) Subscription.
Sign up today:
studentfilmmakersstore.com/products/sfm
StudentFilmmakers Magazine Digital Collection:
Get 80 Digital Editions!
studentfilmmakersstore.com/products/studentfilmmakers-magazine-digital-collection-80-digital-editions
Sign up for the StudentFilmmakers Digital Newsletter:
studentfilmmakers.com/signup-studentfilmmakers-magazine/
Subscribe to the StudentFilmmakers Magazine YouTube Channel!
www.youtube.com/c/StudentFilmmakers
Follow StudentFilmmakers' official Instagram @studentfilmmakers
Tweets @StudentFilmMag
Join Filmmaking Discussions Online in the Filmmakers Forums:
studentfilmmakers.com/forums
Create Your Free Profile in the Filmmakers Networking Community Online:
networking.studentfilmmakers.com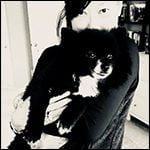 Interview conducted by Jody Michelle Solis. Associate Publisher for StudentFilmmakers Magazine (www.studentfilmmakers.com), HD Pro Guide Magazine (www.hdproguide.com), and Sports Video Tech (www.sportsvideotech.com) Magazine.
"With the rapid application of the changing technologies, we are all students."