StudentFilmmakers Magazine: What are some of the most important skills every makeup artist needs to succeed?
Christine Sciortino: Every makeup artist must be able to work with every single skin tone, age, and gender identity.  There are no excuses here.  We live in a diverse world and more and more, the film industry is striving to tell the stories of the entire human condition.  I see a lot of young makeup artists who are amazing and putting makeup on themselves. But when a performer gets into their chair who is from a different background or age than them, they can't find the right foundation shade, the most appropriate skincare products, the most flattering eyebrow shape.  It's unfortunate – not only for the look of the final product, but for the comfort of the actor.  My general advice is to practice on as many people as you possibly can – from ages 5 to 95 if you can.  However, you can still expand your techniques during the era of social distancing.  I suggest watching Youtube videos and reading magazine articles aimed at people from different demographics than you and taking notes.  You may also try grabbing a magazine, or even your phone or tablet, and flipping through the photos within and trying to study and identify the skin tones and undertones.  Even if your language isn't scientific you might practice describing them like, "This person's skin is a reddish-tan, that's kinda purple-y brown around the eyes," or "This person's skin is a yellow-y brown with some darker brown spots around the edges of the face."  These aren't descriptions you need to share with others – they are just ways for you to mentally process what you're seeing and start to train your eye.  Another way to practice is to mix skin tones on paper, using paint, colored pencil, or oil pastels.  Once you get the hang of this, and can paint at least 20 different skin tones, you can start painting full-face makeup looks for practice!  I also go deep into the shade-matching process (finding the right foundations), special considerations for aging skin, as well as all the techniques below in my book, Makeup Artistry for Film and Television.
Grooming facial hair – to work in film and television, beauty makeup skills are not enough.  I see a lot of makeup artists who have perfected glam looks but struggle with "no-makeup-makeup" and especially with grooming.  Grooming essentially means shaving and shaping naturally-growing facial hair.  You will do tons of grooming in film and TV and it is crucial to be well-versed in creating and maintaining facial hair looks.  I suggest classes or even online classes. Try looking at barber colleges or cosmetology schools that may offer these.  Purchase a quality set of grooming tools – at minimum including trimmers, shavers, an ear/nose-hair trimmer, barbering combs, as well as facial hair products such as beard oil and mustache wax plus, aftershave solutions and treatment for ingrown hairs.  Again, try to practice on as many people as possible until you feel these skills become natural.
Nails – Like facial hair, nails are considered part of the Makeup Department's responsibilities in film and television.  Knowing how to do a simple manicure (even one just to clean up, without nail polish) is imperative, and you must know how to do so quickly.  If you enjoy nails and get good with them, you may find yourself designing outrageous fake nails for certain characters – I love to do this type of nail art and it can be a fun way to bring specific characters to life!
Tattoo Covers – Many performers have tattoos which can pose several problems – they may not be character-appropriate or time-period appropriate, or they may not have "clearance."  This means that the production does not have permission from the tattoo artist to use the tattoo image (the artist's intellectual property) on-screen.  It's possible you could find yourself needing to cover tattoos every day on set, and you need to do so using professional products.  Some companies boast one-step coverage creams, but these tend to be less effective for film and TV work.  HD cameras may still pick up the undertones of tattoos, especially those done with black ink, so you really need to color-correct and work in several layers.  Additionally, these creams are likely to smudge during a long day of shooting, which means they can damage wardrobe and mess with continuity.  Learning to cover tattoos using a step-by-step color-correction process and using professional products can take time and patience, but it is worth it.
StudentFilmmakers Magazine: What was one of the most important things you learned on set?
Christine Sciortino: You will learn something new on set every day, but if I could sum it up into one lesson, it would be: be prepared.  And by prepared, I mean over-prepared.
Most often, makeup artists report to Basecamp at the top of the day and prep the actors there.  Once the actors have been through "the works", meaning Hair, Makeup, and Wardrobe, the actors travel to set and at least one makeup artist goes with them. That means you will need to bring everything necessary to maintain that actor's look throughout the day up to set with you, and any personal items you will need.  You need to make sure that you are comfortable, protected, and nourished on set – especially on location.
If the forecast calls for sun all day, it might be wise to pack rain gear anyway.  If you're expecting rain all day, you'll still want to bring sunscreen in case the sun comes out for 30 minutes and is beating down threatening sunburn on your actors.  The supplies you are on the fence about bringing with you, will be supplies you wish you had.
While working on Come As You Are, which premiered last year at SXSW, I knew we would be shooting in the woods on a humid summer night.  I brought every type of insect protection I could get my hands on – essential oils, heavy duty chemical-based bug sprays, etc.  I had Afterbite in my kit but… not nearly enough.  And I was working with an assistant who I did not provide Afterbite for!  No one could have anticipated how many mosquitos would be out there and how aggressive they would be! One of our actors got a mosquito bite right in the middle of his forehead, just before his closeup, and by that point in the night, I had run out of Afterbite.  There was nothing we could do which was an awful feeling.
Similarly, on the first day of working on Proven Innocent (FOX), I recall being in the trailer in the morning and having my nose hair trimmers in my hand.  I felt confident that I had done enough grooming work on my character – a detective – and so after tons of deliberation, I decided not to bring them.  Of course, I had tons of other equipment and supplies – his actor bag filled with products, plus my large set-bag of "just in case" products and tools.  But, as soon as I got up to set, they were lighting for this character's coverage and one tiny nose hair had escaped me and was catching the light in such a way that it looked like a little speck of glitter highlighting his nose.  Luckily, I had some small eyebrow scissors in my set bag and was able to correct the problem before shooting, but having the nose-hair trimmers would have been faster and easier.
You will always need more of something than you think you will.  If nothing else, you should at least have products to improvise with.  I've learned to expect the unexpected.
StudentFilmmakers Magazine: What was the most challenging problem solved on set?
Christine Sciortino: I'm not sure I have a most challenging problem because I have worked in some fairly extreme situations – especially where weather was involved.  I think the biggest lesson is to own from your mistakes and learn from them.  This sort of goes back to the previous question where I talked about preparation. A lot of times, the challenges we encounter on set have to do with not being prepared for a certain situation.  I remember a time I was working on a film and we had not anticipated adding a shot at the end of the day and I had to apply a small prosthetic while on set. We didn't have time to take the actor back to the trailer before the sun went down.  I did my best, but we were fighting the light, so as the sun went down and the temperature began to drop, the silicone I was using wasn't setting properly.  We did attempt the shot but the prosthetic was sliding off and that, combined with the fact that it had gotten too dark outside to match to color of the previous shots.  We wound up having to re-do the shot the next day.  In this situation, I look at my own communication with the AD and wonder where I could have been more clear about my needs for timing, temperature, and light to create this effect.  Communication on set is just like sticking up for ourselves, communicating effectively, and learning to set boundaries in our outside lives.  That said, sometimes you communicate as much as possible ahead of time, and the AD, Director, or Production Team may still change things last minute.  In that case, you learn to stay level-headed and flexible.
Especially when working as Department Heads, there are so many details to think about, and every once in a while, things might slip through the cracks, or you might be afraid to ask a question you need to ask.  I remember a stunt performer showed up to set once with a full sleeve of tattoos and was doubling an actress who was wearing a tank top and had no tattoos. The stunt coordinator had originally sent in a photo of the double wearing long-sleeves, and I took this at face value and didn't ask about tattoos.  I wound up covering the sleeve as fast as possible, but we wound up stalling production a full hour.  I think that was one of the few times I cried on set. After the actress was done of course!
I've since learned to ask every possible question I can think of.  Many of these instances were earlier in my career, and I've since learned from my mistakes.  You will also make mistakes!  You will encounter unexpected circumstances that you could not have predicted.  It's normal.  I think as long as you keep an attitude of humility and learn from these situations, you're on the right track.
StudentFilmmakers Magazine: If you could share your Top 3 Tips for aspiring makeup artists and visual storytellers, what would they be?
 Christine Sciortino:
(#1) Respect everyone. As unfortunate as it is, you live in a world where sexual harassment, and bullying based on race, gender identitiy and sexual preference still run rampant. By changing the culture one day at a time, we can end these problems. Don't laugh at the joke. Don't touch or compliment another person if it's not in your job description. You may think you are being nice, but nice and respectful are actually different things.  Most people in the industry just want to come to work, contribute to the vision of the team, and be valued for their work. That should be the focus. In addition to respecting crew members, makeup artists are in a unique position in the way that they create the "looks" of the characters.  That means, you have to respect both the actor in your chair – their skin, their product preferences, their secrets they might divulge to you during the makeup process – and the character they are portraying.  You may be telling the story of a person who comes from a different ethnic background, identifies with a different gender identity, and practices a different religion than you. You still have to design a makeup look for them that will tell their story in the most authentic, graceful, respectful way.
(#2) Do your research. This goes hand in hand with the previous point. To tell peoples' stories, the most respectful way to tell them is with accuracy. Research is also incredibly important for period work, of course. It can be really distracting to the audience when they see someone who doesn't fit the time period, although they may not be able to pinpoint why.
(#3) Take care of yourself. I can't emphasize this one enough. This film industry can be very stressful, physically grueling, and sometimes status-driven and competitive. You are the best asset you have to ensure a long, creative, and thriving career, so it is taking care of your body, mind, and spirit that will ensure that career is sustainable. Not only do I suggest caring for your health  through a nutritious diet, a type of exercise you enjoy, and adequate rest, I strongly suggest prioritizing your mental health and your emotional and spiritual well-being. I talk about this more in Makeup Artistry for Film and Television because it's so important to me. There are so many different methods out there for maintaining well-being and for connecting with your inner world. Find what resonates for you and keep up with those practices and build a healthy community and support system. Learn how to say no when you need to – whether that's regarding work or outside of work. You are precious, your artistry is precious. Make sure you treat yourself that way.
Christine Sciortino is a Chicago-based makeup artist and visual storyteller with recent projects including Come As You Are, Captive State, Proven Innocent (Fox), and Fargo (FX). As a member of the IATSE Local #476 Studio Mechanics Union, she designed and leads the local's first Sexual Harassment training program, making our film sets safer spaces. She also created and instructs the Cinema Makeup curriculum in the school of Cinema + Television Arts at Columbia College Chicago where she has the joy of educating the next generation of filmmakers.
www.christinesciortino.com
www.imdb.com/name/nm4103876
Book Spotlight

Makeup Artistry for Film and Television
Your Tools for Success On-Set and Behind-the-Scenes
Written By Christine Sciortino
"The wealth of information that Christine Sciortino shares is invaluable and can equip any aspiring Makeup Artist with the knowledge required to navigate their way around the set of any film or television production with confidence."
~Ken Diaz, Two-time Academy Award Nominee and three-time Emmy Award Winning Makeup Artist.
In this comprehensive handbook, author, makeup artist, and educator Christine Sciortino offers a detailed introduction to the conceptual foundations, techniques, and on-set practices of the makeup design process, going beyond technique-centered makeup education to provide an in-depth look at the workings of the film and television world.
Through personal stories, interviews, demonstrations, and insights from Sciortino and her colleagues, this book explores the business of makeup artistry, including tailoring a resume, building a kit, self-marketing, breaking down a script, researching and creating makeup looks, working as part of a production team, and different ways to get paid. It further delves into on-set procedures and theory such as anatomy, skin science, color theory, and lighting design. With high-quality step-by-step photo tutorials, this book will help readers to learn and hone techniques for beauty makeup, character makeup, and light special effects including aging and dirtying, grooming, bruises and prosthetics, tattoos, and more. An emphasis is placed on working with actors of all ages, skin tones, and gender identities.
This approachable and engaging blend of practical techniques and professional practice is ideal for both introductory-level and established artists.
An online resource also offers downloadable templates and sample paperwork for on-set use and practice.
Available for pre-order. Book will ship after October 29, 2020. Purchase your copy today!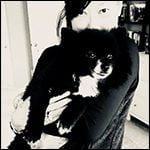 Interview conducted by Jody Michelle Solis. Associate Publisher for StudentFilmmakers Magazine (www.studentfilmmakers.com), HD Pro Guide Magazine (www.hdproguide.com), and Sports Video Tech (www.sportsvideotech.com) Magazine. "Lifelines, not deadlines. Motion Arts. Fusion Everything." If you're in Dallas, sign up for Jody's Yoga Class.