Compiled by Howard A. Phillips
Technology is the physical embodiment of the solutions to needs, from earning a living to expressing our dreams, anything from our fears or a way to express our achievements.
With the constant improvements and upgrades – and at times the radical changes that happen in our technical lives, this seems like an opportunity to check on how some of the graduates from digital-media programs are embracing some of these changes, and how learning to create stories in a variety of formats is currently part of their lives.
Most are working via agencies on commercials and corporate, some have created their own agencies, and others moved into the D.I.T. position (digital imaging technician) on features films. Some are working in the sound industry, others moved into 3D animation, and several found their careers in post-production. Many have moved to senior positions within large financial institutions, some generate media for world-class Ballet Programs. Here are some examples:
Josh Weinhaus
"I feel incredibly fortunate to have come into the industry when I did, at the start of the digital filmmaking revolution. I knew through school, I wanted to be by the camera and parked myself there, absorbing as much as I could and learning everything I could about the fledgling HD format and its possibilities. In this time, I bought my first camera, the Canon 7D, "used", off Craigslist. Since I've owned 5Ds, FS100s, and shot on everything from 16mm to ALEXA's and RED's.
"I find myself happy as a freelance owner/operator, camera op, director and DP shooting for commercial and doc clients. My current weapons of choice are the Sony FS7, A6500 and A7Rii with a LED light package (a mixture of Aperture, Kino, Wescott and ARRI) along with a Ronin Gimbal and DJI Drone. I'm still running Canon L glass from the 7D days and a kit of Zeiss ZE primes. Ninety percent of my clients ask for 4K. Ninety percent of my clients publish in 8-bit 1080 to the web. Rarely do I edit, and I like to keep it that way, but when I do it's in Premiere.
"8K is great for high-end commercial and narrative work. For most cases, I'm still waiting 2 hours to offload 10-bit 4K. For me, when my day doesn't stop after 10 hours, with backing up footage, sending proxies and dailies over FTP, I'll stick with 4K for the foreseeable future.
"Online, sponsored content has changed the industry for better or worse and is my bread and butter for the most part.
Film and video have allowed me to travel this country and the world, while also geeking out over gear and technology – two things I'm quite passionate about. Storytelling and forever honing a craft are a plus."
Frankie Rodolfi
"Learning filmmaking helped me change my life many times. Professionally, I've meandered from leading eLearning product development, to marketing environmental tech to corporations, to launching brand storytelling programs for executives. Now I'm the creator of a leadership and team development service at a large management consulting company. A common thread? Principles of storytelling help me to notice and appreciate the individual heroic journeys of everyday people. In any role, pausing to reflect with a filmmaker's perspective has allowed me to help people explore their own unfolding stories in fresh ways, activate their imaginations, and feel inspired to 'go for it'."
André Phillips
André Phillips is currently a Boston, MA-based director. He has worked producing, shooting and editing video for over a decade. From weddings, corporate interviews and live events to commercials and on to feature films, André's career has been tied intrinsically to the constantly changing forms of technology available to storytellers.
Beginning his career as freelancer, along with colleagues from his digital film program, taking nearly any kind of video work he could, André learned first to edit on Avid Media Composer. As linear-editing technology became more available thanks to FCP, André migrated systems and benefited from the ease and access of the program. However, as the inevitable push to innovation turned a bit sour for FCP, he now edits on Premiere Pro. The list of editing systems is less important than the paradigm that it described. As programs change and diversify and become more affordable, an adaptable user is able to stay on top and use these new technologies and systems to their benefit.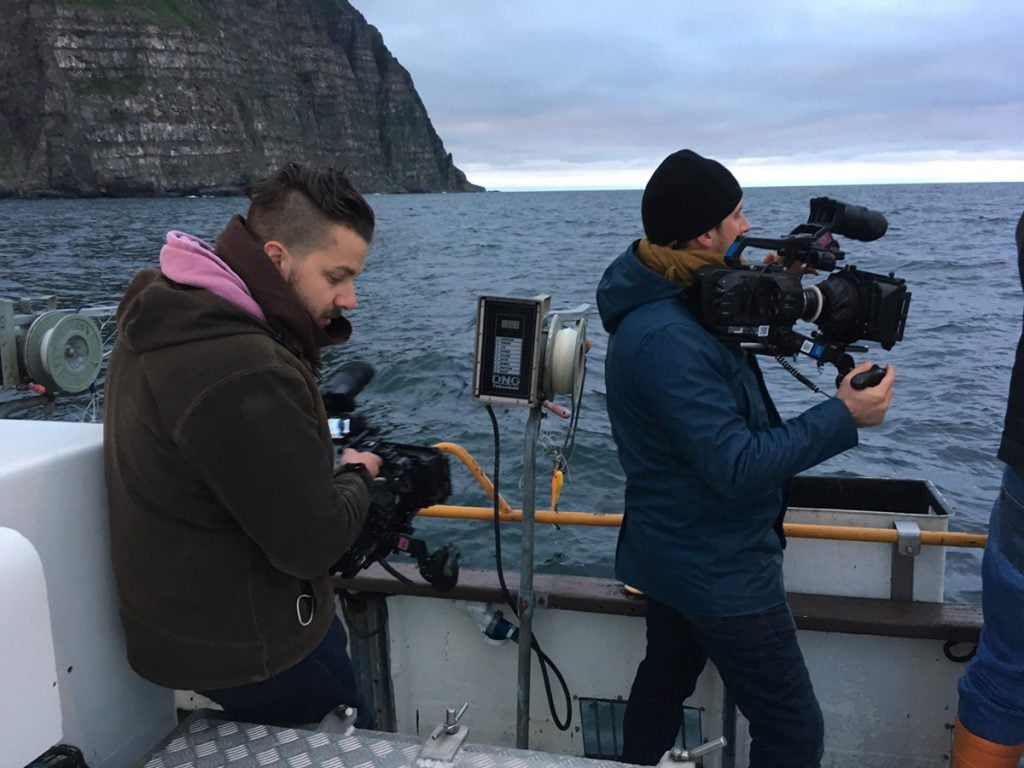 The first video camera André used professionally was the Panasonic DVX 100. 24p was in, and the ability to replicate a more filmic motion in video imaging was just the beginning of a wave that would result in digital cinema cameras as versatile as a Sony FS7 or as powerful as a RED Helium or as elegant as an ARRI ALEXA.
These technologies have been the tools of the trade for André and provided the means to a career, yes, but almost more importantly, they have provided a passport to a myriad of locations, experiences and stories that fuel the love of the work that truly drive a long-term career in production. Whether it be taking a RED into fields set in Dominican sugar plantations to shoot for days while maintaining secure and effective capture and edit workflows or shooting 4K at 60fps on a fishing boat in Iceland, the amount of capture technologies available allows André and other storytellers to pursue content wherever it is on earth."
Anthony Marquette
From 3D Animation Student to TA to Teacher, and now running his own program
"Who framed Roger Rabbit? I'd say that's where it all got started for me. This masterful blending of animation and live action was released in 1988. It was the first movie I'd ever seen in a theater, and it completely captured my 4-year-old imagination. I'll never forget the hours spent studying the interaction between the actors and the 'Toons', frame by frame on our old VCR.
"Thirty years later, and I'm every bit as captivated by the evolution of motion tracking, motion capture, and compositing that artists now use to blend animation with live action. While the tools are far more sophisticated today, one thing remains the same; and that's the teams of artists, working tirelessly to create magic on our screens and in our imaginations.
"Today, I'm channeling that love of animation into our nonprofit, The Pixels and Polygons School. Our program keeps up with the latest industry trends while holding true to those principles that create the illusion of life, whether on animation cels or in powerful rendering software."
Anthony Marquette
Founder and Director | The Pixels and Polygons School
www.pixelsandpolygons.org
73 Lexington Street
Auburndale, MA 02466
anthony@pixelsandpolygons.org
Pixels and Polygons is a 501(c)(3) nonprofit organization.

Sometime in the Summer/Fall of 2006, long after graduating high school, I finally decided that I wanted to go to film school. I started in Summer of 2007, and by the middle of 2008, was hired onto my first Hollywood production shooting in Boston, MA. I was hired to do video playback, a position that uses specialized computer and software to manage all content that goes to the televisions and computer monitors you see in TV and film, not creating the graphics, but cuing the them, color correcting the screens, making sure luminance is correct, etc. It's pretty niche – and as such, I joined the union and made a few connections. In 2010, one of those connections invited me to New Orleans for work. I said, yes, and moved there that summer and spent 5 years there. I met my now wife there and had two children. We fled in 2015, due to film tax incentive uncertainties and headed to Hollywood. I've been here since and write this from the set of an Amazon Prime TV show in Hollywood. Still doing the same job, 10 years, one wife and two (soon three) kids later! Here's a panoramic photo of our control room for season 5 of the last ship on TNT. All the computers on the left are tethered to and run the 50-60 odd screens in the CIC set on the other side of this wall. We control those computers from the iMacs. The laptops are on a cart to move from set to set.
Katheryn Taylor
Photojournalist
http://www.katherinetaylorphotography.com
"Being in the field of media has deeply informed the way I see the world and humanity. Having the opportunity to work for newspapers has allowed me to feel that my ability as a storyteller has meaning that can reach a broad audience. It has also given me a lens, so to say, to see our contemporary society through. I feel as though I am able to choose stories and subjects that I feel have impact and may not necessarily be heard/seen otherwise. Beyond the philosophical reasons, I see photography as an avenue to connect people as well as to explore realities other than my own. It is a hustle at times to create work that I feel is important, but it is my calling in terms of a profession and would never choose another."
Thiago Barbosa
"Here in Brazil, digital video equipment gives speed to our productions. Nowadays we have to shoot, edit and delivery a job in at the least 3 days. People are consuming so much video content and we are ready to feed those people."
Howard A. Phillips
"With the nearly overwhelming availability of the technology most of us have access to, I feel the depth of storytelling has been its constant companion. Many people waste their time commenting on how much lame content is on various social media outlets, but in my view, the reality is that simpler and easier-to-access digital tools have broadened storytelling, both for receivers, audiences and as creators. Some of my students have been able to express personal stories in interviews with family members, as an example, that would have been impossible even five years ago. On the individual creator's side, opportunities abound, from blogging to creating one's own media channels to social media sharing and even accessing print media outlets!
"Be it political journalism using your mobile devices and inexpensive accessories, to working with Augmented or Virtual Reality projects or HDR (high-dynamic range) projects, the merge of technical solutions has never been more abundant. The increased need for content has also been an important side effect. These are great times to dive into the creative media-making world. And don't forget about audio!"
Howard A Phillips
Teacher/Curriculum Consultant
Boston University
Bunker Hill Community College
Manosanta Studios
SAE Mexico