Distribution for Mobile Filmmakers
By Susy Botello
How many times have you attended a film festival and wondered what it would be like to be a part of the festival? I don't mean, as a volunteer or staff, I mean a part of the show. You make a movie and are featured during the festival…wait, make a movie? Don't let that hold you back.
You hear Hollywood filmmakers and influencers say it all the time, "Just get out there and make a movie." Your mind says, 'Yah, right. Loan me your camera!'
We all know it takes more than a camera to make films but that is the first thing that comes to mind. Allow me to lower the barrier for you. Allow me to share with you an opportunity that I have been building for more than ten years so that anyone who really wants to make films can do it without the worry of buying or leasing cameras. If that sounds good to you, then you are invited to jump in and actually "do it" and start turning your stories into films today. I sound like I am selling you something, but I am not. I just want to make you aware of something you already have in your hand right now. That's right, your smartphone has a camera.
You've heard about it by now. Few people have not. Ten years ago, I launched a film festival in San Diego which held the doors wide open to any human being on the planet who made a short film using any brand or make mobile phone camera. Last month, we held our 8th edition of the International Mobil Film Festival™ aka International Mobile Film Festival. We showcased 29 short films and 2 full-length feature films. All shot with smartphones. And that's not all!
Some of the films used nothing but the phone. You may be picturing those vertical videos you see on social media right now, but no, we don't accept vertical videos. We believe they have a place and I think, at times, they are appropriate. We don't accept them for a number of reasons, but one is that we are putting the films on a big screen.
You have, by now, heard of "Tangerine" by Sean Baker. It was picked up for limited distribution by Magnolia Pictures and was shot with an iPhone. So, without further ado, I bring you to your stories!
Whether you imagine, experience or wish to share a good story, the opportunity is in your hands. Literally.
Aside from 31 films, we had about a dozen or more filmmakers from different places and countries come to the festival. They connected through their passion. They networked with each other. They supported each other during the festival. And then, they shined like stars, because in this film festival, they are stars.
The festival takes place annually during the last weekend of April. This year's festival took place on Saturday and Sunday, April 27 & 28 at Marina Village Conference Center in San Diego. A beautiful venue on the edge of the marina with amazing sunsets and boats on the bay.
The festival's first day screened all the films in both the Shorts and Feature competitions. It opened with a feature film by Steven Peterson, shot with a Samsung phone, Consensus Reality. Steve came from L.A. The day closed with a feature film by Ross Perkins, shot with an iPhone, Mad House. Ross came from Australia with the film's producer Kimberley Hart. All the films brought thrills, tears and joy to the audience. Both features were about 1 hour 23 minutes in length.
Sunday brought two VIP Special Guest Speakers: Filmmaker John Woosley came from Missouri to share a full workshop seminar on mobile filmmaking. He shared the gear and the apps he used for a film we featured, which was too long to compete, Alex and the Firefly, a teen romance shot with iPhone.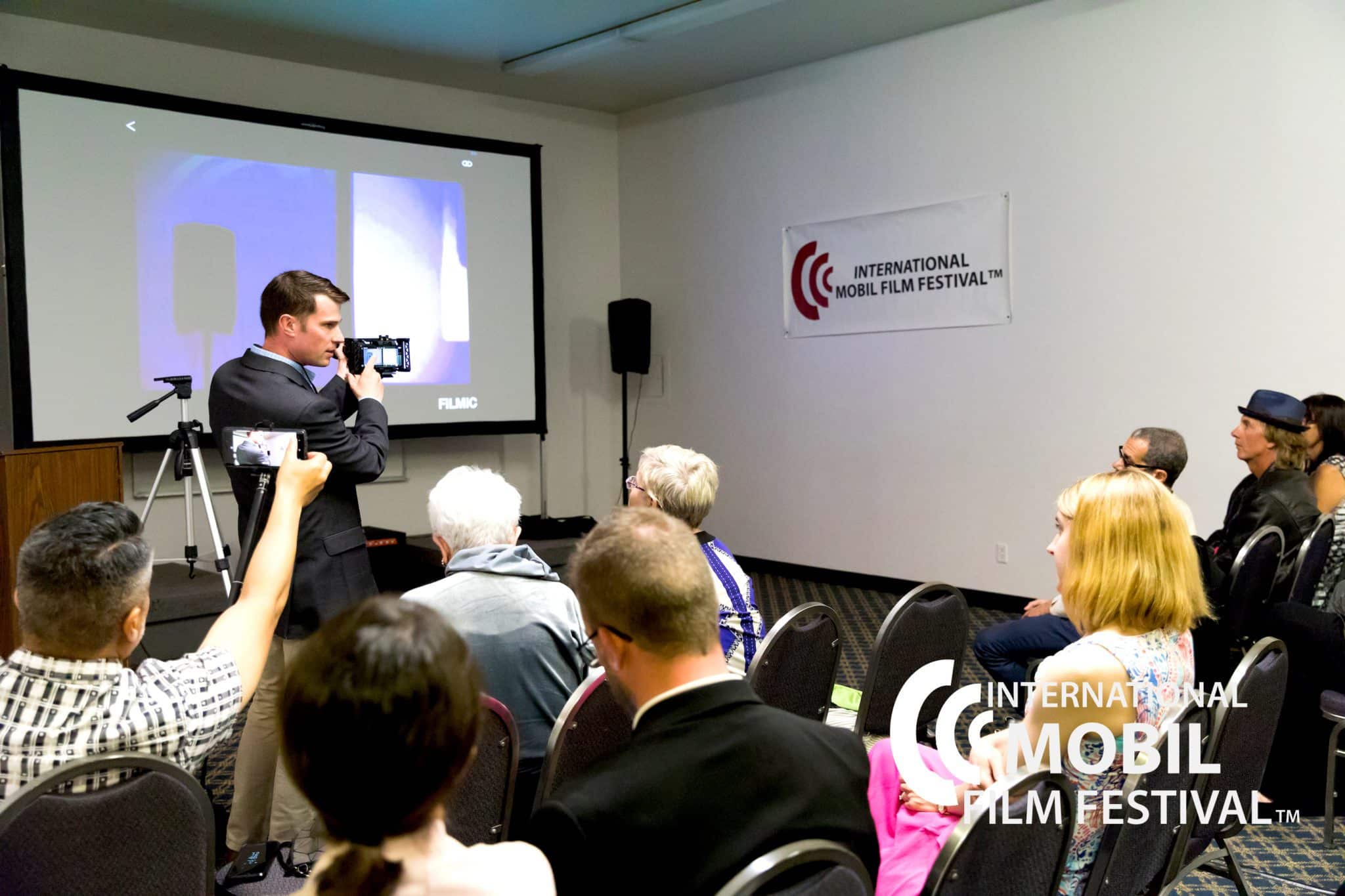 CK Goldiing came from the UK to share his viral film, 61 Hugs, a film about a challenged over thinker, which was filmed in one take with his Samsung smartphone. He presented his film, with a Q & A session where many in the audience were moved to share the film on their social media.
It also included a Q & A panel with most of the attending filmmakers followed by an exciting Red Carpet Extravaganza! with all the filmmakers. The filmmakers were escorted by the Star Wars Steampunk Universe group. The filmmakers rocked the red carpet. The cheers were heard throughout the marina. It was a unique experience which brought lots of excitement and great photos.  The youngest filmmaker was 19 years old and the oldest was 84 years old.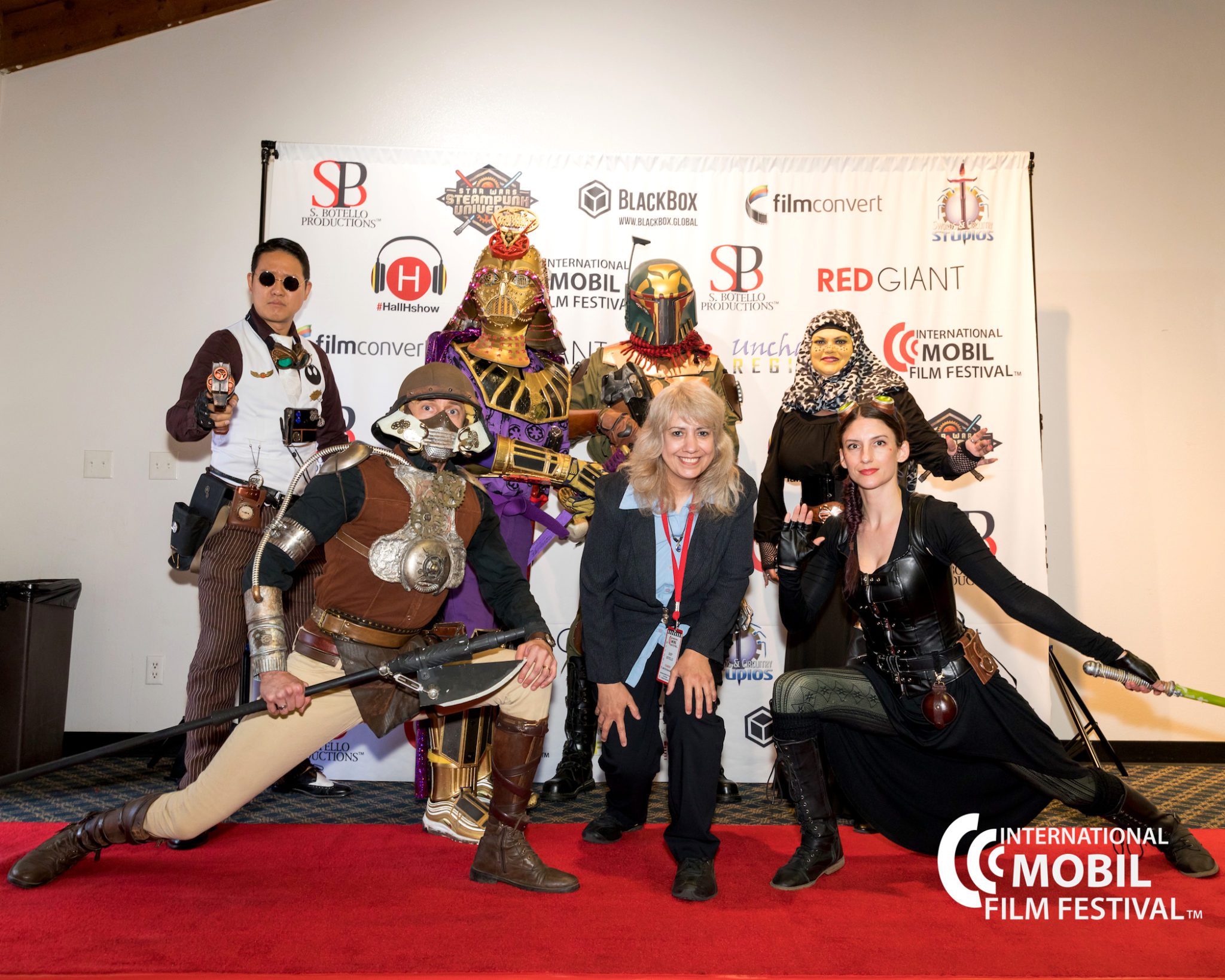 The awards ceremony was also exciting and brought many cheers.
Here are the results:
"Mad House" by Ross Perkins won Best Feature Film
"Upend" by Blake Worrell won First Prize
"The Deepest Cut" by Alexandra Guillossou won Second Prize
"Dulcinea" by Francisco Lidon Plaza won Third Prize
Imagine you are attending this film festival and now you realize that you have the camera they used to make their films in your hand. Imagine what that does for your confidence. This festival is open to all ages, all countries, and any human being who makes their films using their smartphones. I want to share this with all of you. I believe you can do it too.
You can find out more about the film festival and be a part of it. Submissions for the next edition open June 19 for the short film competition of 1 to 5 minutes and the feature film competition of 40 to 90 minutes. Are you inspired yet?
DISTRIBUTION
When it comes to distribution, consider this: Everything you do on your smartphone is set to share online. Everything you record and shoot with your camera can be seamlessly shared and distributed online.
When you shoot with a DSLR, or another traditional camera (not your smartphone), you are most likely going to bring it into your editor and the file may be huge. When you shoot with 4K on your phone, you can convert it to HD and your footage will be almost indistinguishable when compared to any other film after editing. I bet you think you "have" to shoot in 4k or upload 4k videos online. That will be more work than you need. That will end up causing you headaches and that, is not always the best option when you take the reality of distribution right now.
What is your purpose when it comes to distribution? "Tangerine" was shot with an iPhone 5S and was picked up by Magnolia Pictures for a limited distribution deal. It had a run in selected theaters worldwide and was distributed online on Netflix.  Just think about that for a moment. How many independent films are there in the world? How many of them end up in the way "Tangerine" by Sean Baker did? If you do the math, which I hate—but using common sense at least, you may realize there are a limited number of really good films shot with smartphones versus thousands and thousands shot with DSLR and traditional cameras.
The competition for distribution is huge. Everyone is trying to reach the top in Hollywood. Everyone wishes to make a fortune with their films. Perhaps even make a living. How many films do most independent filmmakers complete in one year? Think about the size of the production and the budget that entails. Then you end up putting everything into one film for that one magic shot.
Typical mobile filmmakers can make more than one film in a year. Once you have a plan for post-production, production is fast. Crew size, budget, time and gear is reduced. Within days or a few weeks, you have your film "in the can." Let your editors take it from there and carry on making films. The wonderful thing is that you can meet the criteria to send them to Amazon, Apple and Netflix; to name a few.
But here is the fun of being a filmmaker: What you save in production you can use to find film festivals to distribute your films to. Get your films out to mobile film festivals like ours to get exposure with a live audience. There are now more film festivals following our lead and accepting feature length films. Submitting to film festivals like ours doesn't cost much. But if they are located somewhere you may enjoy, if their festivals have a good reputation with attending filmmakers, then get over there and take advantage of the opportunities they offer. Ask to be in the Q & A Panel. Perhaps a presentation after your film or before your film screens. Network with industry people in attendance. Film festivals run throughout the year. Your film can be screening in a different film festival once a month or more.
There are also online options you cannot turn a blind out to. That includes VOD for you. If you have a Vimeo Pro account, you can set your film as VOD. If you want to premier your film on YouTube for a limited time, you can screen your film there and remove it later. Promote it on social media before it's finished to build interest and a following. Get your actors involved in promoting your film.
You can self-publish a book and you can self-distribute your films. Brush up on social media and use hashtags. But the best thing about making movies with your phone is that you are saving money. You are saving time.  You are saving a lot of the work compressing video and formatting. MP4 works for many mobile film festivals to get your film on a big screen. You can shoot and edit short films to build your brand as a storyteller and filmmaker—and build your audience yourself.  All you save is reducing your production and workflow and guess what? By reducing all that work and effort you increase your potential and your audience. You need to think about what you really want and go for it. You now have the tools to do it yourself. One day, after you have built up your reputation and the world is talking about your films, the traditional distributors will be reaching out to you to sign a deal. Meanwhile, make movies with your smartphone and have fun doing what you love to do!