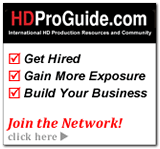 Sign up for The StudentFilmmakers eNewsletter today!
Never Stop Learning. Never Stop Networking.

StudentFilmmakers.com provides educational resources via website networking, magazines and workshops to the film and video makers of all levels and ages around the world. We cover the latest, cutting-edge technologies and techniques of motion picture development, pre-production, production, post production, and distribution. The StudentFilmmakers.com E-Newsletter includes film and video news people need including how-to's, tips & tricks, and interviews; award and event announcements and recaps; and answers to technical questions. "With the technology changes coming faster and faster, we are all students." Sign up today!