"Early on in my TV and film production career, I was a "one-man-band"—a common phrase describing one who was doing it all. I quickly discovered that the most important component of my projects was the script, and a bad script leads to a bad project. But over time (and getting a master's degree in scriptwriting), I discovered that great TV and film scripts of all kinds are based on two basic fundamental components that were identified/created in the 4th century B.C.: pathos and the elements of drama. With that in mind, here are my tips for all those interested in becoming a script writer for film and television."
~ Alan C. Hueth
StudentFilmmakers Magazine: What are the most challenging aspects of crafting screenplays?
Alan C. Hueth:
Knowing and creating the "triune nature" of the main characters — THE foundation for the most important component of great screenplays: conflict.
Knowing and remembering that screenwriting (film and TV) is all about eliciting emotion ("pathos") in the audience. And the vehicle for achieving that is the six elements of drama: character, plot, diction/dialogue, theme/thought, melody/music/sound FX, spectacle-setting-visual FX, etc.
Taking the time to write a logline, synopsis, and a treatment or step-outline …all of these things invite self- and other- feedback and correction about the characters and story BEFORE writing the first draft of a script.
Not making the words in your script your "babies" – where you protect them like a lioness protects her cub. Get a "thick skin" because your work will be critiqued, and there will be rewriting….be ready to accept positive feedback (criticism) of your work from people who are a lot smarter than you and have the wherewithal to pay you for writing the script and/or am willing to turn your script into a real film.
StudentFilmmakers Magazine: What are some common mistakes new screenwriters should avoid?
Alan C. Hueth:
NOT DOING those "challenging aspects"/activities (above).
NOT LEARNING how to write other scripts for TV (e.g., documentaries, commercials/PSA's, news, corporate media, etc.) and/or short films. It's highly likely that it might take a while to get that first feature-length screenplay contract and $$$. This other stuff can put bread and butter on the table. By the way, my book will prep you to write all of these other scripts too!
 StudentFilmmakers Magazine: What was one of the most important things you learned while working on a script?
Alan C. Hueth: Early on I learned about how much I didn't know about screenwriting. I saw it as entertainment…but it's much more than that.  Screenwriters are really in the "transportation business."  Successful screenwriters understand that their job is to take us (the viewers) on wonderful, believable journeys that move us and change us viewers.  They take us to times, places, and worlds that transcend the boundaries of space, time, and matter.  They take us into issues and controversial topics that challenge us and make us think, grow, and change.  And they take us inside the lives and minds of characters to the point where we vicariously (emotionally and intellectually) experience the lives and perspectives of the characters.
StudentFilmmakers Magazine: If you could share your Top 3 Screenwriting Tips for aspiring filmmakers and storytellers, what would they be?
Alan C. Hueth
Tip #1: Prepare.  If you're in school, take as many writing and creative-writing-related courses as possible…and do well in them. If you're not in school, read as many great stories as you can. Read the classics and books that have become films.
Tip #2: Become a Student of Screenwriting.  A "student of screenwriting" is viewing as many outstanding and not-so-outstanding films and TV shows as possible. But don't just mindlessly watch.  Watch with a critical sense of how and why it worked and/or didn't work. And be sure to acquire and read as many film and TV scripts as possible.  The book includes all kinds of award-winning films and TV shows, links to scripts, etc.
Tip #3: Get your work produced and show that your work stands out from others.  Most people who need screenwriters will want to see your past work(s) — something that has been produced before they hire you.  And if it's a good project, be sure to enter it into a film/television festival.  If your work gets into a festival, it stands out from other films/TV shows.  And if you win an award at a festival, that gives you even a better shot to get your foot in the door. Finally, it's very important to make sure that you don't violate any legal and ethical laws and guidelines in your script.
There are many more tips about "all-things screenwriting" that my students have successfully practiced in Chapters 15 and 16 of my book.

Alan C. Hueth is Professor of Communication at Point Loma Nazarene University. He has worked as a consultant, writer, producer, director, editor, and/or shooter on over 300 contract, cablecast, and broadcast programs. His portfolio includes corporate videos, documentaries, news, sports production, interview shows, and short films. He is also the winner of two Telly's, a Broadcast Education Association award, and several cable television awards.

Book Spotlight
Scriptwriting for Film, Television and New Media
By Alan C. Hueth
Book Reviews:
'Hueth has put together what has to be the most comprehensive book about writing TV ever written. Most books focus on only one television format; Hueth examines them all. He not only addresses the "how" of TV writing but also the "What does it do?" (in terms of entertainment's effect on the audience) and the "Should we do it?" (that is, the responsibility of the artistic creator to those who watch what has been created). It's a great how-to book that's also a great conversation – and education – starter.'
~Dean Batali, TV Writer, That 70s Show, Buffy, the Vampire Slayer
What are the foundations of scriptwriting? Why do some scripts gain more prestige than others? How do you write a script and get it noticed? Scriptwriting for Film, Television and New Media answers these questions and more, offering a comprehensive introduction to writing scripts for film, television, the Internet, and interactive multimedia.
Author Alan C. Hueth explains not just how to write, but how to think and apply the fundamental principles of screenwriting to multiple platforms and genres. This includes chapters on numerous script formats, including drama and comedy in film and TV, short films, commercials and PSAs, news and sports, interview shows, documentaries, reality shows, and corporate and educational media, including interactive multimedia. This book also addresses legal and ethical issues, how to become a professional scriptwriter, and a section on production language that provides helpful explanations of how camera, locations, visual and audio effects combine on screen to engage and sustain viewer attention, and, consequently, how to improve scriptwriting technique.
The book features numerous case studies and detailed examples, including chapter by chapter exercises, plot diagrams, quick-look and learn tables that assist readers to quickly understand genre related script elements, and in-depth script close-ups to examine precisely how writers utilize the principles and elements of drama to create a successful script. It is also supported by a comprehensive companion website with further case studies, assignments, video clips, and examples of films and programs discussed in the book. Scriptwriting for Film, Television, and New Media is ideal for aspiring scriptwriters and anyone wanting to broaden their understanding of how successful scripts are created.
Order your copy of the book, "Scriptwriting for Film, Television and New Media", at the StudentFilmmakers Online Store today.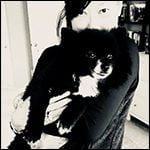 Interview conducted by Jody Michelle Solis. Associate Publisher for StudentFilmmakers Magazine (www.studentfilmmakers.com), HD Pro Guide Magazine (www.hdproguide.com), and Sports Video Tech (www.sportsvideotech.com) Magazine. "Lifelines, not deadlines. Motion Arts. Fusion Everything." If you're in Dallas, sign up for Jody's Yoga Class.