StudentFilmmakers Magazine: What was one of the most important things you learned while working on a script?
Jeff Lyons: That you really have to write four scripts. This is something most screenwriters don't realize. There are four versions of your script that you will have to deliver: a reading draft for gatekeepers; a talent draft for agencies, managers and actors; a distributor draft for studios and for backers showing the project is commercial; and the shooting draft for production. Assuming you get to stay on the project through all these phases of development, you will have to change hats all along the way. Most writers are not prepared for this.
StudentFilmmakers Magazine: What are some common mistakes new screenwriters should avoid?
Jeff Lyons: There are so many. I'd just focus on one I think is the most important: develop first, write second. In other words, don't just start writing pages and assume the story is going to reveal itself. That's not how it works. It seems like that sometimes for some writers who have a natural talent for story, but for most writers, they are weak with story, so "just doing it" is the worst writing advice they can get. If they do that, they will end up lost in the story woods. Develop the story first. Figure out structure, beats, pacing, who your characters are, etc. Do all this before you write a word. It will cut your development time in half and avoid untold story problems. Trust me, this is more of a problem than you might imagine for screenwriters.
StudentFilmmakers Magazine: A filmmaker has finished his or her screenplay, what do they do next?
Jeff Lyons: Well, there are many routes now to getting attention. It all depends on the writer's goals. If they don't have any representation or any network in the industry, then the normal route of "next" is contests and film festivals. This is always a crap shoot and usually not very productive, but that's really all you can do with no connections. If you are lucky to have a network in the industry, then you want to start working it. That's what's next. Talk to your connections, tell them what you have, and try to get a read or coverage with a production company. Professional coverage services are not very useful and are a waste of money (by and large), again unless you have zero connections, and then, maybe you can get some feedback from a reader who is not too jaded or bored and who will actually give you useful notes. That's another crap shoot. The best avenue, especially for TV writers, is to develop several properties, and then, start looking for a lit manager. Some hungry, up-and-coming rep who is looking for clients and is a go-getter. This takes a lot of research and footwork, but it's necessary. You can't do much of anything in the legit indie or studio-level without some representation. That means a lawyer, too. So, many avenues, all dependent on your circumstances and your network, or lack of one.
StudentFilmmakers Magazine: If you could share your Top 3 Screenwriting Tips for aspiring filmmakers and storytellers, what would they be?
Jeff Lyons:
(1.) Don't write to the market.  It will be two years down the road by the time you think you've caught up.
(2.) Write what you want to see.
(3.) Learn story structure (for God's sake).
Jeff Lyons is a published author, screenwriter, and story consultant in the TV, film, and publishing industries. He is long-time creative writing instructor through Stanford University's School of Continuing Education and is a regular guest lecturer through the UCLA Extension Writers Program. His writings on the craft of storytelling can also be found in leading industry trade magazines such as Writer's Digest Magazine, Script Magazine, The Writer, and Writing Magazine (UK).
Book Spotlight
Rapid Story Development
How to Use the Enneagram-Story Connection to Become a Master Storyteller, 1st Edition
By Jeff Lyons
"Groundbreaking! Truly a game-changer for any serious storyteller. Jeff Lyons' Rapid Story Development masterfully melds story structure with the Enneagram – the ancient wisdom of human relationships – into actionable steps to craft stories from the ground up. It is a deep dive into motivation, dynamic action and reaction to drive your unique story."
~Julie Janata, Producer, Director, Editor – two-time Emmy Award winner
This book offers a unique approach to storytelling, connecting the Enneagram system with classic story principles of character development, plot, and story structure to provide a seven-step methodology to achieve rapid story development. Using the nine core personality styles underlying all human thought, feeling, and action, it provides the tools needed to understand and leverage the Enneagram-Story Connection for writing success.
Author Jeff Lyons starts with the basics of the Enneagram system and builds with how to discover and design the critical story structure components of any story, featuring supporting examples of the Enneagram-Story Connection in practice across film, literature and TV. Readers will learn the fundamentals of the Enneagram system and how to utilize it to create multidimensional characters, master premise line development, maintain narrative drive, and create antagonists that are perfectly designed to challenge your protagonist in a way that goes beyond surface action to reveal the dramatic core of any story.
Lyons explores the use of the Enneagram as a tool not only for character development, but for story development itself. This is the ideal text for intermediate and advanced level screenwriting and creative writing students, as well as professional screenwriters and novelists looking to get more from their writing process and story structure.
Order your copy of the book today.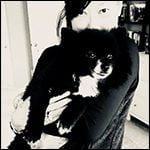 Interview conducted by Jody Michelle Solis. Associate Publisher for StudentFilmmakers Magazine (www.studentfilmmakers.com), HD Pro Guide Magazine (www.hdproguide.com), and Sports Video Tech (www.sportsvideotech.com) Magazine. "Lifelines, not deadlines. Motion Arts. Fusion Everything." If you're in Dallas, sign up for Jody's Yoga Class.