Sarah Phillips is a cinematographer and drone pilot in Los Angeles.
She recently DP'ed a feature indie drama film in Los Angeles and Mexico called, "IRL," about modern love and art (Best Cinematography Idyllwild Film Festival 2019, Best Cinematography Silicon Beach Film Festival 2019, RE-Frame Stamp 2018), a documentary in 360 in Bangladesh for The Gates Foundation and the Zuckerberg/Chan Initiative, a short drama, "Lilac Ocean Pumpkin Pine" about a woman's final wish (Founders Circle and Top Five Prize Louisiana Film Prize 2018, Gold Remi Best Drama Short Houston WorldFest 2019, Best Cinematography Circle City Film Fest 2019), a colonial New England proof of concept drama in Massachusetts, "Land Of Light", a thriller short, "Man In The Corner," a short Stephen King thriller in the Southern California desert, "Beachworld," and a sci-fi short, "Separation of Church and Livia" (Silver Remi Houston World Fest 2018, 2nd Place AT&T Shape Create-A-Thon 2017), a short sci-fi, "Supplements," (SeriesFest 2020, Louisiana Film Prize 2019), as well as web series and music videos. In addition, Sarah has DP'ed a few documentaries that are works in progress, shot branded content for Google Pixel, Samsung, Bvlgari, The Grammys, Infiniti, PopSugar, TV show Pool Kings, LA Pride, and has worked in the camera department for international commercials for brands like Greyhound, NBA 2K, Fitbit, and Sunmaid. We asked Sarah these questions about drone operating.
How did you get into being a drone pilot, and what would you say are the most important skills every drone operator needs to succeed?
Sarah Phillips: I became a drone pilot because I was a cinematographer who wanted the skill set to get any angle I wanted. I was shooting a musical and needed a "Busby Berkeley" angle, and when the drone pilot came to set, I thought – now that looks like something I could also do. So, I looked into the time requirements to get my FAA Part 107 license and did the work and studied to take the test, and the rest is history.
I think the most important skills a drone operator needs are first of all, spatial awareness – it is not easy to fly something if you aren't aware of how a body moves through space. Secondly, an artistic eye – it isn't just about flying, but about making what you are capturing truly magical. And thirdly – a sense of humor, which doesn't hurt in any camera operator or drone pilot. We're always working on teams, so it helps to have just a bit of humor in you.
When it comes to getting certain kinds of shots, what are your preferred camera settings, frame rate, and resolution that you like to fly and operate your drones?
Sarah Phillips: Sure – so, I primarily work in truly cinematic fields – I shoot feature films, short films, and commercials. As such, I shoot primarily in 23.976 fps. Sometimes commercials want to shoot in different frame rates, usually 30fps depending on where the deliverables go. If I am shooting something that is going very fast – a car speeding by, a galloping horse, a runner on a clifftop – then sometimes I will consider shooting in 48fps or 60fps for slow motion. Resolution – I always shoot in the highest resolution possible. I always shoot at the lowest ISO possible. And I have a custom setup on my drone so that the shots are not quite as sharp as the OG settings. I take the edge off the sharpness and the contrast, so it is closer to cinematic footage, and therefore, easier to grade with my A-Camera, the Alexa Mini.
If you could share 3 Drone Operating Do's and 3 Drone Operating Don'ts, what would they be?
Sarah Phillips: Do stick to the rules. Do plan your flight in advance and walk the property for obstacles. Do think about the most dynamic way to get the shot you are looking for.
Don't do any guesswork when it comes to airspace or flight routes. Don't fly in illegal airspace or over off-limits areas such as schools or prisons. Don't try to hand catch a drone.
How are you navigating and keeping active and creative during these COVID pandemic months?
Sarah Phillips: I have actually been working quite a bit during the pandemic. Droning is actually quite remote in its work, and even on a team we are never close to each other. We have live headsets to talk. If I am flying solo, I am usually part of a splinter unit, or completely alone with just a visual observer at least ten feet away from me. So as far as the pandemic goes with drones, it is quite easy to keep flying.
As far as cinematography, I've been working quite a bit there, too, on projects I'm not allowed to talk about yet. When working on set, there are quite rigorous COVID testing procedures, and each production studio has different requirements. All of them test us regularly, as well as monitor us while we are on set for any symptoms. Obviously, PPE is worn at all times as well, and there are lots of moments of hand sanitizing. So far, so good, and at this point, I'd say the film industry is one of the safest places to be working, if you are working.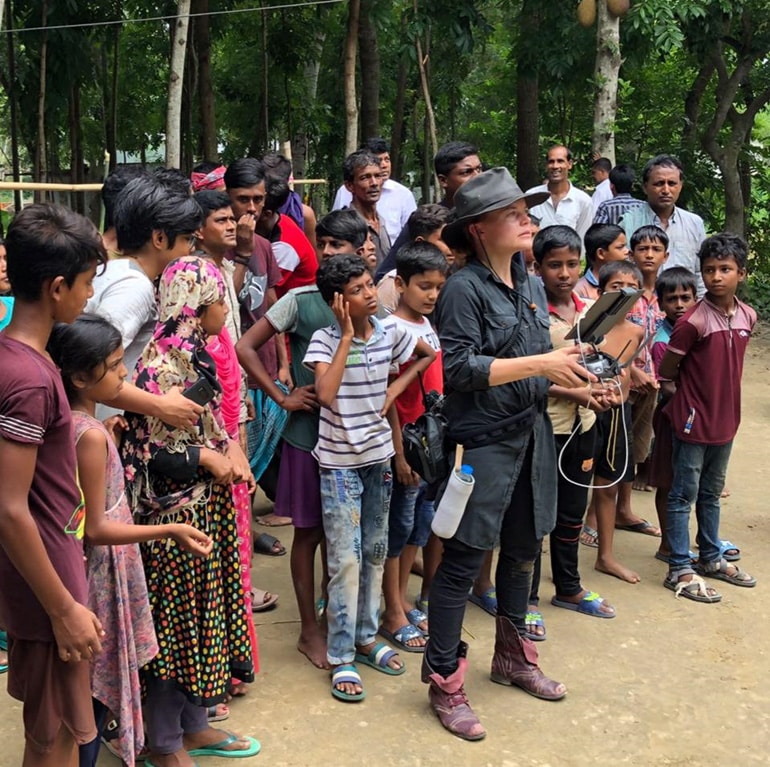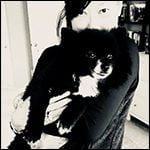 Interview conducted by Jody Michelle Solis. Associate Publisher for StudentFilmmakers Magazine (www.studentfilmmakers.com), HD Pro Guide Magazine (www.hdproguide.com), and Sports Video Tech (www.sportsvideotech.com) Magazine.
"With the rapid application of the changing technologies, we are all students."