STUDENTFILMMAKERS: Can you tell us about the development and pre-production stages?
Rodrigo Chapoy: The pre-production stages were really rough and messy. "Bear With Me" was born out of the need to tell a story that would be personal, and that I cared for. I've been in a long-distance relationship for the time I studied at Ringling and felt I had to make this film for my love and all the couples that can't be together in the most meaningful moments. This is how "Bear With Me" saw the light of day.
It's funny to actually look back and see the idea I pitched in my Pre-Production class. It was a love story between a grizzly bear who had to hibernate and a bird who eventually would need to migrate, so time was definitely a problem. It made total sense at that time, but revision after revision turned the bird into a grizzly, then to a panda, and finally, into a polar bear. I remember I would come to class every time with a different story completely boarded out. We are talking about around 100 drawings each class, exploring different stories and character arcs. I knew I didn't want to settle for a slapstick, but instead, I wanted this to express what I felt in my relationship, so I kept doing iterations. With the help of my classmates and teachers, "Bear With Me" finally became what it is now.
This took 2 months of exploring possible stories, locations and characters. I finally had all my boards drawn out and put them together into an animatic where I timed it out and added sound effects and music. We were required to stay under one minute and fifteen seconds for the animatic. The films usually grow when animation comes, because the acting takes more time. While the same action can be explained with two drawings juxtaposed. The same two poses would flash in animation and so it needs to be timed out. So, it was important to keep it short so that one person could make all the aspects of the film.
A fun fact is that the design for both bears looked a lot different for so much time. They were even approved to be modeled. They used to look a lot younger and skinnier. I made this choice because I was concerned that they would give me really bad deformations once I was in the rigging aspect. So, I kept trying to push them towards being skinny to have better shapes with them. Not happy with their design, I went back to the drawing board a week and a half before the modeling phase and drew as many as I could. I found that I was lacking contrast and shape language because I kept thinking of rigging, and my designs were being hurt. It was then that I created the new designs you see on screen.
STUDENTFILMMAKERS:Can you describe your process and collaboration with your film composers and sound editors?
Rodrigo Chapoy: My process and collaboration was really smooth and fun. I couldn't be happier with my composers and sound editors. AudioBrew with Adam Traister, Esin Aydingoz and Francesco Amante are incredibly talented and professional. We worked over video calls and emails. I would send in progress every now and then to keep them posted and get them familiar with "Bear With Me". In our meetings, we would talk about reference, tone and deadlines. We had some spotting sessions, where we watched the film together and talked about what sounds and how the music would play in each scene. It was important to have adjectives to describe the mood of the scene. Esin did an extraordinary job with the score. She is in a long-distance relationship and made this score to express how she feels about it. AudioBrew worked with some variations on the pace and mood, as well as the sound effects. At the same time, they were working with Mark Robertson who played the violin so beautifully. After some other meetings and emails, we settled on the last version which couldn't be better. I think our process was smooth because we always had reference and knew the tone of the film. We also were on the same page because they saw how the film got developed and were somewhat attached to it as well.
STUDENTFILMMAKERS:What was one of the most important things you learned during this project?
Rodrigo Chapoy: I learned so many things while doing "Bear With Me". Some are personal and other technical. Probably the most important thing I learned was to "kill my babies" for the good of the film or project. Sometimes we try to keep some acting beats, shots, etc., because we've spent many hours on it, yet it doesn't add any new information. It's important to stay objective and get rid of things that are making noise or have no reason to be there. I learned that communication and organization in such projects is crucial. I also learned that you never stop learning and growing. There is always something you can learn from the person sitting next to you. I wouldn't have been able to finalize this project if it weren't for the help of all of my classmates, instructors and mentors.
STUDENTFILMMAKERS:If you could share your Top 3 Animation Tips what would they be?
Rodrigo Chapoy: My top three animation tips are:
Understand who your character is, and what is motivating them. Because that motivation will affect the acting choices in that specific moment. Once you know your character and know the scene your character will be playing, it's time to shoot reference. Reference is extremely important to me. It's not about rotoscoping, but about finding the subtle movements and gestures that make that performance unique and honest. Never go with the first video reference you've found or shot. Keep doing more takes because the more comfortable you feel, the more honest and sincere the acting will be.
Art direct your own animation pieces. I find myself drawing over my own playblasts to keep the shapes graphic, clear and appealing. It's really important to sculpt the characters in each frame and stay on model. Break the rig as much as you can until you get that specific drawing where your character shines.
Ask for feedback. We usually look at our shots longer than we should and become familiar with them. It's always good to have some fresh eyes look at it and know if the shot is clear and readable. If not, don't be afraid to start again from scratch. The second or third time will be better than the first one.

Rodrigo Chapoy
was born in El Paso, Texas on June 16 of 1993. He grew up experiencing Mexican and American culture. Both of his parents were born in Mexico. Living in El Paso gave him the tools to practice both Spanish and English. Later in his life, he moved to Mexico to study more Spanish and learn from his parents' roots. He was preparing to become an engineer. He always had a technical and logical mind, and for the same reasons engineering was a good option. After graduating from highschool, he discovered a new major called Engineering in Animation and Visual Effects, and so because of this,  Rodrigo decided to pursue an art related career. He had always loved video games and films, yet he had no idea that animation could be studied. Rodrigo enrolled in a new animation program in the Universidad Politecnica de Gomez Palacio in Gomez Palacio, Durango, where he discovered a new way of expression. That was his first interaction with Art and Animation. Thankfully, he fell in love with it and kept researching until he found Ringling College of Art and Design. He was fascinated by how much Animation can transform and mold lives. He then realized how much impact they have had in his life. He knew he wanted to be part of it and make a change. He would have to embark on a long-distance relationship that later would come around as he applied to his desired school to follow his dreams of becoming an animator.
He majored in Computer Animation and minored in Film Studies at Ringling College of Art and Design, graduating in May of 2020 with honors. Finding a passion for character design, shapes and Animation, he exploited those in his senior year. He developed a full two-minute CG animated short film named, "Bear With Me", as his thesis. From pre-production to post-production, he created everything. "Bear With Me" was born from his experience being in a long-distance relationship. Time had always been the antagonist when being with his loved one, so he knew he wanted to touch people's hearts and tell them everything would be fine. Because just like the bear couple he had created, love is much stronger, and they would be brought together and celebrate all the moments they couldn't have at the time. On the side he has taken a wide variety of workshops with artists such as Glenn Vilppu, Deanna Marsigliese, and Aaron Blaise that have allowed him to open his mind to new possibilities.
He works today at Brazen Animation as a Jr. Animator, animating for video games and working alongside the Vis Dev department. (rodrigochapoy.portfoliobox.net)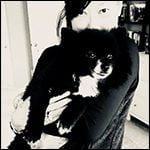 Interview conducted by Jody Michelle Solis. Associate Publisher for StudentFilmmakers Magazine (www.studentfilmmakers.com), HD Pro Guide Magazine (www.hdproguide.com), and Sports Video Tech (www.sportsvideotech.com) Magazine. "Lifelines, not deadlines. Motion Arts. Fusion Everything." If you're in Dallas, sign up for Jody's Yoga Class.