Interview conducted by Jody Michelle Solis
STUDENTFILMMAKERS: What is an example of a shot that you are most proud of?
Jerry Franck: Being a perfectionist it is not always easy to enjoy your own work as much as your clients do. When we were shooting a Social Distortion music video there was a shot that we got on the second day, which I still think is very close to perfection. We were losing daylight and there were still a bunch of shots we needed to get. The scene was the final shootout between the police and the gangsters. While the other camera was shooting inserts, steadicam branched off with the Director and DP to get this arrival shot of the main police officer. The shot consisted of me pushing onto an approaching cop car and then pulling back with the cop coming out of the car and firing at the gangsters. The shot is very energetic as the frame size changes constantly, and then coming to a rock solid lock off at the end when the cop fires his rifle past camera. We rolled the rehearsal and got the shot on the first take. The DP and director were thrilled to move on and get the remaining shots before the sun went down. These are the moments that I call "movie magic" when everything clicks and everyone is happy. It's a feeling that is hard to describe if you are not present at that moment.
STUDENTFILMMAKERS: Steadicam operating techniques depend on the nature of the shot. Could you share with us your favorite steadicam operating techniques along with some examples of shots?
Jerry Franck: In steadicam there are two main operating techniques: high and low mode. As most steadicam operators, I am not a fan of low mode since it puts the operator in a very awkward position because the majority of the weight is then lower and further away from your body. However, low mode shots are very dynamic frames. That being said, my preference is to high mode/regular steadicam mode. Even though it sounds generic, my favorite shots are leading actors through a set and maintaining a perfect composition and horizon at all times. Other than that, I would say that I'm a fan of anything fast-paced and dynamic because it is my job to make the shot look smooth and controlled in a very chaotic and urgent atmosphere.
STUDENTFILMMAKERS: Do you experience Murphy's Law on set? Can you share with us "Challenge and Solution"?
Jerry Franck: I experience Murphy's Law almost every day on set. Problems will arise, whether it's a small or big production. My job as an operator really finds its purpose in those situations; when everything goes south and people look at me for answers I want to be able to find the missing link. It takes an entire crew to make a movie and an operator is only one job, but being there, at the core of it all makes any form of camera operating so great.
STUDENTFILMMAKERS: By the way, what are your favorite cameras to shoot with, and why?
Jerry Franck: Cameras are a big topic in the steadicam world. They are a direct factor in our balance and weight limits. Having worked with a wide variety of camera systems, I'm a fan of new technologies and the new features they bring. Digital cameras like the RED or the Alexa are "steadicam-friendly" cameras and can be setup in many different ways to make our jobs easier and keep the weight at a minimum.
---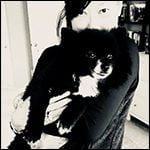 About the Author: Jody Michelle Solis serves as Editor-in-Chief for StudentFilmmakers Magazine (www.studentfilmmakers.com) and HD Pro Guide Magazine (www.hdproguide.com). She enjoys content creation, shooting/editing video, and teaching dance/yoga.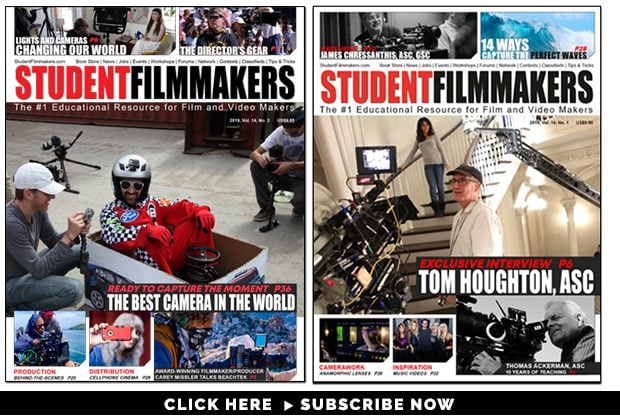 Subscribe to StudentFilmmakers Magazine
Print Subscription >>
Digital Subscription >>
---