StudentFilmmakers Magazine: Can you share with us your thoughts on the importance for screenwriters to "prewrite" their screenplays and the benefits of prewriting?
Michael Tabb: First and foremost, every writer has to find his or her own writing method that works best for him or her. So, regardless of how anyone tells writers there is a specific method or formula writers should follow is incorrect. I have a method that works great for me and is endorsed by some of the best and most successful screenwriters in the business. I have written for Universal, Disney, producers at Warner Brothers, and I still say any writer has to do what works for his or her brain and gets creativity sizzling. There is no magic bullet, only techniques and great ideas for how to unlock the door to your imagination.
Some writers are not planners and like to fly by the seat of their pants. They just start writing on a page and see where it takes them. I've actually seen it work for some writers, but that is extremely rare. They have an amazing gift, and I wish I had it, too. I am not a fly by the seat of my pants writer. For most writers, that's a huge mistake because it does not yield a cohesive script. It turns out meandering with a lot of beats that read like setups that are never paid off, and though it can be unpredictable, it turns out reading sloppy with a lack of clarity. It's just a series of turns that feel like a disjointed exploration of a character, idea, or theme. Those scripts have their place, but rarely in mainstream cinema, which can be refreshing.
Meanwhile, in my experience, for the majority of quality writers I know, prewriting is an essential part of our process. It helps writers drill down into tone and genre, flesh out characters, plots, provide a strong escalating structure, and leads to strong setups and payoffs. It takes away the fear writers have of the blank page.
A young writer is usually driven to write because he or she cannot keep a story idea locked up in his or her head anymore.  By the time the writer stops procrastinating on that first story, the young writer has thought it through so much that he or she cannot hold back the flow of ideas any longer. The floodgates open because the writer did a lot of the prewriting in his or her head. The new writer already pictured the structure, how it should end, what it's about, and what character the story is going to follow. But think about this… that first idea was a lifetime in the making. The writer lets it fester, build, and expand sometimes for months and years before deciding to actually commit it to words on a page.  The more professional of a writer becomes, the less time the writer has to turn out quality content because the writer needs the next paycheck.  We have bills, and we'd rather pay them through writing than some other type of job, leaving us with depleted energy and time to develop the work.
The WGA (screenwriter union) minimums say we have only 4 weeks to turn in the first draft of a 90- to 120-page script and two weeks for a full-fledge rewrite (which is sometimes a page-one do over). That's a serious ticking clock. I, and the working professionals I know personally, love having a method that we can use every time, built with a series of steps I know will yield a very competent and well-developed story on a super tight deadline. Something with a strong statement about the world, a character arc that proves it, the perfect genre for the premise, characters designed to serve very specific purposes, and a structure any reader can identify as something with a strong and captivating and escalating beginning, middle, and ending.
Prewriting also saves the writer an absurd amount of time in the rewriting process, and gives shape and clarity. Prewriting sets the writer up to attack the script with all the major "big picture" components figured out so he or she can attack the story from a place of fun and security, because there is a plan. The pre-writer knows the story makes sense before he or she starts. The writer is not getting stuck and walking away from the computer between every scene because he or she don't know what happens next or have an idea for exactly how to execute it best.  There's far less stress involved, and this makes the writing of the first draft infinitely more fun. Ironically,  prewriting and planning is liberating, not constricting.  The writer frees him- or herself of fear and worry of "will it find its way" and just allows the story to fly. Once a writer knows where he or she is going, the writer can have more fun exploring the beats that will get the writer and the writer's characters where they need to go.
Remember, just because a writer prewrites a plan does not mean that writer has to stick with it if he or she thinks of a great new thing along the way.  The writer can always detour on a whim, take more scenic and off-the-trail paths to see how and where that might lead.  A plan is just a plan, and it's not etched in stone. It should not limit a writer's ability to explore new ideas as they bloom.
StudentFilmmakers Magazine: What was one of the most important things you learned while working on a screenplay?
Michael Tabb: My brain is exploding with things I could mention here. The biggest is that almost all script notes can be helpful, even if the specific suggestion is not worth adhering.  When readers have a problem with a scene, really consider what they say (especially if you gave the script to more than one reader and more than one reader marked that scene with an issue). Whether or not the reader is correct about what isn't working, the point is that something isn't clicking.  Think outside the box of their suggestions. They are missing something that you meant to convey that should have made the scene work, and it didn't do the trick. So, ask yourself if there's a way to make the scene do what you wanted in a better way. Every note is an opportunity to put a moment in the script under the microscope and see if there's a way to improve it. We call this looking through the note to see what's under it.
StudentFilmmakers Magazine: A filmmaker has finished his or her screenplay – what do they do now?
Michael Tabb: Rewrite it. Hone it. Don't sully your reputation sending out a script that doesn't make readers shout, "Damn, this writer is good," whether or not they like the story. Spec sales are rare, but what great specs do is get the writer considered for OWAs (open writing assignments) on different stories the producers do want to produce. I do three major rewrite passes:  (1) a big picture edit (genre, character consistency, structure), (2) scene-by-scene edit (making sure each scene flows seamlessly from one to the next, is necessary, and strong as hell), and (3) line-by-line edit (keeping action written in active tense, brushing up dialogue, and finding anything I can cut out to keep the story trucking along at a great clip).
StudentFilmmakers Magazine: If you could share your Top 3 Screenwriting Tips for aspiring filmmakers and storytellers, what would they be?
Michael Tabb:
Tip # 1: Here is a huge gap in content availability created by Covid.  What are you waiting for?  Make your own project!  Equipment is more accessible than ever. You have a better chance at getting picked up now that there are more content outlets than ever in the history of the medium. That said, it must be fantastic as possible. Nobody wants his or her name on a bad film. So, surround yourself with people far more talented (ego-less) craftsmen than you and learn from them every day. Put in the time, make it great, and if your film never gets picked up, you just paid for the best and most powerful film school a filmmaker can have – real experience.
Tip # 2: Write for you and what you have learned that resonates powerfully within you. Trends change and writers cannot write to today's trends because they are passed by the time the script is ready. So, write smart, write now, right now. Write something that matters based on what you see going on around you that needs correcting. That makes it timely. What you may lack in craftsmanship may shine through in heart.
Tip # 3: Honestly, I have to say, read my book.  It has hundreds of story creation tips in it stemming from every great teacher and writer I've known, over twelve years of WGA writing experience, all wrapped into a single set of building blocks. I make a pittance on the publication of it. I specifically wrote it for the same reason I co-created the WGA's Mentor Program. I wanted to share all I know and help the next generation to become better writers. This first book is my love letter to the state of story crafting and screenwriting, and making sense of how it is constructed when done well. It was the only way I knew I could share all I've learned and understand about my craft long after I'm dead. I truly hope it helps you find your way.
Michael B. Tabb is a film festival Best Screenplay award winner for A Misfits Christmas, Nicholl Fellowship semifinalist for The Casanovas, author of Prewriting Your Screenplay for Routledge (America's #1 textbook publisher), decade-long WGA current and active member, and co-creator of the WGA's Mentor Program. He's agile enough to write horror for Universal Studios, family for Disney Feature Animation, and a period war epic for a production company at Warner Brothers to name just a few. He's also written for Intrepid Pictures, the Canton Company; producers Paul Schiff, Sean Daniel, and Lawrence Bender; directors Thor Freudenthal and Mike Newell; comic book icon Stan Lee; and actor Dustin Hoffman. 
Tabb attended the three top schools for filmmaking in America: USC, NYU's Tisch School of the Arts, and UCLA's School of Theater, Film & Television's Professional Program in Screenwriting. His many professional endorsements can be found on the main and book page of his website: www.MichaelTabbWGA.com. With a passion for giving back, Tabb serves on the WGA Writer's Education Committee, and he co-created the WGA's Mentor Program. He has lectured at writers conferences from coast to coast and in classrooms at Florida State University, UCLA, and USC, having tested his story-development theories as a film school Program Director and a multiple award–winning MFA screenwriting professor at at various universities.
Book Spotlight
A Step-by-Step Guide to Generating Stories
Written by Michael Tabb
Reviews:
"It's vitally important for aspiring writers to understand that a professional screenwriting career is built upon the relentless pursuit of asking the right creative questions and then finding the most satisfying answers. In his new book, Prewriting Your Screenplay, writer and teacher Michael Tabb generously shares his innovative approach to meeting that challenge. His original method of generating story, character, and theme will be valuable to both veterans and novices, and should help any writer get past the fear of writers block."

-Jeff Melvoin, Emmy Award-winning Television Writer/Producer, Chair of the Writers Education Committee of the Writers Guild of America, West; Designated Survivor, Army Wives, Alias, Early Edition, Northern Exposure, Hill Street Blues, Remington Steele

"I wish I had this book when I was just starting out — but it's still immensely helpful. An indispensable handbook of the craft written by a seasoned veteran and accomplished writer. A must read for anyone serious about screenwriting."

-Marc Guggenheim, WGA Writer/Creator, Percy Jackson: Sea of Monsters, Green Lantern; TV's Arrow, Legends of Tomorrow, No Ordinary Family, Eli Stone, CSI: Miami, Law & Order; Video Games Singularity, X-Men Origins: Wolverine, Call of Duty 3, Perfect Dark Zero
Prewriting Your Screenplay cements all the bricks of a story's foundations together and forms a single, organic story-growing technique, starting with a blank slate. It shows writers how to design each element so that they perfectly interlock together like pieces of a puzzle, creating a stronger story foundation that does not leave gaps and holes for readers to find. This construction process is performed one piece at a time, one character at a time, building and incorporating each element into the whole.
The book provides a clear-cut set of lessons that teaches how to construct that story base around concepts as individual as the writer's personal opinions, helping to foster an individual writer's voice. It also features end-of-chapter exercises that offer step-by-step guidance in applying each lesson, providing screenwriters with a concrete approach to building a strong foundation for a screenplay. This is the quintessential book for all writers taking their first steps towards developing a screenplay from nothing, getting them over that first monumental hump, resulting in a well-formulated story concept that is cohesive and professional.
Order your copy of the book, Prewriting Your Screenplay, at the StudentFilmmakers Online Store today.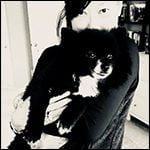 Interview conducted by Jody Michelle Solis. Associate Publisher for StudentFilmmakers Magazine (www.studentfilmmakers.com), HD Pro Guide Magazine (www.hdproguide.com), and Sports Video Tech (www.sportsvideotech.com) Magazine. "Lifelines, not deadlines. Motion Arts. Fusion Everything." If you're in Dallas, sign up for Jody's Yoga Class.