By Jody Michelle Solis
I'm enjoying a fresh, hot cup of coffee (think maple syrup, citrus, bright) while editing articles for the UFVA Edition of StudentFilmmakers Magazine. I can't help but want to share John Klein's music video link for "endless frozen dawn". In his newest article for StudentFilmmakers magazine, John shares with us his experience and how he shot the music video for composer Andrew Edwards. You can watch the video now- see below. It stars Cole Simon, who plays the alien being coming to Earth and taking human form to begin a search for…
Composer Andrew Edwards: www.bluepolicebox.com; Director John Klein: www.johnkleinfilm.com; Behind-the-scenes still by Kaitlin Creadon: www.tembomp.com.
If you haven't yet, don't forget to subscribe to StudentFilmmakers Magazine. Click here for a print subscription; and you can also click here for a digital subscription. Check out John Klein's article in the next issue. (I hope you enjoyed his music video!) Meet and network with us at the 2019 UFVA Conference where you can pick up copies of this issue of StudentFilmmakers Magazine and collectors editions. For more information about the event, go to: https://spark.adobe.com/page/9nT973JIxkRaU/; https://ufva.site-ym.com/.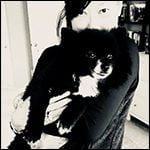 Jody Michelle Solis serves as Editor-in-Chief for StudentFilmmakers Magazine (www.studentfilmmakers.com) and HD Pro Guide Magazine (www.hdproguide.com). She enjoys content creation, shooting/editing video, and teaching dance/yoga.
---