Mick Hurbis-Cherrier:
A Film Director's Bird's Eye View
StudentFilmmakers Magazine: What changes have you seen in narrative filmmaking over the years?
Mick Hurbis-Cherrier: Change, evolution, and transformation are the norm with filmmaking – it's an art form that is sensitive to the moment; technologically, conceptually, aesthetically, and ideologically.  Changes are constant, from small details (like recent advances in drone cinematography) to the total overhaul of technologies (when I was a student digital media making didn't exist for anyone but NASA).  But if I think specifically about the larger changes occurring in the last decade or so, here's what comes to mind first:
 On the grand scale: Society is changing and films change with it (they can also help lead the way). Tired, false, and oppressive assumptions and stereotypes about race, sexuality, gender, and age are not only being challenged, but they are falling fast. Filmmaking has responded with a greater sense of reality and responsibility when it comes to portraying women and people of color. But in terms of representation behind the camera, progress has been slower to be sure. Independent cinema has lead the way for advancing the stories and careers of a more diverse generation of filmmakers; however, as you move up the commercial ladder, into the mainstream industry, you will find that progress has been painfully slow, especially in the areas of writing, directing and in the studio executive ranks. But I believe that the issue of fair inclusion has been so thoroughly exposed on the cultural level, that the film industry will be obliged to make significant changes in the next few years or risk becoming irrelevant. Expanding the range of stories that can be told and the voices who may speak can only revitalizing the art form we all love, and I believe that we are currently in the middle of this evolution.
The USC Annenberg Inclusion Initiative has done much groundbreaking research in this area and provides a sobering empirical look at gender and racial diversity in the Hollywood industry. Especially important to student filmmakers is their 2020 partnership with Times Up to study inclusion and diversity in film festivals.
https://timesupfoundation.org/wp-content/uploads/2020/01/aii-inclusion-film-festivals-20200127.pdf
In terms of storytelling technique: Cinema is global. Yes, I understand that there has always been a degree of international cross-fertilization (like the American genre movie's influence on the French New Wave and the New Wave's subsequent influence on American independent film…), but it's nothing like today. Filmmaking outside the US is no longer "foreign" and cinematic innovations and influences bounce back-and-forth from continent to continent with blazing speed. A smart filmmaker must remain keenly aware of movies and trends beyond their own national industry. Just consider this group of recent masterful films whose stories transcend borders: Parasite (Korea); Roma (Mexico) Atlantique (Senegal); Ida (Poland); Shoplifters (Japan); Son of Saul (Hungary); Portrait of a Lady on Fire (France); I, Daniel Blake (UK); Tel Aviv on Fire (Israel), Lionheart (Nigeria), and of course, Get Out, Lady Bird, If Beale Street Could Talk, and Uncut Gems (all USA). I could go on and on like this, just off the top of my head. It's an exciting time to make movies!
In terms of delivery method (and more):  Netflix, Amazon Prime, Hulu, Apple, Disney+, and on and on… What's this whole streaming thing?  It ain't TV like TV had ever been, and it ain't the movies like the movies had ever been. Amazon and Netflix only started streaming features films around 2007, and since then (a very brief amount of time) streaming services have greatly multiplied the opportunities for our stories to be distributed and seen. Even more recently many of these companies have revolutionized film producing by becoming their own content creating studios, which has also multiplied the opportunities to get our films made.
To a film student today, this seems totally normal, but to those of us who remember our first VHS video rental, the last decade has been nothing short of revolutionary.
In terms of technology:  Continued innovations to color grading and video effects tools has transformed what was once strictly a post-production procedure into a creative process used throughout the filmmaking stages – even during pre-visualization. Contemporary directors and cinematographers can devise their final look (more or less) through tests before the camera even rolls. Even more, we can save the custom LUTs we created during pre-production and bring those LUTs into production so that we can light scenes and monitor footage using looks that are very close to what the final outcome will be. We can even do further color correction tweaks in the field while we shoot. And the best part is, this capability isn't available only to high end commercial filmmakers. Expressive and sophisticated looks are accessible to more filmmakers at any budget level than ever before. We can create them from scratch, we can easily download them from online LUT libraries for a fee or for free, or we can use the LUTs that come built into our cameras or editing software. It's becoming astonishingly easy to achieve truly polished color correction results.
However, what hasn't changed is the usual disclaimer concerning ANY new technology: Never fetishize a technological advancement over the indispensable factors for making a good film, like writing a strong screenplay, directing actors sensitively, developing an appropriate and expressive visual style, using revealing locations, and so on). The magic of contemporary color grading tools should not be seen as an invitation to get lazy or sloppy with camera work and lighting. No new technology will ever save a poorly, or thoughtlessly, or indifferently, photographed film.
StudentFilmmakers Magazine: What was one of the most important things you learned on set?
Mick Hurbis-Cherrier: As a film student I worked my way through school as freelance crew (camera grip, location sound, prop master, and teleprompt op.). With a few skills and a very low day rate,  I found myself on many sets – those of upper-classmates shooting their theses, low budget indie films, and professional commercial sets. I watched and listened and always kept my eye open for on-set dynamics and along the way I learned many lessons that were not taught in film school classes.
Through all this firsthand experience I'd say that the most important lesson I've gleaned (and tried to adopt) about directing actually has two facets to it. The first is, as the overseer of all creative activity on a set, a director must maintain and communicate a clear, strong vision of the project to their principle creative team. The team relies on the director's bird's eye view of how all the puzzle pieces fit together. I've seen how a production unit can flounder and lose all enthusiasm for a project under an indecisive or unprepared director.
However, this doesn't mean that a director is an autocrat commanding the crew to simply fulfill their vision like technical automatons. The most successful directors I've witnessed listen to and collaborate with their creative team to realize that vision. Soliciting the input of the team gives everyone a greater stake in the project and energizes the production. Not only that, a good crew brings a deep well of experience that can be applied to solving the creative challenges a director faces when bringing a story off the page and onto the screen. A good cinematographer might work on three or four films a year, while a director is lucky to make one film every three or four years.
But don't just take my word for it, here is how cinematographer Rachel Morrison describes her experience working with director Ryan Coogler:
"There's a psychology to filmmaking, and you become each other's support network. You're collaborators… [Coogler is] somebody who really likes to open things up across all departments. He'll ask the set decorator what she thinks of a performance. He's just incredibly collaborative and inclusive with everybody on his sets, which I think is the thing that really inspires people to give their best. They feel like they're really part of something, and not just in service of their own small piece of the pie."
(From an interview with Elahe Izadi, The Washington Post, 2/28/18)
StudentFilmmakers Magazine: What was the most challenging problem solved on set?
Mick Hurbis-Cherrier: Human behavior challenges are always more difficult to manage than technical ones.
Some time ago I produced and directed a ridiculously low budget psychological thriller under a ridiculously tight deadline. Finding the right location, a suburban house, was a time-consuming ordeal, but eventually I found the perfect location and the woman who owned the house was thrilled to have a movie shot there. The look was perfect, and the price was right, so we signed contracts and scheduled it in.
On the first shooting day at the location a problem emerged that I hadn't anticipated. While the woman was happy to host a film crew in her home, her husband was definitely not. In fact, he hated everything about the idea and it quickly became clear that our being there was kind of a proxy war for deeper issues in the marriage. I even wondered if she hadn't made her home available to us simply to piss off her husband. In any case, it was more than simply awkward for us. When they weren't arguing, the husband would follow us around and make his displeasure known in myriad hostile ways. We continued our work, but I was concerned for the morale of my crew which consisted of a handful of advanced students and a few pros working for token pay. Then something really unfortunate happened. On the second day, we were shooting in the driveway, which meant that the husband had to park his truck on the street. As we were rehearsing, a passing car, curious about the film shoot and not watching the road, drove too close to the husband's truck and BAM! bashed his side view mirror clean off. The car sped away (of course) leaving me making promises to the irate husband that we would pay to repair the damage to his truck.
At that point we had two short days left at that location, but the husband was screaming for us to leave immediately, and his wife was screaming at him to leave us the hell alone, and my cast and crew looked shell shocked after only two days on the set. For many reasons, it would have been totally impossible for us to simply find a new location. What to do?
I had tried to be friendly to the husband all along, but now I decided to confront the problem head on, and I called a meeting with the husband and wife. Now, I'm a conflict averse kind of guy, but I had to lay it all out there clearly. I explained to the couple how important the location was and how much time we had left there.  I reminded them that we had respected the location and even did a few home repairs that needed attention. Finally, I reminded them of the contract and our agreement.  I respectfully, yet very firmly told them that we would not be leaving until we had finished our work. Then, in an attempt to alleviate distractions and anxiety, I dug into my film budget (i.e. my bank account by this point) and offered to pay for them to spend two days and one night at a lovely bed and breakfast near the beach. I would pay for the B&B and the meals, and they would have to stay away for that time. It was a bit of a risk because I wasn't sure that the prospect of being alone together in a B&B would appeal to them, but I told them that this was the only way to ensure that we could finish our work on time – and NOT stay the extra two contingency days that were in the contract!  The prospect of us staying longer compelled the couple to take the B&B offer.
The final days at that location were blissful and efficient and we sailed through our shoot. When we were done, I gave their house keys to the neighbor (as instructed) and I never saw the couple again. I invited them to the film's screening, but they did not show. I have no idea if they enjoyed the B&B stay or if they even stayed together as a couple.
The challenges posed by a finicky camera, or inclement weather, or a tricky rigging situation, or RF interference plaguing your wireless mic signal, all seem so manageable compared to negotiating the world of human temperament and caprice.
StudentFilmmakers Magazine: If you could share a few important tips for aspiring directors, what would they be?
Mick Hurbis-Cherrier:
Tip #1: Number one is, of course, always run a safe set.  Don't ask anyone on the crew to take risks, always use common sense, and always follow the local / state laws and any regulations for the specific location. Make it your business to study the appropriate best practice guidelines and add a safety coordinator to your crew.
Tip #2: Every well written script has a core idea that gives the story its ultimate meaning. It could be a theme (like, respect isn't given, it must be earned) but it can also be just an energetic sliver of a human dynamic (like, one never knows who will bravely confront injustice and who will cower). Whatever it is, this core idea gives your work its underlying identity and becomes your guiding beacon. Use the central idea to test every decision you make; from visual choices, to performance choices, to editing choices. Everything you do should work for and within the central idea or your film can become diffuse. So, take a moment to clearly define the central idea of your film, hold on to it, and bring it with you every day.
Tip #3: Don't be optimistic about money, time, or the abilities of your team. The success of the film, indeed your ability to even finish it, relies on a realistic and pragmatic assessment of:
Resources: Your financial and physical assets (equipment, locations, props, etc.).
Time: Your deadlines, the availability of cast and crew, and a realistic estimate of the amount of time it will take to shoot each scene figuring in the relative complexity of the shooting plan, logistical contingencies (travel, turnaround, location eccentricities, etc.), and likely delays (weather, illness, etc.).
Ability: Especially important for students to consider is the composition and expertise of your crew: How large is the crew? How quickly can they work? What do they know, and what's beyond their expertise?.
Tip #4: Always remember, the screenplay is never locked in – in fact, it's never even really finished. So, don't think you have to faithfully reproduce, to the letter, everything that's in the script. Story and character details can be changed, edited, re-worked, amended, altered, eliminated, and revised at any stage all the way up to picture lock. A director should perpetually keep their eyes open for the new creative opportunities that inevitably arise from collaborating with principle crew, rehearsing actors, being at the actual location, creating the assembly edit, adding music, hearing test screening responses, and so on.  If you remain flexible, opportunities for improvement will present themselves at every stage. Give in to chemistry.
And one more thing…
Tip #5: Filmmaking is always intense, but it is also exciting. For goodness sakes, have fun!

Voice & Vision: A Creative Approach to Narrative Filmmaking, 3rd Edition
By Mick Hurbis-Cherrier
Book Reviews:
"Voice & Vision is the only text I have seen that gives in-depth coverage of both the creative development process and the technical aspects of filmmaking. Mick Hurbis-Cherrier's approach gives the reader the inspiration to develop compelling stories and the tools to bring them to the screen. It's an essential resource for media makers at all levels."
~Eric Scholl, Interim Chair, Cinema and Television Arts, Columbia College Chicago
"Making a movie is always a journey into uncharted territory. Hopefully we have a clear sense of the destination, but we also know that the road is likely to be fraught with hazards, detours, setbacks, and surprises. Fortunately, Mick Hurbis-Cherrier has provided us with a map. Voice & Vision is a thoughtful and stimulating, step-by-step guide through the entire filmmaking process from concept to distribution. The author offers an invaluable commentary on the art, craft, and technology that inform every stage of the creative journey. This is an essential and inspiring guide for the intrepid filmmaker. Don't leave home without it."
~Paul Thompson, Associate Professor, Tisch School of the Arts, New York University; Formerly Head of Film and Television, AFTRS, Sydney, Australia
Develop your creative voice while acquiring the practical skills and confidence to use it with this new and fully updated edition of Mick Hurbis-Cherrier's filmmaking bible, Voice & Vision. Written for independent filmmakers and film students who want a solid grounding in the tools, techniques, and processes of narrative film, this comprehensive manual covers all of the essentials while keeping artistic vision front and center. Hurbis-Cherrier walks the reader through every step of the process—from the transformation of an idea into a cinematic story, to the intricacies of promotion and distribution—and every detail in between.
Features of this book include:
Comprehensive technical information on video production and postproduction tools, allowing filmmakers to express themselves with any camera, in any format, and on any budget
An emphasis on the collaborative filmmaking process, including the responsibilities and creative contributions of every principal member of the crew and cast
A focus on learning to work successfully with available resources (time, equipment, budget, personnel, etc.) in order to turn limitations into opportunities
Updated digital filmmaking workflow breakdowns for Rec. 709 HD, Log Format, and D-Cinema productions
Substantial coverage of the sound tools and techniques used in film production and the creative impact of postproduction sound design
An extensive discussion of digital cinematography fundamentals, including essential lighting and exposure control tools, common gamma profiles, the use of LUTs, and the role of color grading
Abundant examples referencing contemporary and classic films from around the world
Indispensible information on production safety, team etiquette, and set procedures.
The third edition also features a robust companion website that includes eight award-winning example short films; interactive and high-resolution figures; downloadable raw footage; production forms and logs for preproduction, production, and postproduction; video examples that illustrate key concepts found within the book, and more.
Whether you are using it in the classroom or are looking for a comprehensive reference to learn everything you need to know about the filmmaking process, Voice & Vision delivers all of the details in an accessible and reader-friendly format.
Order your copy of the book, "Voice & Vision: A Creative Approach to Narrative Filmmaking, 3rd Edition", today at the StudentFilmmakers.com Online Store.

Mick Hurbis-Cherrier teaches screenwriting and film production at Hunter College of the City University of New York. Professionally, he has worked as a screenwriter, director, cinematographer, and editor, and his films have garnered prizes at numerous festivals. He is the author of Voice & Vision: A Creative Approach to Filmmaking, in its third edition, and co-author (with Michael Rabiger) of Directing: Film Techniques and Aesthetics (6th ed.) (both published by Routledge/Focal Press).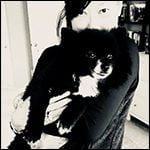 Interview conducted by Jody Michelle Solis. Associate Publisher for StudentFilmmakers Magazine (www.studentfilmmakers.com), HD Pro Guide Magazine (www.hdproguide.com), and Sports Video Tech (www.sportsvideotech.com) Magazine. "Lifelines, not deadlines. Motion Arts. Fusion Everything." If you're in Dallas, sign up for Jody's Yoga Class.