Media Instructor Andrew Hwang talks with StudentFilmmakers Magazine about award-winning student video "Safe Spaces," created by students from the Wide Angle Youth Media Organization.
STUDENTFILMMAKERS: What inspired the story for "Safe Space"?
Andrew Hwang: What was funny was that this wasn't our original idea. The students and I were working on another idea, but I wanted do a little creative exercise to help the students do a little thinking.
It started as a fill-in-the-blank worksheet where I had students fill in what they found funny, what they like, and what they worry about. Then I had them write about what they didn't find funny, what they didn't like, and what they don't want to worry about. When I read over their answers for what they liked I wasn't surprised, but when I read the second part, I was floored. So next class I pitched the idea to them, we honed it, and made it into a video!
But I think with everything that was going on, they just had so much on their minds and so much to say.
STUDENTFILMMAKERS: What were the some of the most important parts for you in regards to working with the students, and in regards to Development to Distribution?
Andrew Hwang: Development. This is one of my favorites, but a harder part of the process because middle schoolers have such an amazing imagination, but we can't have a shot where we are doing dangerous car stunts and big explosions, as cool as it may be. So it's my job to take that creative energy and focus it into something more practical with the time and resources that we have. So I tell them, the simpler the better.
Pre-Production. To me, this is the most important part of filmmaking with middle schoolers. Sometimes my students just want to go out and film! But before we go out, I keep asking them questions to make sure they have a clear understanding of how they want to achieve the exact look that's in their minds. This is where they begin to really take charge of their projects and become leaders. From here I just guide them and answer any questions they have.
Distribution. This is something we talk about before we go into filming. We want to say who the audience is so that we have a better understanding of how to cater to our audience.
STUDENTFILMMAKERS: If you could share your Top 3 Tips related to filmmaking, what would they be?
Andrew Hwang: Be Nice. This is something that a lot of people forget. When you are nice, people will want to work with you. Hustle. If you work hard, others will see it, and they'll want to hire you. I've landed plenty of jobs because I always try at any task given to me no matter how small. Filmmaking is a team effort and when you contribute people will notice. Adapt being able to think on your feet creatively is important because there are so many variables. So being able to think quickly can save you time and money.
STUDENTFILMMAKERS: What are your thoughts about being selected and winning one of the top placements in the StudentFilmmakers Summer Shorts contest?
Andrew Hwang: It's kind of crazy! It's exciting that our film has gotten recognized for something and that it's been seen by people out there. My students worked very hard to make it an amazing video. I'll be sure to reach out to them and let them know that their film is out there and that I'm very proud of the work they put into it.
STUDENTFILMMAKERS: Is there anything else you'd like to share with us before we go?
Andrew Hwang: I also just want to give a shout out to Patterson Park Public Charter School and their staff, especially to Dr. Liz Obara and Sara Evjen who have been tremendous supporters of the program. Jacob Herman and Danielle Damico for being my assistant and Moira Fratantuono for helping me be a better teacher.
And I obviously couldn't have done it without these students:
Faith Carter-Topp
Desiree Garcia
Ceaser Jimenez-Zamudio
Malachi Jones
Ja'Niya Joseph
Joyce Kasiama
Omarion Lopez
Daniela Rodriguez
Ty'Jai Smith
Maria Foreman
Ma'Kyah Gyant
Na'Kayah Hunt
Calin Jones
Joyce Kasiama
Sanai Matthews
Dallas Solomon
Jabez Solomon
Karon Williams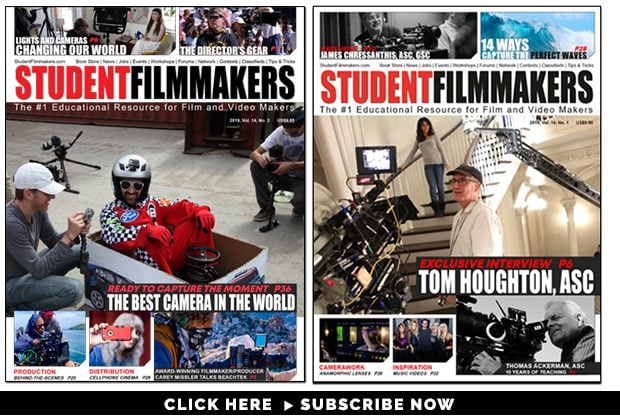 Subscribe to StudentFilmmakers Magazine
Print Subscription >>
Digital Subscription >>
---