Karim Dakkon is an indie filmmaker living in Los Angeles. After graduating with a BFA in film from the University of Central Florida, he moved back to his hometown, West Palm Beach, where he worked as a cinematographer, drone operator, and editor for 3 years. He now lives in LA but continues to shoot projects for his South Florida clients and friends. He has a movie he shot on Amazon called, "Some Southern Waters," and is currently making a vérité documentary feature on prison art.
How did you get into being a drone pilot, and what would you say are the most important skills every drone operator needs to succeed?
Karim Dakkon: I never saw myself being a drone pilot, I was always just focused on making films. One of my earlier jobs was working in-house as a videographer, and they needed me to get a lot of aerial shots, so they paid for my classes and certificate. Over the years I naturally made it part of my profession, but my interest in aerodynamics and cinema makes it enjoyable.
I don't think skill varies too much between operators, it's more about performance. If you like it, you will get addicted to it and become great at it. If it is just a job to you, then it will become more of a trade, and you will find yourself doing less creative jobs. But it is important to know the separation. Do you want to be someone who just gets aerial perspective, or do you want to be someone that provides creative ways to achieve ideas?
I know many people who focus on the former, and they have freedom and enjoy their work. Whether it be getting shots to document powerline damage for power companies, or show off construction sites, etc., that is a specific task to focus on because it sometimes requires certain drones.
For myself, I mainly do cinematography and videography, so my drone is more of an extra tool only used if it helps a story. In that case, I focus more on different drone moves, using smaller drones that can be set up quickly, experimenting with filters, frame rates, and color spaces.
When it comes to getting certain kinds of shots, what are your preferred camera settings, frame rate, and resolution that you like to fly and operate your drones?
Karim Dakkon: It obviously depends on the job, but if I am not the editor, and it is for something like docs or reality TV, I keep it conservative. I don't shoot flat, and I try to just go with 2k 60 fps at 1/120 shutter. That way they don't have to spend too much time in post, but the frame rate ensures fluid movement and leeway for mistakes.
For things that I am editing, or if it's for a more cinematic project, I take risks. I shoot flat, keep my aperture low by using ND filters, 4k, and try to stick to the 24 fps look. Shooting flat ensures I can customize the look to my liking. This can sometimes be more methodical and take more time from set, but once you've got the equations down, it becomes faster.
For every situation, I use smart modes on my drone for either tracking, or smooth movements, but for tricky shots, I go full manual and turn off my sensors. I don't recommend shooting manual if you are a beginner, but if you do, just start slow.
If you could share 3 Drone Operating Do's and 3 Drone Operating Don'ts, what would they be?
Karim Dakkon:
Do's:  
If your drone has intelligent modes, learn them and practice them.
Understand aperture, shutter, and how your drone responds to different ISO.
Experiment with filters.
Don'ts:
Don't always keep your eye on the drone. Try to even get a visual observer to help you if you need to look down at the screen a lot.
Don't break the laws. Learn about airspaces and local drone laws. Breaking these just makes the laws harsher for other operators.
Don't let clients pressure you into getting unsafe shots. Stand your ground. A drone can be a weapon like a car. I see too many operators fly around other drones while over crowds because it was their job. When you are working, it is not just your responsibility to get the shot, but also make sure everything is safe. Clients don't always know what goes into flying these, so don't feel like you are overstepping when you refuse to do something unsafe. It sounds funny, but practice polite ways to refuse these situations respectfully. I have a certificate, so my blunt approach works best for me. I just simply say it is illegal, but I already set the precedent that when the drone is up, it means caution. I don't fly FPV, but if you don't do that, don't start the precedent that drone operators are out here flying through hoops and car windows. If you want to get into all those trick shots, take it seriously and know that process. So, you have to know the scope of the project first and make sure they don't expect footage like that, because it is harder than it looks, and can really hurt someone, and secondly, damage property.
How are you navigating and keeping active and creative during these COVID pandemic months?
Karim Dakkon: Because my concentration has always been filmmaking, I have acquired multiple skills, so I have been able to adapt. I was doing a lot of editing and animating during the initial phase. When I got back on set, I would do same day testing, wear a mask, and social distance when possible. I have been on more small crew sets, so protocols are a little easier. Honestly, my main thing has been practicing a healthy lifestyle so that I don't catch anything. I have darker skin, so I make sure to get a lot of sun, or else I become D3 deficient rather quickly. I also take zinc sometimes before shoots, exercise, hydrate, and try to cook all my meals. Most of the people I know got it, and thankfully I haven't, but I know if I do, I could be out of work for weeks, or worse, hurt someone.
I think most creatives have had more free time in 2020, definitely true for myself, so I have been getting a huge passion project done about prison artists. Because of that, I have been more active and creative than ever. As artists, we should thrive for time as much as we thrive for money. You get older and older and lose value of this true currency. It is hard, but when you value it, your life becomes molded around it, and hopefully you fit in place.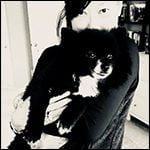 Interview conducted by Jody Michelle Solis. Associate Publisher for StudentFilmmakers Magazine (www.studentfilmmakers.com), HD Pro Guide Magazine (www.hdproguide.com), and Sports Video Tech (www.sportsvideotech.com) Magazine. "Lifelines, not deadlines. Motion Arts. Fusion Everything." If you're in Dallas, sign up for Jody's Yoga Class.