Raised between Malaysia and Miami, Jing Ai Ng is a writer-director currently based in Los Angeles. In 2019, she was awarded the Student Film Award by the Directors Guild of America (DGA) for her AFI thesis film, FLECK. FLECK is currently on the festival circuit, and she is developing her feature script FORGE. She has two upcoming shorts slated for 2020: SAYANG, currently in post, and FUERA, in pre-production. Jing is the first director of Malaysian origin to attend the American Film Institute (AFI) Conservatory and is a Telluride Film Festival Student Symposium fellow. She holds a BA in Creative Writing from Emory University and a MFA in Directing from AFI. 
StudentFilmmakers Magazine: Some first-time storytellers might find the short film form more difficult. When it comes to putting together a short script, what is the key to creating an emotional impact?
Jing Ai Ng: When telling a story in a compressed amount of time, the narrative perspective you're working with is much narrower, and it's important to use that to your advantage… When you're watching a feature, you need time to breathe and digest the story, but in a short, you really have the opportunity as a director to keep the audience as suffocatingly close to the character as possible. When that is used to full effect, you can really create a lasting emotional impact on the viewer as the story twists and turns. Also, at least to me, the element of surprise and uncertainty is really important in a short film. You have to maintain that tension.
StudentFilmmakers Magazine: What was one of the most important things you learned while directing your short film, "Fleck"?
Jing Ai Ng: There are a million ways to tell a story, but it's so important to trust yourself as a storyteller and commit to the way you've specifically chosen to tell it.
StudentFilmmakers Magazine: What was one of the most challenging problems solved during each of these stages: pre-production, production, and post production?
Jing Ai Ng: A pressing concern of mine through all these stages of the film was that Jamie is an extremely internal and quiet protagonist, so letting the audience access her was an interesting challenge. Even though she's so quiet, she is a character ripe with conflict over her place in this particular boarding school setting and her rivalry with the other girls. So, casting the right Jamie (Stacy Chu) was a great milestone in pre-production, because she was able to capture the soul of the character so beautifully. During production, it was about letting the character breathe and making sure the camera placement was specific, so that the other characters surrounding Jamie didn't overpower or detract from her. It was a delicate balance with such a big cast and so much action, but definitely a great challenge. In post-production, it was really finding the editing style and rhythm that lent itself to showing her deepest thoughts and conflict. We drew inspiration from a very expressionistic editing style in Jean-Marc Vallée's Big Little Lies, and I couldn't be more thankful for it.
StudentFilmmakers Magazine: If you could share your Top 3 Film Directing Tips for student filmmakers and aspiring film directors, what would they be?
Jing Ai Ng: The first tip is to do what you want: there's no point in making a short film that doesn't have your voice in it. If anything, your voice should be concentrated in the few minutes you get with the audience; you're really telling them something about yourself and your view on the world. Secondly, I would say to be practical and try to dig deep to the essence of the story before shooting. It's important to use your resources on things that matter to the story. Thirdly, to always look for the key collaborators that strengthen your work with theirs. Good ideas aren't always your own!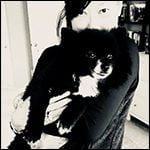 Interview conducted by Jody Michelle Solis. Associate Publisher for StudentFilmmakers Magazine (www.studentfilmmakers.com), HD Pro Guide Magazine (www.hdproguide.com), and Sports Video Tech (www.sportsvideotech.com) Magazine. "Lifelines, not deadlines. Motion Arts. Fusion Everything." If you're in Dallas, sign up for Jody's Yoga Class.