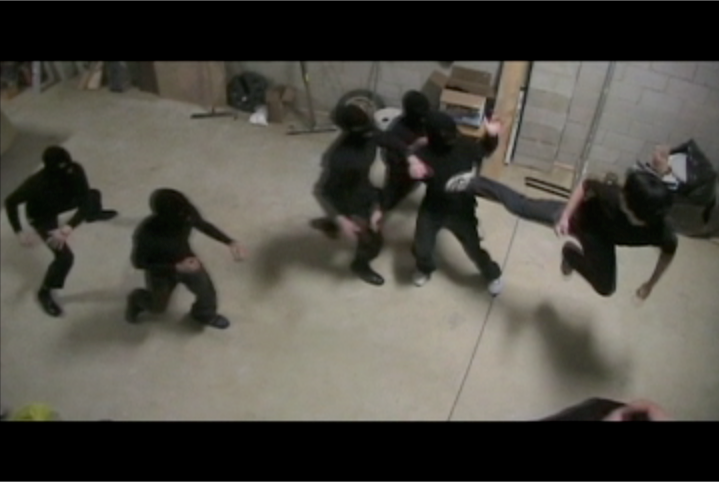 Youtube Link:
http://www.youtube.com/watch?v=UhZTO0OH7RQ
File Download (36mb):
http://www.mediafire.com/download.php?0xlapetzwxj
This is a project that my team and I had been working on for a long time this year. We do many short films, commercials, and other things of that nature for our high school's Media Club, but I've always been interested in martial arts action filmmaking on the side, and I wanted to present something more along those lines to the school for the longest time. For a while, this was a problem because teachers tend to be afraid to place their support behind anything that might be seen as violent, so after a few years, I decided to turn to the Asian American Club to get the project up in the air. Even though gathering support even in this situation was next to impossible, we managed to find ourselves a warehouse location outside of school and round ourselves up a team of about 20 so that we could shoot the big fight against the masked thugs. After writing a few letters and petitions, we were even able to get the short aired in front of the entire school during the annual Asian American Club Cultural Show. Please watch and tell us what you think!
Here are all of the practices and choreography tests that we did to round up cast members and get the general feel for the short down. There's also a scene I had to chop out of the short itself, because, although the short was intended to be abour 2-3 minutes longer, we didn't have time to shoot a lot of necessary scenes, and many other complications arose.
Choreography Test #1
Youtube:
http://www.youtube.com/watch?v=tKwIHIUiuFI
File Download (5mb):
http://www.mediafire.com/download.php?fz54c52sw9n
Choreography Test #2
Youtube:
http://www.youtube.com/watch?v=W8R6JwELFpk
File Download (6mb):
http://www.mediafire.com/download.php?fvidwgm0xm0
Group Fight Choreography Practice
Youtube:
http://www.youtube.com/watch?v=_ZAxJvrwkqU
File Download (3mb):
http://www.mediafire.com/download.php?ndmm1zftvmi
Deleted Scene - Wing Chun vs. Freestyle
Youtube:
http://www.youtube.com/watch?v=hJcvofh78_4
File Download (9mb):
http://www.mediafire.com/?yubm2mzyqya
Wing Chun Choreography Practice #1
Youtube:
http://www.youtube.com/watch?v=SalNVneEenA
File Download (2mb):
http://www.mediafire.com/?nbmqf2i4kgn
Wing Chun Choreography Practice #2
Youtube:
http://www.youtube.com/watch?v=o23XjolMYgM
File Download (2mb):
http://www.mediafire.com/?s2wbzlxncmm
Last edited: