FILMMAKERS GLOBAL NETWORK
Community Spotlight
Dani Kosger
LA-Based Student Filmmaker
CURRENT PROJECTS:

Since joining LMU, I've gotten to work on some really fun projects that I'm proud to have been a part of. I started at LMU with the goal of honing my skills as a screenwriter and director but have since discovered that I also have a passion for cinematography. My first semester, I was invited to work as a 1st Assistant Camera for a friend's junior film and discovered that I really enjoyed it. The film was a sci-fi/horror short that we shot in 3 overnights out in Palmdale, and I had a blast working behind the camera and networking with the people that I would be spending my next 4 years with!
The next project that I was invited to work on was one of the most exciting experiences I've had so far throughout my filmmaking career. My mentor and dear friend Sam Wineman, who directed the award-winning queer horror film, The Quiet Room, invited me to be his 1st AC for a Christmas horror short called, Milk n' Cookies, which would feature A.J. Bowen (You're Next, The Sacrament) and drag queen,  Biqtch Puddin'. The short was to be one segment of the similarly-themed horror anthology titled, Deathcember, which featured 24 directors from around the globe and would be shown in festivals across the world. Working under cinematographer Brent Bailey, I learned a lot about cinematography and further developed my skills as an AC. The shoot was super fun and actually scored me a position as 1st AC on another Deathcember short the next weekend, titled, A Christmas Miracle, featuring Barbara Crampton (Re-Animator, Chopping Mall, You're Next). Again, I learned a lot and made some valuable connections with people in the industry, earning me a later invitation to work as a 2nd AD on Major Arcana, a short by Sebastian Sariñana.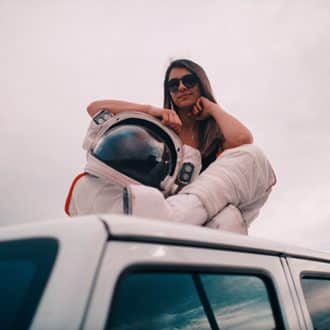 At LMU, I've learned a TON about the movie industry, and getting to work hands-on for my own projects has been such an exciting experience for me. I've gotten to direct quite a few shorts and even a TV episode, so I've really enjoyed my time so far, and I'm really looking forward to some of my upcoming projects.
Right now, I'm entering my junior year at LMU, and I'm currently in pre-production for my junior-level film, Remain. It's the story of a search-and-rescue captain who sets out to uncover the mystery within a range of forest from which many have never returned. It focuses on loss, grieving, and acceptance, and it's going to have some really exciting fantasy elements to tie it all together, so I'm really looking forward to filming that in the fall.
In addition to Remain, I'm also producing and co-directing a short titled, Sentinel 2401, which is a gritty sci-fi/action film set in the distant future which follows a group of soldiers operating in the scavenger-ridden dead zone. It's a project that is 3 years in the making, and it's been one of the toughest experiences I've had so far in terms of the film's ambition and scale. I've never produced a project this size, but my co-director Rigel Blatt and I are really looking forward to shooting as soon as it is safe for us to be operating in large groups outside of quarantine.
PRODUCTION PROCESS:

A lot of the films I come up with as a screenwriter usually stem from a little spark of inspiration I'll have listening to music or speculating with friends. My film, Remain, came to me as I was driving through Downtown LA listening to a song called, "Ghost Lights," by Woodkid. Another short I made in quarantine came to me during a chat with my cousin, who thought it would be funny to see an apocalyptic-style advertisement for Corona beer. I usually start with a little spark like that and then spend a lot of time fleshing out a solid story around it. I also tend to draw a lot of inspiration from video games, which have really shaped the different perspectives from which I've tried to approach each story.
After writing out and developing a screenplay, I spend much time visualizing my color palettes and many of the visual elements that I'd like to contribute to each film. For Remain, this involved a lot of exploration into lighting, production design, and practical effects. I'm a sucker for the neon lighting and synthy music from films like Blade Runner 2049 and Upgrade, so I love to incorporate those themes into my own work.
As far as production goes, I find it really important to form a close relationship with every member of not only my cast but the crew as well. LMU makes this easy since I get to work with a lot of close friends and people I trust. As a director, I feel that a positive environment and shared attitude is really important in order to move production along smoothly. I want my cast and crew to have a memorable experience on each film, so good vibes on set are a must-have.
CHALLENGE & SOLUTION:

I think every shoot comes with its own challenges, but the most memorable one that stands out for me was the first film that I ever wrote, produced, and directed myself. I was at the Stanford Pre-Collegiate Summer Institutes taking my first-ever film class at the age of 16. My professor and now-mentor Sam gave me the opportunity to make a film on my own time outside of the projects we were making in class. I jumped at the opportunity and got to work pulling together a small cast and crew to shoot a short horror film I called, Blank. The shoot went about as well as a 16-year-old filmmaker's first shoot could go, with fake blood malfunctions that may have gotten me in a little bit of trouble for staining the university's classroom floor red and an overall extremely rushed production. However, the biggest challenge came the next day in the editing room, where I was told that all of the audio for my footage had been lost. I could either start over that night with even less resources, half the crew, and a fraction of the time, or I could just take the experience and give up on the film. So, I gathered my crew once more, and got the film made that night! I made sure not to make the same mistakes as the night before, and the shoot ended up going a lot smoother, earning a spot as the class' favorite film. I learned that pre-production is REALLY important, as well as my cardinal "good-vibes" rule. It was an experience I'll never forget, and I draw from it with every film I make to this day.
3 PRODUCTION RULES:
Like I said, my golden rule is to form a good relationship with your entire cast and crew. It makes everyone feel comfortable and encourages everyone to put their best foot forward during production. Rather than having a producer find my crew and focusing only on working with my cast, I like to talk to each member of our crew, getting to know them and most importantly, communicating my vision for the film. Doing this has produced the clearest portrayal of my vision for each film without fail.
My second rule is to not overlook pre-production. It's so important to build out your vision before you shoot, and communicating that with your producer, DP, and AD lets everyone know exactly what you're trying to convey. It helps them understand how they can use their role to make your vision a reality, and it saves you from being unprepared when your shoot finally rolls around.
I'm not sure my third rule is as much of a law as it is a mentality I keep. There have been so many times where I would pour my blood, sweat, and tears into a project, only to have it not as well-received as I would hope. At first, I took it really hard, unable to understand why people were not as proud of me as I was myself. As I went on, I started to learn that others' opinions should not shape the way I create my visions and tell my stories. Sometimes people might not recognize or appreciate the work you put in, but if you feel proud of your work, you should own it! Nobody else's opinion should change the way you tell your story. Despite any doubts, I will never stop working to achieve my goal of inspiring others the way films inspired me as a kid.