StudentFilmmakers Magazine: What industry changes have you seen over the years in regards to film and video editing?
Steve Hullfish: Well, I've been editing since long before the advent of non-linear editing systems, like Avid, so the biggest change is just non-linear. Beyond that, it's the massive increase in speed and storage capacity that have allowed non-linear systems to evolve from strictly "off-line" quality to being able to actually edit with 2K and 4K resolution natively.
StudentFilmmakers Magazine:  What was one of the most important things you learned editing a show?
Steve Hullfish: For me, it's about setting aside ego enough to be open to possibilities and to have the patience to allow the edit to evolve through the entire process. Also, to be open to how much an edit or show can be manipulated beyond the basic intent for which the material was created. The script and even the director's initial vision is malleable.
StudentFilmmakers Magazine: What are some common mistakes new editors should avoid?
Steve Hullfish: Similar to my comment above, they need to set their ego aside. Ego about ANY suggestion is deadly. The editor is a collaborative job. You must have things to offer, but you also have to be open to suggestions and notes. Being a good collaborator is often more valued by the people around you than pure "talent." Your career will be made more by the people that want to work with you again than by any perception of "talent."
Don't get too locked in to a single NLE. Each NLE has their strengths and weaknesses. Limiting your NLE choice limits your career.
Don't get too locked in to a specific methodology or approach. Don't get too locked in to a specific solution for an editing solution. Don't let yourself get paralyzed by indecision or not knowing how to get started. Do SOMETHING to get started. For me, one simple step leads to another and the next thing I know, I'm on a roll and don't want to stop.
I had a great conversation with Sven Pape of This Guy Edits and a lot of that advice is relevant:
StudentFilmmakers Magazine: If you could share your Top 3 Editing Tips for filmmakers and video makers, what would they be?
Steve Hullfish: First, you need a lot of "reps." You need the time in the editor's chair or with the camera. You need to be telling stories ALL the time. The best way to get better is just to do the work. Figure out something you can shoot or edit. Nobody would consider going out on stage as a dancer or violinist  or onto the field in the NFL or NBA without years of practice, the same is true for telling pictures through film. You've seen the kinds of movies and TV shows that have inspired your desire to be in the business. But to get to that level just doesn't happen. You have to practice a LOT. The best way to get good at anything is to fail and learn from your mistakes. You need to have the confidence and patience to make a LOT of mistakes without losing heart in your abilities.
Second, you need to watch a lot of movies and TV and try to deconstruct the decisions that were made and why something was cut the way it was. How and why are they cutting something as common as a dialogue scene. Why does a dialogue scene in this movie look different from a similar conversation in another story? Or why is one dialogue scene cut differently than another dialogue scene in the same film? Almost evry moment in a film is covered by multiple set-ups or camera angles, so why did thy chose the exact camera angle and "size" of shot for a specific moment in the story? When do they use close-ups? When are they on a 2-shot?
Third, do not get wrapped up in technique. Everything should be in service to the story. Think of how your edit choices affect the audience's perception of the story and the characters in the story. Pace and edit speed need to be in service to the story. Which person you're "on" in a conversation needs to be in service to the story. Should you be on the speaker or the listener? That depends on what that decision has to say about the story and the perception of the characters. How quickly you cut to the answer to a question or to the response to a statement says a lot about the characters and the story. Is the response hesitant because they're contemplative or worried about saying the wrong thing? Is it abrupt and impatient? Or is it fast because the character is super-smart? Do you leave in "shoe-leather" (walking or driving from one place to another) because you need to give the audience time to think or feel or anticipate? Or do you cut it out to move the story along faster?
Steve Hullfish produces and edits trailers, TV spots, promos and DVDs through his company, Verascope Pictures, which serves high-end clients: Universal Studios, NBC Television, DreamWorks, HIT Entertainment, Jim Henson Entertainment, VeggieTales and others. He has also co-edited two feature films for Sony/Tristar: Courageous and War Room. His 30 years of producing and editing TV shows and spots have garnered many national awards, including a national Emmy as part of the editing team of the Oprah Winfrey Show. He has co-written four other books including Color Correction for Digital Video, Avid XpressPro On the Spot, The Avid XpressPro Editing Workshop and – most recently – Avid Uncut: Workflows, Tips, and Techniques from Hollywood Pros. He is also in demand as a color correction and editing trainer for clients including NBC Sports, Major League Soccer, Turner Networks, The Versus Network, Southeast Television, Whole Foods, Avid, Tektronix, and the Children's Television Network.
www.veralith.com/about-me.html
www.imdb.com/name/nm1232772
Book Spotlight

Avid Uncut
Workflows, Tips, and Techniques from Hollywood Pros
Written By Steve Hullfish
 "Like Hullfish's Color Correction for Video, Avid Uncut should sit on the shelf as a reference in every Avid suite. Condensing years of experience and real-world examples, Avid Uncut is easy to read yet packed full of tips, tricks and powerful time-saving Avid features. So whether you're a newbie needing to learn the ropes or a seasoned professional wanting to get up to speed on modern workflows and tools fast, this book is a must-have."
~Ra-ey Saleh, Senior On-line Editor/Colorist, MythBusters; Taboo; Hidden in America
Leverage the full power of Avid Media Composer with this essential guide from an Avid guru. Master timesaving tricks and techniques that utilize the latest Media Composer features and state-of-the-art workflows. Learn the secrets of the postproduction professionals from box office blockbusters like Harry Potter, I am Legend, Dark Shadows, Men in Black II, Charlie's Angels, 42, and The Last of the Mohicans, as well as primetime hits like SMASH, Big Bang Theory, Weeds, The Mindy Project, and MythBusters.
In Avid Uncut, Steve Hullfish taps into the expertise of the world's top editors to share in-depth, behind-the-scenes secrets and best practices that will boost your editing and color correction skills to the next level. Five distinct sections cover:
    Pre-post, including discussion of metadata, prepping ScriptSync, decomposing, and more
    Settings, with tips on keyboard optimization, bin settings, and import/export settings
    Off-line workflows on trimming, multicam editing, using Phrasefind, audio, and stereoscopic 3D
    Effects, such as 3rd party plugins, 3D warp effects, and Animatte
    On-line workflows for efficiently and beautifully finishing your work, including step-by-step tutorials for RED and ARRI Alexa workflows
Also featured are extensive tips dedicated to helping FCP editors switch over to Avid, as well as a companion website loaded with video tutorials of the techniques discussed in the book and project files, including RED and ARRI Alexa footage, that turn Avid Uncut into an invaluable, hands-on workshop!
Order your copy of "Avid Uncut" today.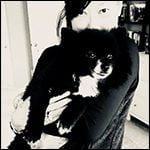 Interview conducted by Jody Michelle Solis. Associate Publisher for StudentFilmmakers Magazine (www.studentfilmmakers.com), HD Pro Guide Magazine (www.hdproguide.com), and Sports Video Tech (www.sportsvideotech.com) Magazine. "Lifelines, not deadlines. Motion Arts. Fusion Everything." If you're in Dallas, sign up for Jody's Yoga Class.