(Pictured above: Liz receives 1st Place prizes, the ZEISS Loxia 2/50mm Lens, and Davis & Sanford ProVista 100 2-Stage Aluminum Tripod with 100mm Bowl from TIFFEN. A very special thank you to ZEISS and TIFFEN.)
Exclusive Interview with Liz Guarracino
Winner of the 2021 Winter Photo Contest:
From the Tropic to the Arctic
Liz Guarracino is the 1st Place Winner of the 2021 Winter Photo Contest: From the Tropic to the Arctic, hosted by StudentFilmmakers.com. The contest judges, Roy H. Wagner, ASC and M. David Mullen, ASC, were impressed by her black-and-white photograph, "Dance Like No One is Watching," shot in Central Park, New York City.
What is the story behind your winning photograph? 
Liz Guarracino: I was walking to the train from my temp job. Normally, I'd be walking into Central Park from the South side and past the ponds heading west. But it was freezing! So, 'not today'. I stuck to the side of the buildings across the street, enjoying the warmth of the heat lamps that hung under the hotels and residences of Central Park South. As I almost got to the train, I noticed a girl walking into the park. As I rushed to get my iPhone and DxO ONE out of my pocket, removed my gloves, plugged the DxO into the iPhone, and looked at my screen, the girl lifted her arms and went to turn her body. I snapped the photo and left. I had already been taking pictures on the walk, so the DxO was running out of juice. It was amazing that it had enough to grab the image.
Can you tell us about your background in photography and filmmaking?
Liz Guarracino: Back in 2009, I was living in Denver, and I met Mark Sink, photographer and co-founder of the Museum of Contemporary Art Denver and my photo guru and friend. He opened my world to the Denver photo scene. Within months, I was entering open calls, and my Ice Photography started getting noticed. It led to exhibitions at Denver International Airport, The Denver Library, the State Capitol, Edge Gallery and Hinterland Gallery. And all because someone said, "Do it."
The exhibitions for my Ice Photography continued when I moved back to New York. I've been in two shows curated by D. Dominick Lombardi and have done a few shows with artist Erika Horowitz. Right before the pandemic, I was in a group show at One Art Space in Tribeca. Me and my photo/business partner, Joseph Ralph Fraia, who is editor-in-chief of Livein Magazine, were ready to show our first curated exhibit at Salmagundi Club which was cancelled because of COVID.
My film experience began on the short film, Danni, by Diane Reilly. I served as the Set Photographer, and you can see the film and the poster, which features one of my photos, on Amazon Prime and Vimeo. I served as Set Photographer on Control, a short film by John Moran in post-production. During COVID, when things started up again, and there were guidelines put in place to start filming again, friend, actor and director Aoife Williamson shot her short, Work, which is in post-production, and I served as Set Photographer on that as well. I have shot theatre photos of her acting for the Poor Mouth Theatre Company in the Bronx at An Beal Bocht, as well as other plays put on by these fabulous folks!
What projects are you working on now? 
Liz Guarracino: During the lockdown, I started painting and creating art more than I had been in the last few years which was therapeutic. I also have done a lot of work on a film by Robert Kollar in pre-production called, Stealing Broomtails. My poster design can be seen in March and April's current issues of Montana Horses magazine. I am also maintaining [although slightly slacking on] my fineartamerica site (fineartamerica.com/profiles/liz-guarracino), and I have a few photo projects I'm putting together for possible future exhibitions or for more open calls/contests.
Can you tell us about your film projects?
Liz Guarracino: My film trilogy has been in its development since about 2013 when I birthed the idea. During a bout of unemployment, I typed out the screenplay on an iPhone with a broken screen. I copyrighted it, and then, I had no idea what was next. I started telling people about it on the film sets I worked on, and the response to it was always positive and enthusiastic. Over the last few years, through sheer stubborn obsession and will, it's starting to get its forward momentum. I've put together a team of people, Diane and Tom Bradshaw of Bradshaw Law, P.C Entertainment Law, who is repping me. Vanessa Futrell Hartman, Literary/Creative Artist Agent who is helping me in a number of ways. John Moran, who was an actor on Danni, and the writer and director of Control. And a cinematographer who is interested in the project. And a few others who don't know it yet, but should the movie get funding, they'll be involved one way or the other. I don't have a lot of experience in filmmaking, so I hope to do the Camera B work to start sharpening skills. And with this new Zeiss lens [contest prize], I can't see anything stopping me.
Do you have advice for photographers who may be considering participation in future photo contests with StudentFilmmakers?
Liz Guarracino: Do it! Enter as many things as you can. Don't be afraid to be critiqued, it will only make you better. Don't second guess yourself. If people tell you it's amazing, enter it. If they tell you it sucks, but you love it, enter it! Don't be scared of the what if.
I am still navigating the StudentFilmmakers forums, and I'm starting to talk to more people and really, StudentFilmmakers.com is like a MasterClass after MasterClass of information. We are all students of life, so keep learning.
I have spent half a lifetime second-guessing, worrying if my game is what it is, not doing things because I was intimidated, and it was such time wasted. We are all a little insecure. But if you do things with a conscious effort, you can do anything. It may take a really long time to get noticed, or you could score an opportunity early on not seen by many. Either way, patience and passion and the love for what you do will eventually pay off. Also, enter your photos in contests and open calls that interest you.
If you could share some encouraging words for new filmmakers, photographers, and storytellers around the world, what would you share with them now?
Liz Guarracino: Don't ever let anyone tell you that you can't do something. Just do it now. No matter your age, income level, disability, location, equipment – just find a way to enjoy it, and make it your own.
I would like to thank StudentFilmmakers.com, Maura, Kim, Jody, Roy H. Wagner, ASC, and M. David Mullen, ASC for choosing my photo. I am so honored and so grateful. All the photographers who placed, I am in awe of being in your company. And, also, thanks to my family for always being so supportive.

Winning Photo: "Dance Like No One is Watching," Central Park, New York City.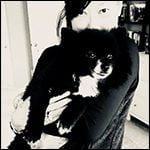 Interview conducted by Jody Michelle Solis. Associate Publisher for StudentFilmmakers Magazine (www.studentfilmmakers.com), HD Pro Guide Magazine (www.hdproguide.com), and Sports Video Tech (www.sportsvideotech.com) Magazine.
"With the rapid application of the changing technologies, we are all students."
Recommend

0

recommendations
Published in Festivals, Interviews, Photography