SEATS STILL AVAILABLE.
50% OFF FOR INSTRUCTORS.
The 3D RED Cinematography Workshop with Rexford Metz, ASC, will be held on Saturday, December 4th, 9:30am to 3:30pm, and Sunday, December 5th, 9:30am to 3:30pm in the exciting, cinematic city of New York, at the StudentFilmmakers.com Manhattan Workshop Studio.
Complete 3D experience with 2 RED cameras, Element Technica's Quasar 3D rig and stereo controls, and Cine Stereo DIT.
What You Will Learn:
Stereoscopic Vision Basic
How we see in 3D and how the camera reproduces it.
Working with 2 RED cameras, Element Technica's Quasar 3D rig and stereo controls, and Cine Stereo DIT.
3D Cinematography
3D recording, convergence distance, lenses, and filters, physiological limits, postproduction and displaying techniques.
Handling the professional Stereo 3D Rig(s)
Setting up and calibrating the rig, setting up and synchronizing cameras, setting up 3D parameters on the rig, 3D rig motorisation, modularity.
Stereoscopic Post Production Overview
editing, synchronisation in post, color matching, calibration in post.
Practice: How to shoot good 3D with the 3D rig
Shooting with different 3D parameters.
When:
Saturday, December 4, 9:30am to 3:30pm.
Sunday, December 5, 9:30am to 3:30pm.
Where:
StudentFilmmakers.com Workshop Studio
1123 Broadway, Suite #307, New York, NY 10010
Cost:
$375.00. Discounts: Get 50% Off for Instructors, Teachers, and Professors. Enter code during online registration: INSTRUCTOR50. Bring your business card or other school ID for event check-in.
Other Discounts: 15% Off Holiday Discount Extended thru Friday, Dec. 3. (Offer valid 11/28/10-12/3/10.)
Students with ID receive 10% off.
DOOR PRIZES: All attendees at the event will receive a boxed, full-version of Gorilla Pro Software.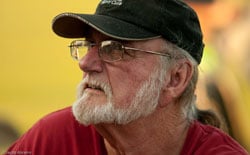 Rexford Metz, ASC Metz has vast experience shooting Drama, Comedy, Action, Aerials, Underwater, Stunts and Visual FX Photography.


Media Sponsor:

Awards and Distinctions
Academy Award received for Documentary; "Spirit of America" the story of land speed record holder Craig Breedlove, 1963.
Academy of Motion Picture Arts & Sciences: Member of the technical committee for the Academy Awards.

Filmography
Camera and Electrical Department
2003 "S.W.A.T." Aerial Cinematographer, Director of Photography 2nd unit
1997 "Kiss the Girls" (camera operator: Wescam, second unit - director of photography: 2nd unit)
1996 "Courage Under Fire" (aerial camera operator)
1993 "The Three Musketeers" (cameraman: 2nd unit)
Cinematographer
2000 "102 Dalmations" Special Cinematography
1996 "Picket Fences" (TV series)
Visual Effects
2000 "102 Dalmations" Visual Effects Director of Photography: 2nd unit pick-ups
1990 "Total Recall" Visual Effects Photography
(More credits)