8 Things Drones Can Do for Your Film and
17 Beginner Drone Tips
By Sherri Sheridan
Every film can now benefit from having some cool drone POV footage. Those really expensive, breathtaking establishing opening shots in feature films that used to be shot using helicopters can now be included in your low budget student films. Almost every film you see now has some drone footage. Many films use a drone shot at the opening of every new location or scene.
Show us something new from above. This beach looks better from a drone angle flying through the blowing trees.
8 Things Drones Can Do for Your Film
(1) Open up the film world by flying over it showing miles of terrain.
(2) Add another POV to scenes to show distance. A character could be walking through the snow with a broken leg and the drone could be used to show how far they have traveled or still need to go.
(3) Make your film feel expensive. Arial shots make the viewer feel like they want to keep watching since these shots look expensive and professional. Most people decide in the first few seconds if they like your film and drone footage can help.
(4) Fly through POVs. Your camera could fly through a window into a room or other tight holes or spaces. This is a unique new type of wow shot that places the viewer in the scene.
 Flying through this bamboo forest with a drone will eliminate the need for expensive dollies or tracks. The tall trees create a tunnel effect.
(5) Action shots for following characters during chase scenes. A drone following a car chase or character running from above is more exciting than on the ground.
(6) Impossible tight shots. You could fly through a three-foot-wide pipe, cave or tunnel if you tape an LED light onto your drone. This creates a sense of claustrophobia for the viewer and cannot be done with older film cameras.
(7) Flying POV for dream sequences or falling shots. This helps the viewer feel they are in the movie and everyone loves flying shots.
(8) Wow shots of stunning locations. You need to find the most beautiful spot first then imagine which POV is going to look best. Sunset and sunrise are still your best bet for awesome lighting.
17 Beginner Drone Tips
(1) Do not fly your drone over any people, cars or expensive stuff. Drones crash and can cause damage. This is especially important when you are learning.
(2) FAA regulations say you cannot go above 400 feet from where you are standing. Go up on top of a mountain, hill or building to get really high shots.
(3) You cannot fly your drone within 5 miles of an airport. Stay below the tree line to be safe.
(4) Avoid windy areas. Flying a drone in strong wind is like trying to roller skate on an icy lake. Some of the heavier more expensive drones handle wind better but it is still a gamble and harder to control.
(5) Do a search to see where the best place to fly drones is in your area. Look for YouTube drone footage to get ideas on how and where to shoot. US Federal National Parks do not allow drones, but you could fly right next to one if you know where to go. Research the drone laws in our state or area since they change often.
(6) Do not get your drone wet unless it is waterproof when flying low over water. This seems obvious but even spray from waves, fog or light rain can ruin your equipment.
(7) Learn to fly on a cheap drone (under $100) to get the hang of flying one with the controls. These will be harder to control than the more expensive ones. The footage is mostly useless but will teach you how to go up and down and make the drone point the camera to where you want.
(8) Motion stabilizing gimbal. You will need one of these below your camera on your more expensive drones to eliminate the shaky drone flying motion. Most of the newer drone cameras have a motion stabilizer too which will help, but you will need both to shoot smooth footage.
(9) Drone GPS flight patterns. You want a smart drone that can fly around points of interests or fly in a perfect circle. You can program in flight paths using a GPS app for the more expensive drones. The drone will go into automatic mode, but you need to keep an eye on it unless it has collision detection.
(10) Register your drone with the FAA's new Unmanned Aircraft Registration system.
(11) Practice makes perfect. Flying a drone takes lots of practice. The more you do it, the better you will get. Review your footage each night to see what is working and what is not.
(12) Read the drone manual. Every drone is different. The more expensive the drone, the more complicated the instructions.
(13) Plan flight path before flying. You also have to think about where to point the camera and what to shoot.
(14) Turn throttle to zero if you are about to crash. Panic may set in, so practice doing this before you take off. Watching your drone fly into something or crash is not fun.
(15) Learn to fly drone inside a large room or in an open field. Make sure nothing in the area can be damaged.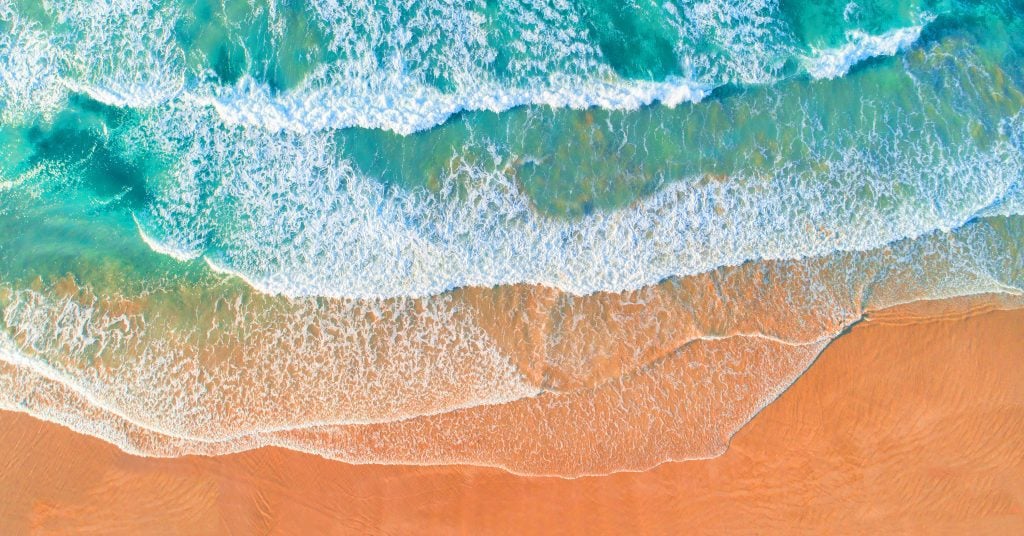 No one is on this beach, so it is safe to fly my drone. This unique POV shows us the waves from a new angle for a stunning WOW shot. Most landscape shots look better without people anyhow.
(16) Carry spare parts and repair kit. You may break a propeller or run out of batteries fast on the perfect day. Duct tape and Krazy Glue can be useful in a tight spot if you crash and break parts.
(17) Drone Shooting View Screen. Once you get good at flying your drone, you will want to work on composing great wow shots. You cannot do this unless you can see in real time what you are shooting while flying the drone. Some drones have controls with view screens on them, but many use a mobile phone app to show you what the drone is shooting while flying. Are you cutting off the tops of the trees or is your subject just out of range? You may also see something cool in the screen POV you could not imagine on the ground and want to follow. Flying the drone blind is very hit or miss. A head cam with a view screen is also a good choice, but you need to be able to keep an eye on the drone while it is flying too.
Flying drones takes lots of practice and patience but is worth the time to make your films look more professional.
Sherri Sheridan is a leading world expert in teaching story to digital filmmakers, animators, screenwriters and novelists. New book coming soon "Filmmaking Script to Screen Step-By-Step" with an app. Other books include "Maya 2 Character Animation" (New Riders 1999), "Developing Digital Short Films" (New Riders / Peach pit / Pearson 2004) and "Writing A Great Script Fast" (2007). Sherri is the CEO and Creative Director at MindsEyeMedia.com and MyFlik.com in San Francisco.