Deliver a Strong Audio Mix for Your Documentary
A Layered Approach
by Bryant Falk
There are many types of movies to shoot, edit and ultimately sound design and mix. It's these back two items I am particularly interested in as applied to documentaries.
Docs are unique, as your location material is critical. There usually aren't any second chances; what you get is what you have. This tends to make me implement a "layered approach" to a mix. As I don't know where my best sound may be coming from, (for example, camera mic, lav mics, or boom), I want all of them at the ready as the mix progresses. Ruling out a track before actually getting to work could be a regrettable move later on. I mention this as some editors think they are doing the mixer a favor by cutting out tracks. The more, the better, I always say! But keep it organized. Don't have the lav mic bouncing back and forth between tracks throughout the project.  Get them all as condensed onto a track as possible.
Let's look at an example. You've started mixing an interview that was shot in someone's apartment. The lav mic is for sure the best audio you hear. As the clip rolls on, the subject being interviewed starts getting more enthusiastic about a specific point he or she is trying to make. Before a knob can be turned, they have blown out the lav mic, and this once perfect audio is unusable for this moment. Now, if you still have the camera mic track running, (usually used just for reference), this may be a saving piece of audio! Your biggest challenge will be melding the new piece of audio so as to seem like it all came from the same source. Now is when another layer may be needed. Build a room tone layer that runs the length of the interview to create continuity between the different microphones. You may have to reduce room ambience in some of the mics to more closely match them up to others, (noise reduction software). Stripping this room tone and having it on a separate track will give you more control in your final mix.
For sound design, try and keep at least two styles of tracks. One track being the hard transient track, (e.g., door slams, gun shots, banging pans, etc.),  the other being "smooth " sounds, (e.g., rustling of a curtain, sliding of a glass on a table).
Some hard-core documentary makers will not allow this type of false addition to the audio. This is of course up to you. Maybe a compromise of any audio recorded on that location may be used? If so, make sure to go throughout your location and grab any and all extraneous sounds that may be needed! It is most common to find me arriving early to a shoot with boom mic, deck and headphones opening and closing all doors, pulling open windows, and shaking chairs to record any rattling. I also will stay late after having seen what was shot and grabbing a creak of a chair, as I know the subject leaned back when asked a serious question. Who knows what might be a saving sound during the mix!
So in summation look at a documentary mix as playing solitaire. Everything should be laid out in front of you allowing for the most options to fix, enhance and deliver a strong audio mix for your documentary.
Bryant Falk has been a producer and engineer for over 12 years working with such clients as The Ricki Lake Show, Coca-Cola, Sports Illustrated, Valley National Bank, and MTV's The Shop. His company Abacus Audio (www.abacus.nyc) handles many aspects of the audio production field from creative and production to mixing and final output.
---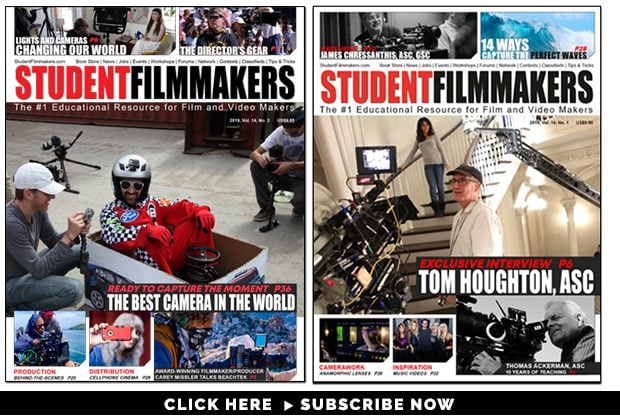 Subscribe to StudentFilmmakers Magazine
Print Subscription >>
Digital Subscription >>