THANK YOU - THANK YOU.
If there is anything I can do for you, please do let me know.
"I wanted to extend a warm note of gratitude thanking all of you regarding my previous post calling for crew last-minute last weekend. Due to the overwhelming number of quality responses I was unable to get back to all of you! We found a great person to work with and created a great product for the client.
"I am incredibly impressed with the global network and comraderie that studentfilmmakers.com offers. The talent levels and willingness to make great contributions is unmatched anywhere compared to what you will find here.
Thank you so much and I hope to work with as many of you as possible on future projects."
"Coming up on our fifth short film festival, we wanted to find a way to reach more filmmakers and get them as excited about the festival as we were. StudentFilmmakers.com has given us access to a much larger film community than we've been able to communicate with on our own. We've had a number of entries so far and have just extended our deadline on Jody's advice. We've had a great experience working with everyone this year. Next festival we plan to take advantage of all StudentFilmmakers.com has to offer."
"We turned to StudentFilmmakers.com very late in our video/photo contest. We had the enticing prizes but not the network to inform people about our contest. Within one week of our deadline we received more than 40 photo entries and multiple videos as well. With the help of StudentFilmmakers.com, we were able to get the word of our contest out quickly and to a large number of people. This is the reasoning for our success. Jody from StudentFilmmakers.com was a huge help during the process. She was very easy to communicate with and truly guided us through this process. We were very pleased with the results. Thank you!" (2013 Wild and Scenic Rivers Photo and Video Contest)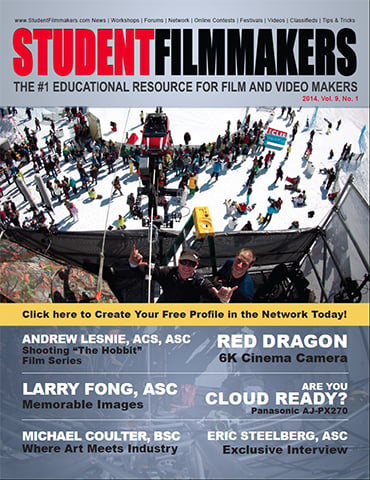 Alicia Schiefer
Marketing & Creative Services Manager
Sonnet Technologies, Inc. Irvine, California
Welch Integrated, Inc.'s StudentFilmmakers.com is a great marketing resource that helps our company tap into and support the creative community of aspiring filmmakers. From eMarketing to industry tradeshow and events, StudentFilmmakers.com is a vital asset for getting the word out about our storage business.
Ramzi Baroody
President & CEO
Webnox Corp. Ontario, Canada
"As a marketing and strategy company, we were novices when it came to video and filmmaking. Kim, Lien, and Jody took the time and made the effort to set us on the right track. Their invaluable advice and services were especially useful in helping us develop our video production community, ByteCaster.com."
Stephanie Fellingham
Marketing Manager
OurStage, Inc., Chelmsford, MA
"StudentFilmmakers has proven an effective tool for increasing traffic to our website. Emails to the StudentFilmmakers subscribers have given us access to a targeted audience of film lovers – a good fit for our marketing message."
Saul Molina
Circulation Director
American Cinematographer Magazine, Hollywood, CA
"Mr. Welch, just wanted to say thank you once again for all your support in 2006. We had our best month ever on our online store and the most traffic we ever had on our website. We could have not done better without your support and advice from you and your staff. Thank you once again for giving us such a great service.
The American Society of Cinematographers
Chris Brown,
Vice President Conventions and Expositions,
National Association of Broadcasters, Washington, DC
"We found Welch Integrated, Inc's StudentFilmmakers.com to be one of the most effective tools available to market the launch of our new show, NAB's Post + NY. We saw immediate and tangible results and would highly recommend it to others looking to tap this demographic." http://www.nab.org
Stan Hennigh
Manager of Marketing and Product Development
Chimera Perfect Lighting, Boulder Colorado
CHIMERA had decided to produce a student film contest in honor of our 25th Anniversary and to raise awareness of our Lightbanks and other lighting tools with the emerging filmmakers market. The problem was that we wanted to reach out to a national, even global market effectively and yet on a small budget. We had done a bit of advertising on Kim Welch's, StudentFilmmakers.com web site so I decided to see what ideas he may have. Kim picked up the idea and put together an all encompassing package for us including , advertising, hosting, trade show services, other publicity and judging. His organization did an absolutely wonderful job. Needless to say the contest was a big hit all around. CHIMERA 25th Anniversary Student Film Contest
Saul Molina
Circulation Manager
American Cinematographer Magazine, Hollywood CA
"Welch integrated has proven to be an extremely useful marketing tool for American Cinematographer. Welch Integrated has added a new dimension to our client base and outreach options."
The American Society of Cinematographers
Colin Zink
Show Director, Digital Video Expo
"Kim Welch is very dedicated to his craft and has a terrific pulse on industry trends. Welch Integrated, Inc. has done a great job in expanding our marketing distribution channels and we always look forward partnering, one event after the other."
Douglas I. Sheer, CEO
DIS Consulting Corporation and Event Manager
SMPTE NY June Editing Showcase
Kim Welch's StudentFilmmakers (a misnomer as it is really reaching both film and video making individuals)/ Welch Interactive web-site and pushed e-mails, added value as an outreach method to both my DIS Consulting Corporation multi-client on-line research in video editing called Video Editing World tm 2005 and helped me in and my activity as event manager of S. M. P. T. E's annual video Editing Showcase. In the case of the editing research project, use of Kim's databases and his outbound e-mail alerts helped build traffic to the on-line questionnaire. In the case of the Showcase, using Kim's list, and having him as an exhibitor there, helped to lure more attendees to the June events. In both regards, it impressed me that Kim has something clever going on.
Chris Lemmonds
lemmondsDESIGN, llc
"My experience with Welch Integrated was VERY positive. I had a client that had a large and unmanageable email list and Welch deployed a successful email to the lists that I sent him. My client spent the next week handling business calls. It worked great."
www.designisapassion.com
Paul Gallo,
former UEM Executive Director and now President of the Pro Audio Manufactures Alliance.
"This is a great outsource company to have working for you. I highly recommend Welch Integrated, Inc. for all your online communications needs."
Jim McCullaugh,
Executive Director/Publisher
American Society of Cinematographers
"Welch Integrated introduced us to the world of e-marketing and it's quickly becoming a very powerful tool for our magazine and book publishing business."
Abbey Cantor
Associate Account Executive
zcommunications
"I just want to thank you for your dedicated work in advertising for zcomm's CIDI Student Film Contest. Your efforts in working with our budget, always being available to answer questions and give me feedback have made this ad campaign a great success!! I truly look forward to working with you again very soon in the future."
Carrie Dieterich
Vice President, Marketing & Industry Relations Entertainment Merchants Association (formerly VSDA)
"It was a pleasure working with you on our anti-piracy short film contest. You created a terrific site for the contest and managed it very well. Thank you for all your hard work and professionalism."
StudentFilmmakers Magazine
Readers and Workshop Attendees ~ Testimonials
Patrick Reis at StudentFilmmakers.com gave an excellent presentation on DSLR shooting which filled in the gaps of knowledge for me, as well as gave me new things to try. The hands-on shooting exercise was especially useful for putting it all together. I definitely recommend this workshop! [Two-Day HDSLR Workshop with Patrick Reis]"
~ Krista Cowan, Teacher, Virginia
"StudentFilmmakers Magazine is a staple among all the media teachers and their classes in our 6 Sacramento Sierra Digital Arts Studio Partnership region. In addition to our email circulation to our membership, we always distribute it during our biannual all youth film festival events now in their 16th year. We believe that digital media arts is a 'stem cell' proficiency and digital literacy the 21st Century essential prerequisite every youth most command. Your publication is a vital demonstration of work force achievement, reinforcing youth career appetites and nourishment. We count on you heavily. Thank you for your brilliant work."
~ William Bronston, MD CEO
Sac Sierra Digital Arts Studio Partnership (501c3)
www.toweroyouth.org, www.ybama.org, www.caldigarts.org
"StudentFilmmakers.com has advanced my knowledge as a cinematographer through both their information-rich website and hands-on workshops in Manhattan, New York, with industry leaders and experts."
~Andy Levison, Steadicam Operator, New York
"The lighting workshop with Peter Stein, ASC was great because, I have been working in TV and film production for over 10 years, and Peter taught some tricks that I will definitely use to make my projects have a more polished look. This is a great course for both beginner and industry pros. Peter Stein, ASC knows how to control light no matter what the situation is."
~ Will Fonseca, Director
http://www.facebook.com/Changingdiego
"The Lighting for Mood with Peter Stein, ASC workshop is essential for any student or filmmaker interested in cinematography. Peter Stein, ASC is excellent at explaining and demonstrating how to set the tone of a scene, by painting with light."
~ Sharif Anthony, Writer/Filmmaker/Photographer
http://vimeo.com/sharifanthony
http://www.flickr.com/photos/[email protected]/
"I had the pleasure to taking StudentFilmmakers.com's 'Directing for Video Workshop with Scott Essman,' and it was one of the most informative and enjoyable experiences for someone like me. Mr. Essman's teaching style is refreshing, informative and makes you feel like you are a part of a dialogue as opposed to a lecture. I was impressed that Mr. Essman spoke individually with attendees before the workshop, and tailored some of the information he provided to the various projects that everyone is working on in their respective lives, as well as provide his contact information should we have any additional questions. In addition, I am personally grateful to Kim Welch and Jody Solis for providing opportunities for professional and budding artists a forum to gain knowldge in this always-evolving world of filmmaking. I have been a follower of studentfilmmakers.com for many years and their care, passion and support of artists has always impressed me."
~ Shakima T. Landsmark
Writer, Filmmaker, Marketing Coordinator
"As a film and video professional, it's important to stay on top of cutting-edge technology and advancements that enhance my ability to serve my clients. The HDSLR workshop at StudentFilmmakers Magazine is a wonderful opportunity to explore how the technology of video continues to move closer to the visual impact of film. I'd highly recommend this workshop to beginners and professionals alike."
~ Noelle Brower
www.browermedia.com
The students at Western Carolina University Motion Picture Program love the articles in StudentFilmmakers magazine. They have said that the writing is clear and the techniques are clearly explained. Many of the "how to" articles are written so the beginner can understand and not be lost with a lot of deep technical information. I have been a Director of Photography for many years and I look forward to each issue and each month I learn new tips and tricks from the StudentFilmmakers mag.
~ Arledge Armenaki, Associate Professor, Western Carolina University
Motion Picture and Television Production Program, School of Stage & Screen
http://www.wcu.edu/2360.asp
With a 20-year career as a still photographer behind me and now two years into multimedia integrating video, stills, and audio, DSLR video is a natural next step. I began my research by looking online for accessories for getting good DSLR video footage – whoa, what an overload! I saved lots of valuable time by taking the StudentFilmmakers workshop and getting right-to-the-point advice from a competent, knowledgeable instructor about equipment options as well as DSLR video techniques. The instructor understands the mindset of both stills and video camera users so this seminar works regardless of professional background. Participants can ask questions about what works best for their unique shooting needs. I would highly recommend this workshop for anyone looking to jumpstart the process of learning DSLR video!
~ Ellen Senisi, author / photographer / multimedia
http://senisimultimedia.com
http://ellensenisi-educationphotographs.com
"The two day HDSLR Video workshop at StudentFilmmakers was one of the best professional development classes I have ever attended. As someone who lectures to college level students in digital media subjects for a living, I truly appreciated Patrick Reis' teaching style. It can sometimes be very difficult for an instructor to keep students fully engaged and interested for two entire days, but he was amazing. The material was presented in a way that helped to clarify topics I was previously uncertain about, while also introducing me to valuable industry standard techniques. I would not hesitate to recommend this workshop to my colleagues and students."
~ James L. Richardson, 3rd Assistant Professor, MPS, New Media Program Coordinator , Humanities Department, LaGuardia Community College
http://www.jamesrichardson.net
http://laguardia.edu/mediatech
"I am writing to thank you and your staff for the amazing work you guys are doing to support aspiring filmmakers. I participated in the DSLR workshop this past weekend and found it to be edifying and inspiring. Keep up the good work."
~ Yennypher A. Fernandez
M.S. Candidate in Digital Imaging and Design
CADA, School of Continuing Education, New York University
"As a full time production manager and creative, it is costly and time consuming to keep up on emerging craft & technology. StudentFilmmakers' workshops & magazine help lighten the load."
~ Victor Ramirez, Producer, New York
http://www.isvictorious.com/
http://thewicknyc.com/
"I took one of Patrick's HDSLR workshops in the Fall and found it very valuable for me to attend the 2 Day HDSLR workshop this past weekend. Within just a few months, the cameras, rigs, gear. shooting styles and workflows have continued to change, and it was great to be able to have a review and catch up with the changes. The audio workshop [Day 2] was especially helpful for me. I've never shot video without sound and image being recorded to the same tape in sync. What Patrick had to say about the workflow of capturing audio from a source other than on camera included illustrating mistakes that can easily happen. He emphasized the attention and focus needed to prevent them (especially working as a one person band doing your own audio). The workflow he suggested for organizing media with audio recorded separately will save me valuable time in the future in post. I've taken other workshops at StudentFilmmakers.com [Manhattan, New York] and as well as the quality of the instructors and the courses offered I'd recommend them because they're fun, affordable and provide the opportunity to connect with a diverse community of other filmmakers."
~ Courtney Harmel, Owner of Courtney Harmel Productions, New York
"The HDSLR workshop was fantastic. No matter what kind of filmmaker you are should it be narrative, doc, events – whatever may have you, there is something to learn here for anyone. You get the opportunity to see and try out different pieces of equipment that enhance the DSLR filmmaking experience. Not only that but you're getting a ton of information from Patrick Reis who really knows his stuff. You're in a room with people who are there for the same reason as you – because they love filmmaking so it's also a good networking experience which is invaluable. There's no doubt my filmmaking, even if it's just slightly, will be taken to another level."
~ Keith Brady, Owner of Keith Brady Media, New York, www.facebook.com/keithbradymedia
"This weekend was great – I'll hopefully be able to attend future workshops. So glad to have met you and Kim and Patrick. I remember reading my first issue of StudentFilmmakers Magazine years ago – it seemed to be written for me personally. Every article was relevant to what I was trying to learn. There were articles that helped me with 'where I was' as well as articles that allowed me to envision what I aspired to be. To this day, it remains my favorite source of information as a filmmaker."
~ Jean A. S. Strauss, Filmmaker of ADOPTED: for the life of me, www.adoptedforthelifeofme.com
"Thanks for everything this weekend. The class was excellent! I learned more in the 2 days than I ever expected. Patrick is a great instructor and having all the gear to play with is very cool!"
~ Martin Dougherty, Virginia
"StudentFilmmakers Magazine is a great place to find information about filmmaking and cutting-edge technology."
~ Brian Sponagle, High School Teacher
"Helpful insider info. Great awareness and technique-building workshops! "
~ Robert Gladding, Video/Film Teacher
"It's great. A lot of good stuff."
~ T.J. Galdi
"StudentFilmmakers Magazine is so much fun!"
~ Adam Ardekani
"Excellent magazine with great articles."
~ James Garcia, Director/Producer, NY
"StudentFilmmakers Magazine Workshops is the best thing that has happened to film students!"
~ Priscilla Pena, Film Student, NY
"Great information."
~ Vineeth Kurnala, NJ
"Great introduction for beginners and intermediates."
~ Will Cunningham, Writer/Producer, NY
"I've been a big fan of StudentFilmmakers for years, as we never stop learning this craft and there are always new things to learn. The first time I saw this magazine was in some Gear Expo in LA around 2007. I love the magazine, the articles on this magazine keep our feet on the ground teaching us very practical things we already knew or we didn't. It's also glad to see that the magazine is available in digital format to be able to carry my collection anywhere. The quality of the magazine (design, pictures) and the content of the articles is amazing and well researched, comparable to industry standard magazines such as American Cinematographer and Filmmaker. I'm always recommending this magazine to people who want to go to film school or who are already working in the film industry. There is always time to keep learning.
~ Juan Vela, Independent Filmmaker, Los Angeles.
"As a film enthusiast, I think SFM provides valuable information about this art, as well as hints and technical tips regarding the whole new world of DSLR cameras."
~ Marcelo Noronha
"The online magazine looks remarkable. I was really taken aback by its layout and design. Great job!"
~ Bill Jones, Teacher/Instructor, CA
Being a filmmaker is an everyday learning process that never ends and having StudentFilmmakers as a go-to resource is vital to me. Whether you are a veteran pro or just getting started there's no better place to go for in-depth, real-world filmmaking trends and best practices for your filmmaking needs. The information you get from StudentFilmmakers is about living it. This is real world hit the ground running filmmaking. You will not be disappointed.
~ Gary San Angel, Director / Blogger, www.componentgeek.com
"I've only recently been introduced to StudentFilmmakers.com and the publication, and I must honestly say, the website and magazine is a candy store full of goodies about filmmaking! I've subscribed to various publications pertaining to my craft as filmmaker and editor, and find myself skipping over articles. But with this publication, I want to take in the entire issue. Not only is it cutting edge, it is highly enjoyable, which places it a huge step ahead of the others. Thanks, StudentFilmmakers, for such a great product!"
~ Joe Andolina (Independant Filmmaker in collaboration with ThreeOneSeven Pictures), www.threeonesevenpictures.com
"Love the depth and variety in StudentFilmmakers Magazine: Good writing from knowledgeable people on interesting topics, great articles that fill the gaps in my production know-how. Looking forward to the next edition!"
~ Scott Osborn, Writer/Producer/Director/Composer, Obelisk Group, Austin, TX, www.ObeliskGrp.com
"StudentFilmmakers Magazine reaches far more than film schools. The articles help people making movies of any age. So many professionals still learn and this magazine's insights cater to all the newest trends in filmmaking, lighting, and technology. When you have contributor's like John Badham who directed Saturday Night Fever writing for StudentFilmmakers, it attracts filmmakers from every level. I've been subscribed for over 3 years."
~ Peter John Ross, Independent Filmmaker, Sonnyboo.com
On StudentFilmmakers.com and StudentFilmmakers Magazine: "From the day the Film Department at Boston University's CDIA (Center for Digital Imaging Arts) was created, I've been impressed with the caliber of contributors and the quality of the information presented. The articles are written by experienced practitioners of the various crafts in filmmaking, and this sets StudentFilmmakers apart, in my view. No hype or crazed faddishness, but rather concrete, practical news and information delivered in a practical tone. StudentFilmmakers stays the course with smart and useful content that filmmakers, photographers, sound-people and other media-makers will always benefit from. The students and alumni at BU CDIA often are thrilled to tell me something they've learned from the magazine, and they usually wind up applying it immediately to their own work. Always up-to-date with industry trends, and writes intelligently about these. We're very happy to be associated with StudentFilmmakers, the students and the faculty always look forward to new issues and updates on-line."
~ Howard Phillips, Director of Media Production, Boston University, CDIA, 1800-800-CDIA, www.cdiabu.com
Just renewing my subscription (Can't wait to see the cinema H2O article!) and wanted to pass along a couple of 'real world' observations about the magazine. I get a lot of complimentary subscriptions to industry-related publications, but Student Filmmakers is one I'm happy to actually pay for. I've spent about 10 years working professionally in television production and I can tell you one thing for certain: We're ALL students. Every market has it's share of competition, and it's a perpetual learning curve to stay as many steps ahead of them as possible. Just being creative with your content isn't enough. Sometimes it's equally, or even more important to be creative with the processes and techniques you're using to achieve what's being asked of you. Student Filmmakers has proven more than once to be a valuable resource for getting familiar with those processes and techniques, and discovering new ones. Many Thanks for a great publication,
~ Jon Stephens, Producer/Editor, WTAP Creative Services
"Your magazine [StudentFilmmakers Magazine] has some very high-end stuff, and it's good people, and I'm really impressed. I think that the quality of writers is phenomenal. It might be over the heads of some of your readers, but for others, it is a good resource."
~ Ron Dexter, ASC
"I came by a copy of StudentFilmmakers Magazine just by complete and sheer luck. I was in the local library one day when they had their magazines on sale, 3 for $.25. I flipped through the bocket of old magazines of all sorts. And at the very bottom was this single copy of StudentFilmmakers Magazine. Well, as you can imagine, I felt like I had struck gold. I have read it cover to cover, and it goes everywhere with me. I read it on the bus to film class, during the break, I take it to work with me and read it on lunch. Thank God for such a publication! I believe I have read my only copy about 5 times now, cover to cover!"
~ Carmen Dubois, British Columbia, Canada
"I just wanted to drop you a note to tell you that the April issue was one of the best ever! It covered almost every aspect of producing film & video, was highly informative. …What really caught my eye was the sections on acting and directing actors, I've seen lots of stuff in other mags about the typical cinematography topics, but you have combined it all into one neat package that should cover everyone involved with making films and videos.,, Keep up the terrific work! Thanks again."
~ Bill Bolton, President of Esplanade Partners, Longmont, Colorado.
"Thank you very much for the quality magazine and web site! It is, by far, the most awesome resource that I use, not only for my personal development, but also reference and encourage my students at Bowling Green State University to subscribe to. I read several magazines and web sites each month in video and film production. I can honestly say that StudentFilmmakers is by far my favorite publication and web site. The articles are insightful and very useful, the resource links are Invaluable. I look at all the sponsored links and have made purchases from several of your sponsors that I had not visited prior to seeing them advertise on your web site. I regularly look at the classifieds and have successfully sold some of my equipment that I was not currently using. And, very importantly, I have found several people to network with. Excellent job! Thanks for all you do to make it the success that it is!"
~ Jose A. Cardenas, SOC, IATSE Local 600, Bowling Green State University, Department of Telecommunications
"It would have been wonderful if I had a magazine such as the StudentFilmmakers magazine available to me when I first started dreaming about becoming a cinematographer. It would have helped greatly to open up and help me understand the world of filmmaking and how to become part of it."
~ Andrew Laszlo, ASC
"StudentFilmmakers –the magazine– combines just the right blend of literary and visual esthetic. Unlike the slick, glossy, overblown consumer and trade film magazines this publication is earthy and connects on every level with the student filmmaker. The information is vital and urgent. Congratulations on a superb effort and for your contribution to the world of student filmmaking."
~ Jim McCullaugh, former publisher of American Cinematographer and former Executive Director of the American Society of Cinematographers
"As a film producer and distributor, StudentFilmmakers Magazine provides me the opportunity to read about new talent in directing, producing and crew. The technical articles are right on target and readers should hang on every word in the Film Business section. The only mistake to be made is not reading this magazine cover to cover."
~ Ted Taylor, Film Producer/Distributor, Winged Media Inc., Potomac, MD
"Received the shipment of Student Filmmaker today – fantastic! The students are all over it, what an impressive first issue! Great articles, excellent range of topics, its very impressive. Thanks for producing such a great magazine, we're all looking forward to the next issue already,…"
~ University Instructor Comments from Howard Phillips, Associate Director, Digital Film at CDIA at Boston University
"I have been teaching filmmaking for over thirty years and have received and subscribed to many film making magazines. Yours is the best I have ever read for aspiring film makers. Keep up the good work."
~ William Arscott, Stephen F. Austin State University
"The magazines arrived yesterday. What an impressive layout! It's really a great magazine, and I thank you for printing the poems. It's a thoroughly professional job you're doing, and I'm proud to be associated with StudentFilmmakers."
~ Bruce Kawin, Professor of English and Film, University of Colorado
"On behalf of the Film Production Program at Confederation College in Thunder Bay, www.conflix.com , I want to thank you for the StudentFilmmakers Magazine. It is really good.
"Our students received it a couple of weeks ago, and we found some ideas in it that became discussion points in one of the production classes and also in a documentary class. The articles were well written, to the point, clearly and effectively directed to film students.
"Our program is located in a small city, quite far from major production centres. Our students will eventually leave here for the wider world. For us, your magazine is a good window on the wider film making world. It's really good to connect our students through your magazine, with that wider world. Thank you."
~ Dennis Austin, Professor, Film Production, Confederation College
"I received the premiere issue of Student Filmmakers magazine today and it looks great!… Had the chance to read some of the articles and they were very diverse, engaging and informative…"
~ Len Guercio, Film Lab Coordinator/Adjunct Professor, Film & Media Arts Department, Temple University
"Congratulations for the wonderful Premiere issue of the magazine…Fantastic…Very intelligent and compelling articles reflecting the unbiased viewpoint of studentfilmakers.com on filmmaking as a whole international, collective though intimate and personal process..Amazing and surprising…"
~ Subscriber Comments from Wesley Sena, CA
"This magazine has been a great resource of useful and current information in my classroom. Hands-on production is a very important element in my class, but I also have the students reading articles from my StudentFilmmakers magazine…
For me, this magazine is just as important in my classroom as the camera or any other piece of gear."
~ Neal Bennett, Industry Film School, Shrewsbury, NJ