Chad Halvorsen is a freelance producer, editor, and drone pilot, based out of Milwaukee. He's worked for clients such as Mentos Gum, Target, and AT&T. He enjoys the planning and strategy involved with productions, the satisfaction of a finished product, and has been lucky enough to continue his passions for over 15 years.
How did you get into being a drone pilot, and what would you say are the most important skills every drone operator needs to succeed? 
Chad Halvorsen: I've been in production/editing for over 15 years, mostly in a medium sized, Midwest, market. A lot of us have to not only have more than one skill, but many. I would say at least half of my professional work, I have produced, shot, edited, and delivered to my clients, solo. So I'm constantly looking for ways to get that "produced" look, with 1/8 the budget. When drones first came out, I was really excited about the possibilities. Aerial shots in 5 minutes*, without the need to hire a helicopter pilot and strap a $400k camera rig to it. After the FAA rolled out Part 107 for commercial drone pilots, I knew I wanted to become certified. I found a weekend course that explained all the rules, and gave us the tools we needed to pass the Part 107. Once certified, I got my hands on a Phantom 4 Pro, and basically kept in my car. I bring my drones to every shoot, whether or not the client is paying for it.
The most important skills in drone flying is patience and situational awareness. Drones can be mini, flying, death machines, if not handled property. I've seen hands lacerated by spinning blades, and a drone can do a lot of damage, free-falling from the sky. Check the weather. Use all the tools available. Log your flights. Have identification/registration within arms reach. You're likely never going to run into the FAA during a flight, but nervous neighbors love calling the cops, when they see a "stranger" flying a drone near their home.
When it comes to getting certain kinds of shots, what are your preferred camera settings, frame rate, and resolution that you like to fly and operate your drones?

Chad Halvorsen: It depends on who it's for. I currently fly an Inspire 2, which can do 4k @60fps, which is normally my sweet spot. Even with gimbals, on a gusty day, your camera will vibrate/move more than you probably would like. 60fps will smooth that motion out more, without the need to add a warp stabilizer most times. Even if I'm delivering to 1080p/2k, I will normally shoot 4k. That way you can punch in if needed in post. I always shoot manual and rely on waveform while shooting. Never rely on your monitor, especially if you're using a cell phone/tablet. They auto-correct screen brightness, which can trick you into thinking your shot is exposed properly. Also, so your shots aren't so flat, invest in some ND filters or a polarizer. If you want that extra latitude with color in post, shoot in s-log/cine-d.
60fps definitely looks better with scenery or real estate stuff. For more action or faster looks, I stick with 24/30fps. It really will come down to what the client wants.
If you could share "3 Drone Operating Do's" and "3 Drone Operating Don'ts," what would they be?
Chad Halvorsen:
Droning Do's: 
Before you guarantee any client that you can fly somewhere, you have to make sure you can apply for authorization. A lot of times, I'll get requests to fly somewhere day-of shooting, and the client will ask for a location that requires permission from a local airport. It's easier now, than it was 4 years ago, to request permission. A lot of times, it can be done with an app, and you can get authorization in seconds. If the airport in question doesn't work with the app, you have to actually call the tower, and request permission. Which is way harder, and you have to speak "pilot."
Always check your gear the night before flying. Firmware/zone updates, they can slow you down if you're on set and have a time crunch. Also check for loose parts and make sure the aircraft is airworthy.
Be on your best behavior. Most people are interested in what you're doing. If someone becomes hostile in tone, or gives you grief about what you're doing, just explain the process. You're within your legal right to fly in any airspace that is available to you. Most drone lenses are super wide, so the expectation that your drone can peer into a window from 100 ft, is nonsense. It's easier to cool down a situation by just being honest. What you're doing, what's it for, and you'll be out of their hair soon.
Droning Don'ts
Don't be stupid. Fly safe within part 107 compliance. Again, a drone can do serious damage. It's a machine, treat it with the respect it deserves.
You don't have to get every shot. If your client is barking down your neck, and wants a shot that may cause damage to you/others/your drone, you can say "no." You're the one who is licensed to fly, not them. If they ask you to do something illegal, or in that gray area, you can also say, "no." Your client is not the pilot in command, you are.
Don't let others crowd you while in flight. People will ask questions, or make comments. It can be nerving. If you're being hassled, in simple terms, say, "hey, I'm flying here. Can this wait?" If it can't, land the craft, and talk. There's no reason to be shouting a flight plan mid-flight. Those details should be ironed out before you turn the drone on.
How are you navigating and keeping active and creative during these COVID pandemic months?
Chad Halvorsen: Another skill I picked up this year was COVID-19 Compliance Officer (C19CO), which came in handy when shooting a feature in L.A. this past Summer. It was a low budget film, so we couldn't quarantine our cast for 2 weeks, which is what the heavy hitters were doing. What we did is randomly test one cast/crew member every day, wore our PPE, bathed in hand sanitizer, and distanced as much as we could. Nobody contracted COVID before or after our 9-day shoot, so it was a success. For my corporate work, I just wear my PPE, and keep sanitizer with my gear. Some clients choose not to wear a mask, it happens. I would say something, but I need to pay bills. A lot of work this year was done remotely for the producers I work for. Instead of coming to location, we would setup an eye direct with the producer on an iPad. That way they can interview subjects in real time. In the Spring, I was working for Discovery Channel, and they weren't comfortable, at the time, doing in-person interviews. So they shipped a giant road case from NYC, with a 4k webcam, boom mic, Macbook, and SSD. It was made for the subject to grab into their home, pull out of the box, and connect to their home network. So I basically drove around with a case for a week, sanitizing it after every use, and delivering to the next location.
Another thing I do, especially when I'm still on the road, I'll get a COVID test 3 to 4 days before and after a shoot. When I drove back from California, I had to find a rapid test site, before my wife would let me in our house.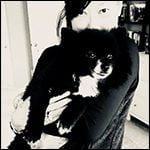 Interview conducted by Jody Michelle Solis. Associate Publisher for StudentFilmmakers Magazine (www.studentfilmmakers.com), HD Pro Guide Magazine (www.hdproguide.com), and Sports Video Tech (www.sportsvideotech.com) Magazine. "Lifelines, not deadlines. Motion Arts. Fusion Everything." If you're in Dallas, sign up for Jody's Yoga Class.