At our film school, the Creative Media Institute for Film and Digital Arts, traditional tungsten Fresnel fixtures have been the main lighting instruments in the classroom and on set. We do have some HMI's and Kino's but the tungsten Fresnels are the main tools we use.  We need these lighting solutions to withstand the kind of beating that young film students give to all our equipment.  Mole-Richardson and Arri have been rock solid for over a decade but as LED technology has improved over the past few years, we decided to see if the new crop of LED Fresnel lights would be a good fit for our needs.
We evaluated these LED solutions according to these criteria:
Quality
Reliability
Affordability
After doing our research, we checked out products from Mole-Richardson and VisionSmith.  The great thing about these two companies is that they provide LED solutions that allow you to upgrade your existing fixtures to LED technology.
UPGRADING THE LIGHTS
We decided to look at upgrades to our Mole-Richardson Junior Cools because, over the years, these lights rarely went out on film sets.  These lights were great in the classroom but students could not run those Juniors on location because they would overload a regular 15-amp circuit so most students went with smaller lights.  We thought if the LED upgrades worked out, those lights would get more usage.
When we saw that Mole-Richardson came out with a line of LED Fresnels, we were immediately interested.  As I did more research, I saw that they produced retrofit kits where you can take their old tungsten light and upgrade it to their LED equivalent.  It was a little cheaper than buying the brand-new LED version of that light and as a film school with an ever-shrinking budget, we are always looking for ways to save. Additionally, both of these lights utilize a Chip-On-Board (COB) technology to create the light, meaning, instead of having an array of many LED lights, it uses a single large LED point source to create the light.
The Mole-Richardson Retro-Kit replaces the bottom part of your old housing with a new LED housing.  Depending on the kit, you can choose from Daylight or Tungsten with and without DMX control.  With the new housing, you have a built-in dimmer.
The process to upgrade took a little bit of time and elbow grease but we were up and running very quickly.
While researching the LED Fresnel options, I came across a company called VisionSmith that produces a LED that replaces the traditional tungsten globe in existing fixtures. The VisionSmith ReLamp upgrade is a bit easier and more affordable.  They offer both daylight and tungsten balanced options.
We purchased the Tungsten LED option from both Mole and VisionSmith and wanted to see how if they met our needs.
QUALITY TESTS
The manufacturers claim a 98 CRI for the VisionSmith and 95 CRI for the Mole JuniorLED.  I also had a Visionsmith 1K LED in a Baby cool so I threw that in with the testing.  I wanted to see how close these lights were to the traditional Junior 2K.
I tested the following things:
Light Output in Footcandles

Flood @ 3,6,9 ft
Spot @ 3,6,9 ft

Color Temp Reading
I used a Sekonic 758-Cine meter for the footcandle readings and the Cine Meter II App on an iPhone 6 with a Luxi attachment for the color temp readings.
Baby Solarspot Tungsten
Flood
3 Feet
6 Feet
9 Feet
Spot
3 Feet
6 Feet
9 Feet
FC
440
130
60
FC
3600
1100
500
Color Temp Reading
3100K
Junior Cool Tungsten
Flood
3 Feet
6 Feet
9 Feet
Spot
3 Feet
6 Feet
9 Feet
FC
1300
300
140
6400
2000
900
Color Temp Reading
3150K
Visionsmith Baby ReLamp 1K LED
Flood
3 Feet
6 Feet
9 Feet
Spot
3 Feet
6 Feet
9 Feet
FC
380
97
42
FC
1800
500
250
Color Temp Reading
3250K, 6G
VisionSmith Junior ReLamp 2K LED
Flood
3 Feet
6 Feet
9 Feet
Spot
3 Feet
6 Feet
9 Feet
FC
600
150
70
FC
3000
950
480
Color Temp Reading
3350K, 11G
Mole JuniorLED
Flood
3 Feet
6 Feet
9 Feet
Spot
3 Feet
6 Feet
9 Feet
FC
800
220
97
FC
2500
700
340
Color Temp Reading
3440K, 6G
Both Mole and Visionsmith LED showed some green in their output, with the Visionsmith Junior LED exhibiting the most. In the end, I felt that the Mole's color, was a little bit closer to the traditional tungsten.
RELIABILITY
The lights proved to be very reliable over the course of the semester.  It went out on dozens of student projects and films with no issues.  The students loved the fact that they could use a more powerful source on location. In fact, the LED lights were the most requested lights for the larger productions.
AFFORDABILITY
The Mole JuniorLED Retro-Kit starts around $1680 for the Tungsten, Non-DMX version, which is what we have. If you need DMX or Day-light, then the costs would go up. The Visionsmith 2K LED costs $995 for Tungsten or Daylight.
CONCLUSIONS
The Visionsmith 2K LED gives us about 50% less output but draws 85% less power than the 2K Halogen bulb (17 amps vs 2.7 amps).  The Mole JuniorLED gave us about 64% of the output but drew 78% less (17 amps vs 2 amps).  As an aside, Visionsmith sells a custom lens that replaces the traditional glass Fresnel lens in your old housing. They claim that it significantly increases the output and creates a more even spread. In our testing of the lens for the Baby 1K housing, it did give a better output but the spread of the light was very uneven and it did not fit the 1K housing.  It was not usable for our purposes.
Overall, the quality of both of the lights were good, but the Visionsmith gave us the best bang for our buck.  It is nice having the dimming built into the Mole JuniorLED but you can add a cheap dimmer that can handle a 300-watt light and you have the same functionality. You can correct the green shift easily with gels.
It's amazing to see the growth of this technology. We were able to put all four of our 2K LEDs on one circuit and still have enough power for a few more. That is a tremendous amount of light for the power and the amount of heat is minimal.
For more details on these lights, please visit their websites:
Visionsmith LED: http://visionsmith.com/relamp-system
Mole-Richardson LED Fresnels: http://mole.com/products/index/fresnelLEDs
---
Subscribe to StudentFilmmakers Magazine
Print Subscription >>
Digital Subscription >>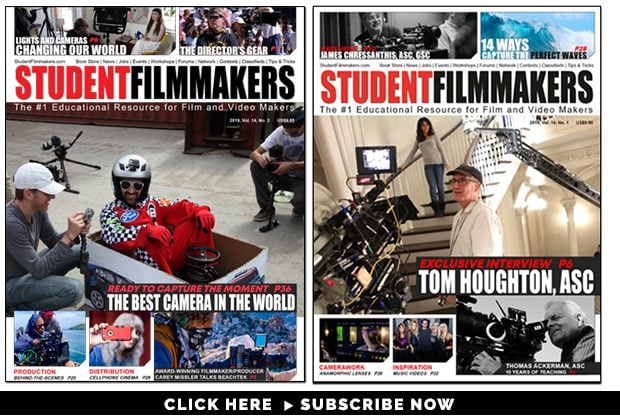 ---