Since the age of six, when she built her own toy camera out of wood, Meagan has wanted to be a storyteller. Whether these stories are fact or fiction, being able to connect with people and their emotions through a visual medium is a journey she has always wanted to be on. For the last ten years, Meagan has worked her way through the ranks of the camera department in unscripted, documentary, and scripted programming. From chasing politics on Showtime's "The Circus" to following Jazz Jennings on her journey as a transgender teenager on "I Am Jazz," Meagan strives to tell the story from an innovative angle. Meagan's midwest work ethic, teamwork mentality, and easy-going nature have contributed to her success as a storyteller while building long-lasting relationships with others in the field along the way. 
StudentFilmmakers Magazine: Your body of work includes a lot of competition shows like "Gordon Ramsay's 24 Hours to Hell and Back," "Nailed It!" and "S.T.R.O.N.G." – and episodic reality television shows like "The Real Housewives of Beverly Hills," "Life of Kylie" and "Botched" – just to name a few. Can you share with us your insights into camerawork and capturing shots for Reality TV, what that workflow is like for Reality TV production, and challenges that may come up? 
Meagan Stockemer, SOC: All of these shows have varying degrees of "run and gun" type shooting which lays out the groundwork for the style of shooting. "Run and gun" basically means you need to be able to react to sudden changes quickly and productively. Most competition shows are less "run and gun" since they are usually on a set or stage with a DP and Director blocking and rehearsing before shooting begins. Episodic shows have a tendency to be more on the fly. In any genre of reality TV, you anticipating your next shot or the direction the story goes will help you be successful. For me, listening to the audio being sent to my camera and keeping my left eye open (i.e., steering away from viewfinder tunnel vision) to see if anything is going on that I'm not seeing through my lens. I always try to look for something that people aren't seeing, whether it's a cool angle on a scene, or if there is a sudden change in story.
The workflow of reality TV is subject to different factors; the type of show you're shooting, who's running the set, and how cooperative your cast is. I've worked on shows that felt like summer camp because production was organized, the crew worked as a team, whenever we'd have a sudden change in plans, everyone would adapt very quickly. I've worked on shows that were challenging because of the constant last-minute schedule changes, difficult cast, and an unorganized production. The biggest challenge is to be able to roll with the punches and adapt. We are making TV, not trying to cure cancer. You might spend an hour setting up a scene and the location has suddenly changed, and you have fifteen minutes to set up a new scene at a location you've never seen before. You just have to be able to roll with it. I enjoy the challenge of being thrown into these situations. I've learned a lot from them; thinking about what I could have done differently, what I did that worked really well. It's good practice for being able to think on your feet and make decisions quickly and efficiently.
StudentFilmmakers Magazine: What's a memorable time that Murphy's Law hit, and working behind the camera, you had to quickly come up with fast solutions on the fly? What was the challenge, how did you overcome it, and what was the solution? 
Meagan Stockemer, SOC: I was DP'ing Season 3 of "I Am Jazz," and our main character Jazz Jennings was going to a speed dating event with a friend. The catch was that it was one of those dating in the dark events where you can't see anything in the room, the other people, or the food. We planned for the event for weeks, but we weren't budgeted to have a proper camera test on location to see what worked and didn't until the day of. We also weren't budgeted for IR lights so the cameras could see the whole space. An hour before the shoot I tested the camera in the dark with my producer. We discovered a multitude of issues. The LCD viewfinder on the IR camera was giving off so much light that it was distracting and taking away from the experience of the event and even though we were in show blacks, I would see the other two operators at the other end of the room. We quickly came up with a solution; a lot of duvateen. My camera assistant fashioned some duvateen cloaks for the three operators with holes to see and shoot out of. It was not the most comfortable scenario, but it ended up fixing the issues and looked great!
StudentFilmmakers Magazine: What was one of the most important things you learned on the set? 
Meagan Stockemer, SOC: The most important thing I've learned onset is to have a positive attitude and be able to adapt to constant changes. One negative attitude can change the vibe of the whole crew. We are so lucky to do what we do for a living; we might as well have as much fun as we can doin' it.
StudentFilmmakers Magazine: If you could share your Top 3 Camera Movement Tips for student filmmakers and aspiring storytellers what would they be?  
Meagan Stockemer, SOC:
Tip #1: Whether you're shooting handheld or on sticks, always make sure your camera is balanced. Having a balanced camera will make your shots smoother, steadier, and more comfortable.
 Tip #2: When you're shooting handheld, subtle movements go a long way. Shifting your weight slowly between both feet adds just a little bit of movement and can help make zooms less noticeable.
 Tip #3: Always look for the shot that no one else is getting. Those are the shots that people remember.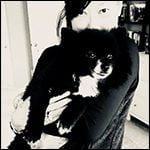 Interview conducted by Jody Michelle Solis. Associate Publisher for StudentFilmmakers Magazine (www.studentfilmmakers.com), HD Pro Guide Magazine (www.hdproguide.com), and Sports Video Tech (www.sportsvideotech.com) Magazine. "Lifelines, not deadlines. Motion Arts. Fusion Everything." If you're in Dallas, sign up for Jody's Yoga Class.