STUDENTFILMMAKERS: Can you tell us about your work as the Lead Sound Editor and Foley Editor for Disney's "Mickey and the Roadster Racers," which received Daytime Emmy Award and Annie Award nominations in 2018, and won the 2020 NAMIC Vision Awards in the Animation category?
Brad Meyer, MPSE: "Mickey and the Roadster Racers" has been a blast to work on over the past few years. We're currently wrapping up post-production on the final season, and I'll be sad to see it go once we're finished. Overall, the show has been full of learning experiences and challenges. Most notably, the amount and type of vehicles in the show, as well as the age group the show is geared towards.
When we first started the series, we were tasked with creating two fully thought out vehicle concepts for each main character in Mickey's friend group, totaling 10 vehicles. Each car had to be both super cool and fun, as well as tailor to each character's personality. The cars in this show are quite whacky, and don't necessarily act like cars do in real life or in a live-action film or television series. Additionally, it can be hard to find high quality, fully flushed out car recordings (unless recording them yourself), so we had to get creative. The characters' cars are different combinations of real cars, Vespa scooters, boat engines, jet engines, and Goofy's car is even part lawnmower! It's fun to give everyday things like cars a toony sensibility, which you don't come across often in sound editorial.
The other main learning experience from this show stems from the fact that it is one of the first preschool-aged shows I've done sound editorial on. A show as action-packed as "Mickey and the Roadster Racers" can be overwhelming for a very young audience, so it is a huge part of my job to help focus the audience's attention on specific parts of the story and action with my sound work. Focusing an audience is a large part of any sound editorial and editing on preschool-aged shows is the perfect crash-course in how to do it well.
STUDENTFILMMAKERS: What was one of the most important things you learned working on a computer-animated television series as it relates to post-production sound and foley?
Brad Meyer, MPSE: The workflow for computer-generated animation isn't really much different than 2D or hand-drawn animation. The main exception being the increased amount of visual detail. For a CG show, I'll usually spend more time on fine details like cloth movement, hand grabs, and even things like car suspension. CG animation also goes through a couple of extra animation processes before the finished visuals, so it is common that I will be designing sound to unfinished animation, much more so than on 2D shows.
STUDENTFILMMAKERS: Can you share with us a "Challenge and Solution"?
Brad Meyer, MPSE: The most common challenge I usually come across during any sound edit is not having the right sounds or materials that I need readily available. When this happens, I break out the recording equipment and do it myself! From monster vocals, foley elements, or even custom vehicle recordings, we do a lot of our own recordings to make sure we get the entire sound palette for each series sounding one-of-a-kind.
STUDENTFILMMAKERS: By the way, how has COVID affected the Animation industry?
Brad Meyer, MPSE: When COVID first started, practically the entire entertainment industry shifted from in-office work to a work-from-home model. This had a lot of negative effects on live action film and TV shoots. Film sets were shut down for months, and many still are. However, because a lot of animation can be done from home, the animation industry actually saw the opposite happen. Most major studios are associated with an animation studio [Universal owns DreamWorks, Viacom owns Nickelodeon, etc.], so we've seen a large shift of time and resources to animation in the past several months. We're seeing animation as a whole expanding, and we're seeing the medium expand genres as well. I have a feeling we're about to experience a renaissance in the animation industry in the next few years because of this.
STUDENTFILMMAKERS: What are your Top 3 Animation Tips for students?
Brad Meyer, MPSE: Although I am not an animator, I do sound work on endless kinds of animation and with many different types of clients. In my experience, here are my top 3 tips for prospective animators out there, through the lens of a sound designer:
Tip # 1: Visual Sync and Timing is Sacred. If you're an animator and you know shots are going to be re-animated, please let your sound team know, as it will affect their edit as well.
Tip # 2: Know What You Want. The main aspect of a sound designer's job is to make the Director's vision come to life. It always helps if the Director already has a direction in mind, but if not, don't be afraid to let your sound team get creative!
Tip # 3: Have Fun. This one sounds a bit cheesy and cliche, but the shows I've worked on that always turn out the best are the ones where the crew is genuinely having fun with it. Try not to take the process too seriously, and on top of a [hopefully] great final product, you'll have fun doing it too.

Brad Meyer
is a multiple Emmy, MPSE Golden Reel, and Music and Sound Award nominated sound designer who specializes in sound for visual media. He has extensive experience in sound design, mixing, and recording, including work with dialogue, ADR, Foley, voiceover, sound effects, and music. He has worked on dozens of films and television shows, ranging from feature length horror films to short animated comedies. His work has appeared on The Disney Channel, Nickelodeon, and Netflix, as well as theaters around the country. Brad is a current member of Motion Picture Sound Editors, and is presently a Supervising Sound Editor at Boom Box Post in Burbank, CA.
BradMeyerAudio.com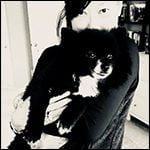 Interview conducted by Jody Michelle Solis. Associate Publisher for StudentFilmmakers Magazine (www.studentfilmmakers.com), HD Pro Guide Magazine (www.hdproguide.com), and Sports Video Tech (www.sportsvideotech.com) Magazine. "Lifelines, not deadlines. Motion Arts. Fusion Everything." If you're in Dallas, sign up for Jody's Yoga Class.