StudentFilmmakers Magazine: What are some discussion topics you'd love to see people have after they watch, "Queen of the Dinosaurs: A Wrestler's Story"?
Addison Dlott: This piece explores issues centered on mental illness, female ambition, and sexism, but ultimately, centers around the idea of overcoming adversity. Whether it be mental or physical, the film represents some of the struggles that women face in their everyday lives. Our main character, Samantha was mistreated, but against the odds, found a passion for wrestling, that despite its problems, eased her mind and has helped her to overcome blatant sexism within the wrestling community. We hope audiences discuss this often-misunderstood industry and the unique voices of the women in this community.
(Pictured Right: Jakob Markwardt filming.)
StudentFilmmakers Magazine: What was one of the most important things you learned while co-directing your short documentary film, "Queen of the Dinosaurs: A Wrestler's Story"?
Addison Dlott: One of the most important things I learned from filming, "Queen of the Dinosaurs: A Wrestler's Story", is that Murphy will always make an appearance. When I say Murphy, I'm referring to Murphy's Law, which essentially states that anything that can go wrong will go wrong. This film was made for a course at Ithaca College titled, 'Documentary Workshop', taught by Dr. Ben Crane, and he warned us early in the process that Murphy would visit. And he did. Several times. It was humbling, frankly. You can do everything in your power to prevent anything going wrong, but understanding that it's an inevitable part of the process made the failures more tolerable to deal with.
(Pictured Above: From left to right, Samantha Cohen, Jakob Markwardt, Addison Dlott)
StudentFilmmakers Magazine: What was one of the most challenging problems solved during each of these stages: pre-production, production, and post-production?
Addison Dlott: Our team pitched over 200 topic ideas for this film during the Documentary Workshop, so it's safe to say that pre-production was quite challenging. Finding a great documentary topic takes a lot into consideration. We questioned ourselves with every topic. If the topic is interesting, is it important? Or if the topic is important, is it interesting? What are the stakes? Most importantly, what's the story? When we settled on underground wrestling as our topic, we did not know what the story would come out to be. However, we knew our visuals would be interesting, so we committed to the idea and found the story during the production process.
We faced countless roadblocks during production. Most notably, we had trouble getting backstage access at most of the wrestling shows, as promoters did not want cameras backstage. Luckily for us, Samantha wrestled frequently at H20 Wrestling in Williamstown, New Jersey. The owner, Matt Tremont, is a personal friend of Samantha's, and he gave us unlimited access. The film would not have been possible without his support, and we are extremely grateful for that.
Post-production was where the story really came to life. We had quite a few different edits, and each one told Samantha's story in a slightly different way. The film first premiered in front of an audience in December 2018, and we spent the Spring of 2019 reshaping the film for the festival circuit. At first, we thought we needed to add more information to make the film more robust. We had cuts as long as 18 minutes! We spent months shaving the film down until every second of the film was justified for the greater story. Instead of giving the audience too much information, we decided we would rather leave the audience wanting more.
(Pictured Above: From left to right, Steven Stewart, Unagh Frank, and Jakob Markwardt.)
StudentFilmmakers Magazine: If you could share your Top 3 Film Directing Tips for student filmmakers and aspiring film directors, what would they be?
Addison Dlott:
Tip #1: Fail forward. You will fail. A lot. As a director, you will have great triumphs and failures. Allow them to both be epic. But when you fail, mourn, make it quick, and move on. The success you will find at the end of the journey would not be possible without the defeat. Learn from your mistakes, and you must be resilient and fearless to move past your failures.
Tip #2: Embrace constructive criticism. Seek and receive input about your work. Think of listening to feedback as a way to challenge yourself to make your work better. Of course, you still have agency and creative freedom, but listen openly and actively, especially to folks in your network whose work you respect and admire.
Tip #3: Learn to hit targets as they move. The final product of our documentary looked much different from what we had originally anticipated. Learning to pivot when things weren't working was critical to the overall success of the film. As the vision for the film changed over the production process, our team was able to think critically and strategically about how to move forward because as a unit we understood changes during the production process. Enjoy the process and the journey, and know from the start that the goals of your film will likely change, and that's okay.
(Pictured Above: Still from the film, "Queen of the Dinosaurs: A Wrestler's Story".)

Addison Dlott is a storyteller, content creator, and writer. Her work spans a spectrum of media and non-profit organizations including CNN, PBS, MIT, and Lady Gaga's Born This Way Foundation. She has long had an interest in exploring the intersection of storytelling and social change. Her work has been recognized by the Director's Guild of America, and in 2019 she was named as a Fulbright Grant Recipient. She is an Ithaca College graduate with a B.A. in Documentary Studies and Production. www.addisondlott.com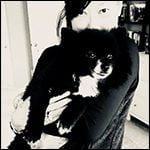 Interview conducted by Jody Michelle Solis. Associate Publisher for StudentFilmmakers Magazine (www.studentfilmmakers.com), HD Pro Guide Magazine (www.hdproguide.com), and Sports Video Tech (www.sportsvideotech.com) Magazine. "Lifelines, not deadlines. Motion Arts. Fusion Everything." If you're in Dallas, sign up for Jody's Yoga Class.