Pictured above: "The Sentinel: Poachers". Written and Directed by Tony Westman. Producer Danny Bilson.
Tony speaks with series star Richard Burgi to prepare for a boat chase scene.
A Conversation with Tony Westman csc
"The daunting task is not to imitate the great works of cinema, but to advance the traditions in imaginative ways."
Exclusive interview conducted by Jody Michelle Solis
Tony Westman csc has been making films and taking photographs for over forty years both as Director and Director of Photography. His film projects include drama, documentaries, television, features and corporate productions made on film and high-definition video. His roster of clients include Castle Rock, Warner Brothers, 20th Century Fox, NBC, ABC, CBS, CBC, National Film Board of Canada. Film projects have provided a rich exposure to diverse locations and peoples, from the Canadian Arctic, deserts of Egypt, jungles of Peru, China, Japan, Australia and the South Seas.
Recipient of two Canada Council grants, one for film and one for still photography, he has had numerous  photographic  exhibitions in Vancouver and Montreal. His photographs are in collections of the National Gallery of Canada, National Film Board and private collections. His film awards include Canadian Society of Cinematographers, Yorkton Film Festival, Leo Awards, and O Globo Awards of Rio de Janeiro. He photographed the 1985 Academy Award nominated documentary, "Children of Soon Ching Ling". 
Your career as a Director of Photography and Director embraces a rich body of work that includes still photography, television, and film. What are some of the differences between filming styles for feature films, TV movies, episodics, and documentaries?
Tony Westman csc: Regarding questions of style, so much of what you see on the big or small screen are prescribed by story, budget and visual language. As filmmaking is such a team effort on an industrial scale, you quickly realize the necessity of a skill set that will engage with the myriad dynamics of production yet still allow for your own creativity that must survive all the pressures, conflicts and compromises that somehow combine to make a successful film. The key to this is visual imagination with narrative and technical skills combined with an engaging personality. Certainly, a good sense of film history, art history, etc., are important sources of inspiration, but the daunting task is not to imitate the great works of cinema, but to advance the traditions in imaginative ways. Yes, there are continuing advancements in technologies of capture, but the real challenge is to apply the tools in a way that become invisible as they serve as the glue that binds all the elements that make a motion picture great. As for a career choice, it is like running away to the circus… where I spent over forty years living the dream.
What I enjoy about still photography is that I am in control of story, visual language and budget [or the lack of]… Of course, making a living as a commercial enterprise is a whole different adventure… So, I do it for love and preserve this arena as an enjoyable hobby. You can do anything you want, only limited by your imagination… No pressure…
Documentary filmmaking is a step into the filmmaking labyrinth where it is still possible to be an auteur, that is, of course, if you have passion for the subject, clever storytelling, acute producing skills with a creative, technical skillset and personal bravado for adventure to capture the magic of your idea that will propel your film to fame and fortune. Documentary is a verb, not a noun. It is not a series of interviews but a compelling representation of what is being described by those telling their stories. Confronting reality and finding truth and beauty is one of life's great pleasures. Imagine making a career of it?
As for feature films, especially major studio productions that are singularly unique in story, director's vision, style and scope where the idea often determines the budget, in my experience, the biggest challenge as a DP was how to think big enough to fulfill the director's story vision… And to find the confidence to actually achieve or surpass expectations. You can imagine the fun and challenging egos that unfold when every department is thinking like this… Except for the producer who has to find the money.
TV movies want to do the same things as feature films without all the resources. Such productions are a team effort to conspire to envision what is possible within the scope of time and budget. The magic here is how to make the story look big: the plane crash… that happens off camera, the survivors trudge through the snow in the remote mountains…dodging ski lifts and snowboarders… Yet these modest efforts although different, are but equal to challenges of big budget features: to maximize the dramatic and visual qualities of the story, usually more character-based than sprawling epic in scope, but they must fit into a budget and schedule.
Episodic television series often have feature envy yet without time, money and singularity of purpose but have the advantage of allowing the story and characters to wander over time and space for many years. The big difference to the other forms of production is often episodic story telling made by several layers of producers that attempt to provide the necessary Big Idea complexity needed for longevity in a crowded media marketplace. Usually, a team of writers led by a 'show runner' turn out the weekly scripts and hash out the vast array of story complexity with plot twists and turns, character development, surprises and unresolved threads to keep its audience engaged and advertisers happy, week after week. I have served as writer, director and DP on series and experienced some of the unique challenges of this genre for storytelling, visualization and production value. The good news is that episodic production is like a big family working together in the movie factory. The hard part of episodic is living up to the aspirations of feature quality often with long hours of production on a weekly basis. From a visual language standpoint, once the 'look' of the show has been established in the Pilot, which is where the real fun is, the next many years of production must maintain that look as the formula and that sometimes can get rather tedious.
What was one of your most favorite or memorable scenes or segments to light, and why? What was occurring in the story, and how did you light it?
Tony Westman csc: I recall one of the biggest and most complicated scenes to light and choreograph was in the feature film, "Needful Things", based on a Stephen King thriller about the Devil coming to town to cause havoc and gather souls of the victims. It was my first big budget studio film directed by Fraser Heston [son of Charlton Heston]. Most of the film took place at night in the small seacoast town of Castle Rock [Gibson's Landing] where we spent over a month at night, mostly in the rain on the main street blowing things up. If it was not raining, then we made rain with towers with huge overhead trusses and fire hoses. One of the many challenges was keeping the 'look' consistent night after night with multiple cameras, dollies, steady-cam, techno-crane and multiple lighting cranes to provide the 'night look' in the town with all the action in the streets where we would shoot 360' with a large cast that moved from one location to another, then doing the same action multiple times to do individual coverage, stunts, etc. It always amazed me how much lighting we needed to do to make things look dark and creepy. To maintain the mood with rain, you must always use backlight to make the rain show up. This can be tricky if it is supposed to be dark. This project was in the days of film, when you sent the day's work to the lab in Vancouver, then after a long production day (night), we would collect in the production office and see the 'dailies' with a 35mm film projected by the editor, and we would brace ourselves for a critique about the qualities of our work… and sometimes a list of things to reshoot due to technical and/or creative issues. On the plus side, as a pressure cooker of challenges, this project forced me to develop effective habits, insight, procedures and management skills that allow me to be a 'creative' member of the production, like a musician playing improv… You feel the 'story moment' and have a mystical visual ability to make it all work, day after day, night after night, week in, week out.
Can you tell us a little bit about your experience filming wildlife?
Tony Westman csc: I have never done wildlife photography, per se, as I don't know much about the animal kingdom…and I don't think I have the patience to sit in a blind waiting for a rare sighting. That being said, one of my first professional documentaries with the National Film Board was a film called, "Beluga Baby," that recorded the birth and death of a beluga whale at the Vancouver Aquarium. I spent many hours a week for a period of 4 months at the aquarium observing and filming a pregnant beluga in a tank with regular consultation with research scientists, so I learned a lot about the social and biological aspect of beluga whales. To be witness to the whales swimming around the tank was a lesson in detailed, creative observation of an extraordinary life form and live birthing event that revealed some of the mysteries of their existence, and I was able to capture just a small but important fragment. The film was a success, and in the course of my time at the aquarium, I met the woman who became my wife, we are still together after 43 years. The best advice I can offer is to follow your heart… film what excites you… but immerse yourself in all aspects of your subject, do research and ask informed questions…  And it is also good to have a scientist as your partner and have a wild life together.
What are your Top 3 Directing Tips for new filmmakers?
Tony Westman csc:
#1. Make your dramatic films feel real and your documentary films dramatic.
#2. Filmmaking is both an art form and commercial enterprise. More importantly, it is dream machine that is sustained by ideas that reflect stories of the human condition that stitch together our diverse populations. The more aware you are of the mysteries of life, love and destiny, the easier it is to surround yourself with like-minded creative souls to make films that will please an audience and be recognized for its contribution to a better society.
#3. Directing a film is like cooking, you need the right ingredients [script, cast, crew, locations, budget, etc.], but like good cooking, you need inspiration, talent, tenacity, vision, and finally, you must deliver the culinary/cinematic masterpiece the audience is expecting which must satisfy their wildest expectations and leave them wanting more.

"Beluga Baby", NFB documentary, Tony Westman Director / Cinematographer.
Editing with help from the whales.

"The 4400" series, Directed by Scott Peters CBS Paramount.
The hero meets the goddess.

"Children of Soong Ching Ling", Director Gary Bush, Academy Award nominee 1985.
Filming in China, following the footsteps of Madam Sung Ching Ling and her dedication to child welfare.
Muppets Wizard of Oz, Walt Disney Company, Directed by Kirk R. Thatcher.
Miss Piggy the Good Witch meets Dorothy, Kermit and friends.
"She Stood Alone: The Tailhook Scandal", TV film, Directed by Larry Shaw ABC.
F-16 fighter jet with crew at work.
"Air India 182", Directed by Sturla Gunnarsson, CBC.
Tony Westman, DoP.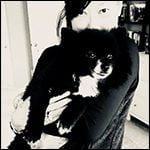 Interview conducted by Jody Michelle Solis. Associate Publisher for StudentFilmmakers Magazine (www.studentfilmmakers.com), HD Pro Guide Magazine (www.hdproguide.com), and Sports Video Tech (www.sportsvideotech.com) Magazine.
"With the rapid application of the changing technologies, we are all students."