Peter Rowe csc has produced and directed over 200 films and television shows, including 8 features and Angry Planet which was broadcast around the world. He was nominated for several Gemini, Genie and Directors Guild of Canada Awards, won two Canadian Society of Cinematographers Awards for Lifestyle/Reality Cinematography, a Platinum Fexy Award, and awards from the Houston, Sydney, and Dawson Film Festivals.

Peter talks with us about some of the most dangerous, high-risk situations shooting in the wilderness and describes filming and lighting in these unique situations. He also touches upon how he handled challenges while filming in some of the most remote places on the Earth. Peter also shares his Top 3 Wilderness Filmmaking Tips for students and new filmmakers.
While filming episodes and segments for "Angry Planet," what were some of the most dangerous, high-risk situations shooting in the wilderness? Can you describe your experiences? How did you shoot and light in these unique situations?
Peter Rowe csc: We made 49 episodes of Angry Planet, each of them completely unique and different from the others. We filmed hurricanes, tornadoes, deep caves, wild parts of the ocean, great white sharks, mountain gorillas, poisonous snakes, volcanoes, the Arctic, the Sahara, Antarctica, winter blizzards and the monsoon in India and Bangladesh. Consequently, I had to become expert not just at one kind of wilderness filmmaking, but in many kinds.
Underground caves are certainly one challenging environment to shoot in. We filmed in one cave in Costa Rica with a crew of just three – myself, my host George Kourounis, and a caving guide. It was a wet cave, so we were often crawling in low narrow passages through a foot or two of water, me with a housed waterproof camera and my accessories floating in a watertight Pelican case, my guide carrying a couple of lights for me in a waterproof case.
For another episode, we filmed in very remote, little-known caves on northern Vancouver Island. They were very difficult to enter, requiring a rappel down a long rope. Hard to get into; much harder to climb up in order to get out! Again, these were very wet caves. Again, Pelican cases are a requirement as they can be dropped, submerged or slit down rocky slopes, without damage to the gear. Another challenge, though, is that you get filthy dirty in caves, and so finding a way to dry and clean your hands before handling the cameras is a chore that needs to be dealt with.
We also filmed at the Bonnechere caves in Ontario in January. There, we were often swimming through near freezing water, so had to wear full drysuits, covered with overalls to protect the drysuits from the sharp edges of the caves.
At the other end of the spectrum was the Crystal Cave in Chihuahua, Mexico. I was very privileged to see this cave, as it was only able to be seen by anyone for about 5 years. It was only discovered accidentally when silver miners pumped the water from it, and in total only about 60 people ever saw it. Very difficult and expensive to visit. It was an extraordinary cave, very deep, maybe the size of a large basketball arena, filled with a collection of the world's largest crystals, one over 35 feet long and weighing 60 tons.
The cave was incredibly hot, 105˚F with 100% humidity. I could only film there because of the help of the Mexicans, who lit up the cave and provided me and my host and crew of one with refrigerated suits and the needed medical team to keep us safe. That film is on my Vimeo site. You can see the film, but I'm afraid you can't see the cave, as the Mexican mining company eventually turned off the pumps and it filled back up with very hot water, and probably will never be seen again.
Filming tornadoes sounds dangerous, and it can be, but it is perhaps not quite as dangerous as it sounds, if you have the storm chasing knowledge to stay out of the way of them. Hurricanes, though, are a different matter, since they are so much larger in size and so you have to be inside them to film them. I've filmed five of them. The wildest was Hurricane Ike, which I filmed not only as it walloped Galveston, Texas, but also from inside one of the USAF "Hurricane Hunter" planes. While I was aboard, we flew inside the eye of the storm as it passed over Cuba. An exciting day of filming, not just of the storm, but of all the airmen and women on the plane, working to monitor the big storm from the air.
Detailed stories of this adventure filming, and the rest of my career filming drama and documentaries, can be found in my memoir, Adventures in Filmmaking, which is available at Amazon. I write about other subjects as well. My latest book is Music vs The Man. It, too, is available at all the online booksellers.
When you were in some of the most remote places on the Earth, how did you handle technical problems and fixes with equipment and gear? What are some examples of technical issues that occurred, and how did you approach and solve those problems?
Peter Rowe csc: I have filmed on about 23 volcanoes everywhere from Italy to Iceland to the South Pacific. They are quite challenging in many different ways. First of all, you normally have to climb to the top of them. I once had the luxury of a helicopter ride to the top, and on the two biggest ones in Hawaii, you can drive to the top, but the rest all require long, hot, steep climbs, by foot. The most challenging was Mt. Semeru in Indonesia, which requires a two-day hike, then a long final push to the summit up a 45-degree slope covered in scree – two steps forward, one step back. That final push started at midnight so that we would be close to the summit by daybreak. We had a big team of porters with us for that one, but still no space for lights, so I filmed the night climb in infra-red mode. The hardest part of filming these climbs is staying ahead of the rest of the team so that you can get good shots of people climbing towards you. Nobody wants shots of bums disappearing up the hill. My usual technique was to buy a few packs of local cigarettes and hand them out to guides and porters, encouraging them to take a smoke break so that I could climb up ahead of them and find a good spot to film them climbing towards me.
I don't smoke but am not above helping others do it, if it helps the film. I certainly don't after filming on top of a very active volcano in Vanuatu, when I had my worst filmmaking accident, inhaling sulphuric acid from the volcano, which destroyed one of my vocal chords and sent me into hospital treatment for many months.
Adventure filmmaking can be rough on equipment, too. Cameras and lens don't like acid, either, and have to be taken care of and frequently cleaned. Even our tents were vulnerable on that Vanuatu shoot. A combination of the acid rain and hurricane force winds ripped our tents apart, making for difficult sleeping conditions for the rest of the shoot. Oh, well, less stuff to take down the mountain with us – we just threw the tattered remains in the burning lava lake.
What have you enjoyed most about wilderness filmmaking, and what were your most favorite countries and locations to film, and why?
Peter Rowe csc: I have filmed features and TV series with a 40 person crew, and filmed in the wilderness by myself or with only one or two other people. When I'm in the midst of the complications that come with a giant cast and crew, I often long for the simplicity of what I call 'shake and bake' solo filmmaking, and often when stuck in the midst of torrential tropical rainstorm or a frigid winter blizzard, I pine for the craft service/multi-assistants/gourmet lunches of a big drama shoot.
As for favourites, I have many. Timbuktu was an extraordinary place to film – difficult to get to, crazily hot, quite dangerous, [we had to make some distinctive secret moves to avoid being captured by bandits], and with lots of wonderful people and places to film. Filming great white sharks at Guadeloupe Island underwater 90 miles off the coast of Mexico was great fun.
I've never had a horrible filming experience, but I probably wouldn't voluntarily choose to go back to sleep in unheated tents in 40 below zero weather either in Siberia or on Baffin Island. Baffin Island was also where I probably came the closest to eating it. We were travelling by dogsleds accompanied by snowmobile pulling a komatik containing our heavy supplies like the generator needed to recharge the camera batteries, and the food needed to recharge the dogs. At one point, I climbed on to get some shots of the dogsleds crossing the ice. On a very slick piece of ice, my Inuit driver spun out of control, and I flipped out of the sled, hitting my head on the ice. I was the only person on the team wearing a helmet, and a good thing, too, or you wouldn't be reading this. I still wear the helmet for skiing, [I know, I know, you're not supposed to use it after an accident like that]. Every time I put it on, I note that the dent, that could have been in my skull, is still there. My camera flew from my hands and slid 40 feet across the ice. When I retrieved it, it was still running. Good old Sony.
What are your Top 3 Wilderness Filmmaking Tips for students and new filmmakers?
Peter Rowe csc: Know your equipment well before going out in the field. There won't be much time then to be learning how to use it. Look after yourself as well as your gear. Even if your gear is performing well, you won't be getting full value from it if you are cold, wet or hungry. I once heard someone ask this question of Roger Corman at a forum at the Montreal Film Festival. His simple answer was, "Wear comfortable shoes." There is a lot of truth to that, but he was talking about the often-simpler chore of shooting drama. Out in the wilderness, it is your first responsibility to make sure you are healthy, rested, ready to go and dressed for the occasion, so that you're not too hot, too cold, too wet, well-protected from the sun, etc., etc. And, wear comfortable shoes.
And if you are suffering, well, suck it up and get on with it. It is a hell of a privilege to be able to tell stories with film, and no-one wants to hear you complaining about it. My Angry Planet host George and I did 49 shoots for the series, in the craziest of conditions, and I never once heard a complaint from him, and don't think he heard one from me.
On documentaries, when in doubt, shoot it. You never know how it is going to get put together back in the edit suite, so as well as the money shots, which of course are the main thing you're there to get, also get travelling shots, entrances, time lapses, colourful b-roll and shots of the local people doing their thing. Your editor might whine about how much footage you give him or her, but not as much as if you give them too little.
The toughest part of filmmaking is and always has been getting the money to go do it. That's not getting any easier, but the filmmaking itself is, what with digital cameras, LED lights, internet access everywhere, etc. Go for it, and good luck with it.

www.peterrowe.tv
www.vimeo.com/peterrowe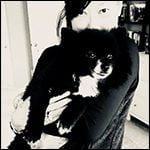 Interview conducted by Jody Michelle Solis. Associate Publisher for StudentFilmmakers Magazine (www.studentfilmmakers.com), HD Pro Guide Magazine (www.hdproguide.com), and Sports Video Tech (www.sportsvideotech.com) Magazine.
"With the rapid application of the changing technologies, we are all students."
Recommend

0

recommendations
Published in Cameras, Cinematography, Documentary, Interviews, Lighting