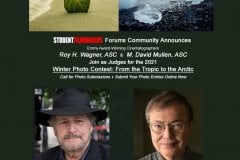 Roy H. Wagner, ASC & M. David Mullen, ASC Join as Judges for Winter Photo Contest
Our Winter Photo Contest Judges, Roy H. Wagner, ASC and M. David Mullen, ASC, have agreed to aid you in the making of the perfect photo for our contest and answer some of your questions. To take part in our Q&A, all you have to do is post your question in this thread...
The Zen of Focusing: On the Surface Focusing Seems Simple
During a blocking rehearsal, marks are laid to indicate the places on the set where the actors will be stopping and standing during a scene. The first assistant measures the distance from the focal plane (on the camera) to each actor's position using a cloth or fiberglass tape. The first makes notes or memorizes the distances…
How to Boost Your Film Crowdfunding Success
Every indie filmmaker knows the difficulties of making a movie. Every single one of those filmmakers would tell you that, unless they funded the film out of their own well-lined pockets, raising money for the film was by far the hardest, most stressful element of the entire process. No one likes to ask for money, and no one likes rejection, especially filmmakers…
Screenwriting: 17 Scene Reversal Ideas
Almost every scene in your film should have a reversal to build up suspense. Reversals keep the audience guessing as to what is going to happen next, and pulls them into the story, prompting them to search for the new surprise. Once you understand reversals, you will see them in every good movie...
8 Common Mistakes Every Filmmaker Will Make
Mistakes help us to grow. What's true in our personal development is also true in the development of our films. Making mistakes allows us to see what we did wrong and forces us to come up with creative ways to fix the problems. And, because of the fluid nature of filmmaking, mistakes can often lead to "happy accidents."…
The Power of Ambience: Don't Overlook This Key Ingredient in Audio for Film and Video
When recording sound, more often than not people overlook a few key ingredients that could allow them a painless editing process in post. One ingredient is ambience. This audio is typically the kid forgotten at home while everyone else travels across the world to have fun...