The 3D Design and Motion Tour 2019

Learn 3D production techniques from professionals. Get inspired.
Coming to a city near you - this one-day event is for designers who are interested in learning in-demand 3D production techniques. The event will cover basic 3D skills and a step-by-step breakdown of processes used for creating a state-of-the-art animation. Includes presentations by celebrated 3D artists sharing their work and techniques.
All attendees will receive licenses of Cinema 4D, Adobe Creative Cloud Suite, RedShift, and Linkedin Learning, and free resources from Kitbash and Sketchfab – a $1,000 value. To receive these goodies, you must be present at the event.
Use the Coupon Code "STUFILM" for 50% off the $95 ticket.
Register Now. Seating is Limited.


---

LITRA Video and Camera Lights

Litra is a global award-winning brand that designs and manufactures professional grade video and camera lights. Litra pushes the limits in engineering to make the world's best compact, rugged, waterproof lighting solutions. Whether used with a DSLR, video, action camera or smartphone - or used in a studio, wilderness or below water - Litra's mission is to provide content creators with flexible and unlimited lighting tools. Litra enables photographers and filmmakers to focus on their craft and empowers them to create something beautiful. Get 20% off your Litra purchase with code: LITRAXSFM20 valid through August 31, 2019.


---

Conversation with
Peter Stein, ASC

"The way I light is I like people going in and out of light. If I'm shooting people and there's not enough light, I'll bounce it. I'll light them in a portrait kind of style as if I was shooting an interview in film, which I've shot a lot of interviews in my day. The concepts are still the same, the key light and the fill light and the back light and the background light, those four areas that you think about but it's different in film because of the motion picture aspect of it..."
[Read Article]


---
Make Better Blockbuster Kung Fu Films:
8 Training Secrets for Mastering the Art
by Sherri Sheridan

Kung Fu films need more than good fight scenes to succeed. The biggest challenge most kung fu films face in capturing Western audiences is character identification, unique genre elements, plot twists and strong themes. Enter the Dragon was the first big kung fu film to crossover because it was made by a Hollywood studio that knew how to mix the ancient mystical Asian fighting elements with mainstream America tastes... [Read article]


---

"Never Stop Shooting: The #1 Rule"
by Scott Spears

I remember sitting on a set waiting to shoot a scene while we waited for some element that we had planned on having and wasting valuable time, but this is something you cannot afford to do, so you need to have a plan "B", "C", and "D", and when those fail, you need to be able to think on your feet. [Read article]


---

Q&A with Steadicam Operator Jerry Franck

"There are two main operating techniques: high and low mode. As most steadicam operators, I am not a fan of low mode since it puts the operator in a very awkward position because the majority of the weight is then lower and further away from your body. However, low mode shots are very dynamic frames. That being said, my preference is to high mode/regular steadicam mode. Even though it sounds generic, my favorite shots are leading actors through a set and maintaining a perfect composition and horizon at all times. Other than that, I would say that I'm a fan of anything fast-paced and dynamic because it is my job to make the shot look smooth and controlled in a very chaotic and urgent atmosphere." [Read article]




ONGOING LIQUIDATION -

10% Price Reduction - Excess Gear to The Ongoing Operations of Keslow Camera Digital Cameras, Lenses & Camera Accessories Prime & Zoom Lenses, Telephoto & Specialty Lenses, Digital Cameras, Follow Focus Kits, Heads, Monitors, Media, 9,000 Filters, Machinery & More.
For Inspection & Sales Please Contact:
Jonathan Holiday at (805) 367-3893 or

[email protected]

or go to
http://soldtiger.com/cgi-bin/mndetails.cgi?tigergrp352


---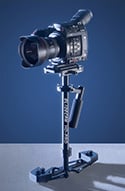 Glidecam Stabilizers:
Glidecam HD-PRO

Glidecam Industries introduces the Glidecam HD-PRO. For cameras weighing up to 10 pounds (4.53 kg). With 28 years in the making, the Glidecam HD-PRO represents the most affordable, full featured, hand-held camera stabilizer Glidecam has ever offered. Machined out of experience, and forged with the operator in mind, the Glidecam HD-PRO once again delivers the state-of-the-art sophistication and design that Glidecam is famous for. No batteries. No software. No firmware. Just simple mechanical reliability.
www.glidecam.com


---

NAB Show New York®
October 16 - 17, 2019
New York, NY, USA
Jacob K. Javits Center

Give the media and entertainment routine a change of scene. Located in New York City, a melting pot of content, products, and inspiration, NAB Show New York is the largest gathering of the media, entertainment, and technology community on the east coast. It's where insights are shared, makers meet, and creators connect—in the center of the world media capital. Visit www.nabshowny.com.

Visit StudentFilmmakers Magazine Booth # N1058 at 2019 NAB Show New York – Manhattan, NYC.


---

The New Standard for Recording Audio on RED Cameras: DXA-RED from Beachtek

Super Compact and Easily Mountable Dual XLR Adapter for
RED DSMC2 Cameras. Ultra Compact Chassis. 2 balanced XLR Inputs. Phantom Power. 40db or 60db Gain. Main and Aux 3.5mm Outputs. Bracketing Ability. 2-pin LEMO Power Jack. Micro USB Power Jack. Good / Over LED Indicators. Versatile Mounting Options For more information, go to beachtek.com


---

IBC2019, Amsterdam

IBC will be hosted in the heart of Europe's startup technology scene in Amsterdam from September 13 to 17, 2019. IBC showcases some of the world's latest innovations in media technology. IBC enables visitors to not only see the latest media technology, but also to touch, test, compare and place orders. The flagship IBC Conference features a curated programme including over 400 of the world's leading industry influencers and experts providing an authoritative and independent view and helping to shape the future of the industry. Register today.


---

Register Now for PHOTOPLUS

Get the full picture. Immerse yourself in the most dynamic, interactive experiences for photographers and videographers seeking the newest technologies and techniques that will take their art to the next level. This is the must-attend event of the year—join the entire photography and videography community at PHOTOPLUS 2019, October 24–26 at the Javits Convention Center, New York, NY.

StudentFilmmakers.com & StudentFilmmakers Magazine will be exhibiting at PHOTOPLUS. Visit Booth # 665.