SHAPE camera rigs and accessories for Panasonic Lumix S1 & S1r

Specifically designed for the Panasonic Lumix S1R/S1 cameras, the form-fitting cage offers additional protection and securely locks the camera to the cage. It also provides easy access to all controls and ports as well as multiple attachment points for accessories.

PRO FEATURES
For Panasonic Lumix S1R/S1 cameras
Formfitting Design cage with multiple mounting options
Cage designed to fit with standard dovetail Arca swiss quick release mount
Top Handle compatible with Panasonic DMW-XLR1 audio unit
Rig with shoulder pad , quick handles, matte box and follow focus www.shapewlb.com


---
Download Your Complimentary Copy of the "Accelerated Broadcast Club Curriculum"

Learn Live Video Production. Student filmmakers are already familiar with the tools used for creating engaging videos. The new Accelerated Broadcast Club Curriculum, also known as ABC2, is a free book helping students "up their game" in the live streaming world. Live streaming is a powerful tool, broadcast clubs have been using for years, to produce live student announcements, online graduation streams, and even live school sports.


---
JVC's New CONNECTED CAM GY-HC500 Camcorder

The GY-HC500 is a handheld 4K production camcorder offering uncompromised live and recorded image quality, and connectivity. Shoot 4K ultra-HD with HDR and record to SSD or SDHC/SDXC media in a wide variety of formats. Ultra-HD ProRes 422 10-bit at 50/60p is possible when recording to SDD media, (available separately). The GY-HC500 CONNECTED CAM also features high performance 1080 60p/50p live streaming with low latency (<500 ms) and a full complement of IP remote control and viewing features. It's truly the most advanced and versatile camcorder in its price range.
pro.jvc.com/pro


---
Carl Zeiss Cinema Lens Demo Center

"For over one hundred years, ZEISS has been on the forefront of cinema lens technology. Now we are bringing the that technology directly to you with our new Cinema Lens Demo Center in Sherman Oaks, California. We are focused on supporting the cinematography community by creating a state-of-the-art facility, complete with a showcase of cinema lenses, a camera prep area, a lens projection bay and a 4K theater. Make sure to schedule a one on one demo and experience the finest that ZEISS has to offer.

[email protected]

"
www.zeiss.com/cine
---


"Your magazine has some very high-end stuff, and it's good people, and I'm really impressed. I think that the quality of writers is phenomenal. It might be over the heads of some of your readers, but for others, it is a good resource."
~Ron Dexter, ASC

"It would have been wonderful if I had a magazine such as the StudentFilmmakers magazine available to me when I first started dreaming about becoming a cinematographer. It would have helped greatly to open up and help me understand the world of filmmaking and how to become part of it."
~Andrew Laszlo, ASC


"I found the StudentFilmmakers Magazine content to be very relevant and helpful on the field. Your CONTENT is what makes people stay."
~Alberto Faccon, Founder of Orange Cat Studios, New York


---
Never Stop Learning.
Academic & Professional
Filmmakers Store
Excellent Learning & Teaching
Tools For Filmmakers
This Week's Editors' Audio Book Picks



Here's an advanced look at the 2019 Volume 14, No. 3 Edition of StudentFilmmakers Magazine. This exciting issue includes educational articles and how-to's covering topics in the Five Stages of Motion Picture Creation: Development, Pre-Production, Production, Post Production, and Distribution. Preview the Table of Contents below.


Article Preview

Get Your Film Made
By Jared Isham

Getting your film made, for many, can be packed with fear and uncertainty. The obstacles, no matter how much experience you have, are great but the good news is that the bar to entry is getting lower. At this particular time in the history of filmmaking, the excuses as to why you haven't made your film yet are getting rather slim...



Article Preview
Chicago from Another World
Making the Music Video,
"endless frozen dawn"
By John Klein

When composer Andrew Edwards approached me in the spring to direct and shoot a music video for a track off his upcoming album, "The Center of the Sky" – an orchestral concept album inspired by the difficult time spent in southern Illinois during his mother's final battle with Stage IV cancer – I was incredibly honored and humbled by the request and leapt at the opportunity...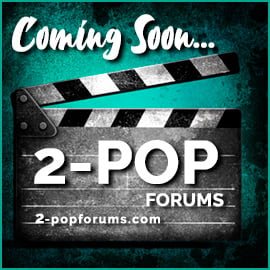 Article Preview
How to Relieve Stress When Shooting Live Events
10 Helpful Tips
By Michael Skolnik



Stressed out shooting live events? It doesn't have to be this way (most of the time). I've spent many a night before a wedding shoot losing sleep over potential problems that might or might not happen. There are plenty of horror stories out there such as: camera not in record, batteries suddenly low, arriving late, etc. Most of these, if not all of them, could be prevented. While some of the solutions might seem obvious, it can't hurt to refresh ourselves...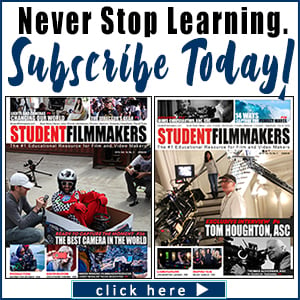 Announcing NEW StudentFilmmakers Magazine Online Community Updates

StudentFilmmakers Magazine & StudentFilmmakers.com have updated the Filmmakers Forums Online Moderated By Experts (studentfilmmakers.com/forums), and have launched a brand NEW interactive forums community inside the online news section of the site (studentfilmmakers.com/community). Join the interactive filmmaking forums online. Post your questions and answers. If you are interested in becoming a featured moderator, contact us through our online contact form here. Additionally, editorial staff will be selecting forums posts to feature in the StudentFilmmakers weekly eNewsletter.

Let's get the online conversations rolling.
See you online.