Catch ZEISS at Cine Gear 2019.
Visit them at Booth #49 - NY Streets, and attend their presentations at Sherry Lansing Theatre.
Friday, 5/31, 3:15pm-4:15pm: "Cinematographers Bring a Large Format Look to the Small Screen", a panel discussion on creating a cinematic look with small budgets and tight schedules, featuring DPs Zachary Galler, Sandra Valde-Hansen, and Adrian Peng Correia
Saturday, 6/1, 4:00pm-5:00pm: "Uniting Production and Post for a Streamlined VFX Workflow", a special screening of new horror short film, Stucco, plus Q+A with Director Janina Gavankar, DP Quyen Tran, and more.
www.zeiss.com/cine

>>View Zeiss on Cine Gear Map


---
FLUOTEC design and engineering pure white tunable light in @CineGearExpo with the award-winning line @CineLight120 large aperture big surface affordable soft lighting. The new @CineLight480 Super Quad is a constant output BiColor tunable DMX LED Long Throw Panel Soft Lighting fixture of high quality pure white light with interchangeable difussion and a CCT range from 2700 K to 6700 K. It features a constant output of pure white light making it the largest and most powerful luminaire on the market.

>>View Fluotec on Cine Gear Map


---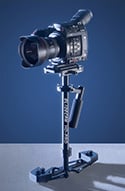 Glidecam Stabilizers:
Glidecam HD-PRO

Glidecam Industries introduces the Glidecam HD-PRO. For cameras weighing up to 10 pounds (4.53 kg). With 25 years in the making, the Glidecam HD-PRO represents the most affordable, full featured, hand-held camera stabilizer Glidecam has ever offered. Machined out of experience, and forged with the operator in mind, the Glidecam HD-PRO once again delivers the state-of-the-art sophistication and design that Glidecam is famous for. No batteries. No software. No firmware. Just simple mechanical reliability.

www.glidecam.com


---

The New Standard for Recording Audio on RED Cameras: DXA-RED from Beachtek

Super Compact and Easily Mountable Dual XLR Adapter for
RED DSMC2 Cameras


Ultra Compact Chassis
2 balanced XLR Inputs
Phantom Power
40db or 60db Gain
Main and Aux 3.5mm Outputs
Bracketing Ability
2-pin LEMO Power Jack
Micro USB Power Jack
Good / Over LED Indicators
Versatile Mounting Options
For more information, go to beachtek.com


---
All New Azden Broadcast Spec Shotgun Microphones: SGM-3500 / SGM-3500L

Adhering to Azden's highest engineering and performance standards, the 3500 series shotgun microphones are designed to satisfy the needs of even the most fastidious audio and video professionals. Extremely low, self-noise. Tuned for speech capture. All metal brass body. Gold-plated XLR connector. High sensitivity mic element. Wide frequency response. 10 year warranty. Focused directionality. Stop by Azden's Booth S310 at Cine Gear Expo.


---
Listen and download CSS Music's new royalty-free releases.

CSS Music's goal is to provide the best music and sound effects for film, video and television producers. They are dedicated to working with music supervisors, editors, directors and producers to meet their creative needs. With over 12,000 tracks to choose from for film or TV projects, CSS Music is a perfect solution to score your film or TV projects. They've been scoring the industry for over 37 years. www.cssmusic.com


---

Join the Filmmakers Global Network -  Bringing Together Students, Indies, and Professionals. Find Crew. Post Your Productions. Get Chosen to be Featured in StudentFilmmakers Magazine.



---
Join the Conversations.
Start Your Own Topics in the Filmmakers Forums Moderated
by Experts
---

FEATURED BOOK: "Documentary Editing: Principles & Practice"

Use coupon code:
SUMMERSAVER
Save on shipping in the U.S.A.

"Documentary Editing" offers clear and detailed strategies for tackling every stage of the documentary editing process, from organizing raw footage and building select reels to fine cutting and final export. Written by a Sundance award-winning documentary editor with a dozen features to his credit and containing examples from over 100 films, this book presents a step-by-step guide for how to turn seemingly shapeless footage into focused scenes, and how to craft a structure for a documentary of any length. The book contains insights and examples from seven of America's top documentary editors.
Order Today >>


---
Save Over 65% Off Cover Price with 1-Year Print Subscription

StudentFilmmakers Magazine is the bright star of film industry publications covering the latest technologies and workflows. Each issue addresses the needs of the five distinct phases of film and video making (development, pre-production, production, post production, and distribution) for educators, students and the continuing education of the professionals of today's industry. Subscribe today >>


---
IBC 2019, Amsterdam, September 13-17

StudentFilmmakers Magazine will be exhibiting at the show. Register now for your Complimentary Pass giving you access to the show floor, added value feature areas and the most influential companies in the industry - or to save €100 off your conference pass.

IBC2019 presents you with the perfect opportunity to connect with those at the forefront of the media, entertainment and technology industry. Invest your time and drive your innovations forward by gaining insight into emerging technology, developing new business connections and exploring
new strategies.


---
PhotoPlus Expo: October 24-26, Javits Center, NYC

StudentFilmmakers Magazine will be exhibiting at the show. See you in Manhattan, New York City.

Immerse yourself in the most dynamic, interactive experiences for photographers and videographers seeking the newest technologies and techniques that will take their art to the next level. This is the must-attend event of the year—join the entire photography and videography community at PhotoPlus 2019, October 24–26 at the Javits Convention Center, New York, NY.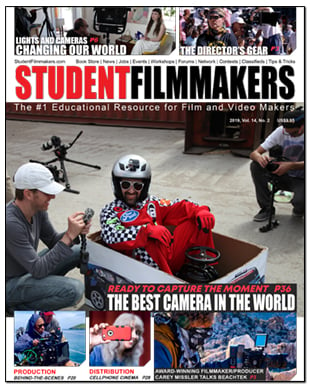 Download Your Digital Edition
of StudentFilmmakers Magazine



PDF Format. Need Acrobat Reader to view?
Get Adobe Acrobat >>

SELECT YOUR VIEW
Download options:



---
Registration is complimentary through May 25th 11:59 PM Pacific. After that time, a $30.00 cash admission fee will apply to all new registrants, payable at registration.
---
Meet and Network with StudentFilmmakers Magazine
at the Cine Gear Expo 2019, Paramount Studios, Hollywood, CA, Booth L602, NY Streets.
---
StudentFilmmakers Magazine
2019 Volume 14, No. 2, Cine Gear Edition
TABLE OF CONTENTS

CINEMATOGRAPHY

PAGE 6
Lights and Cameras
Changing Our World
By Dean Goldberg

PAGE 8
Great Cinematography Begins With…
Inspiration and Research
By David Landau

DIRECTING

PAGE 12 - 13
Historical Re-enactors
Add Authenticity and Production Value to Your Independent Film
By Fred Ginsburg, CAS, PhD

PAGE 3
The Director's Gear
3 Things
by David K Irving

PAGE 26
Make a Film
With No Bad Acting
By Jared Isham

PAGE 25
Casting
Color blind. Gender blind. Age blind.
By Tamar Kummel

CAMERAWORK

PAGE 10
Camera Composition
That Tells the Story
By David Landau

PAGE 36
The Best Camera in the World
Ready to Capture the Moment
By Todd Grossman

DOCUMENTARY

PAGE 14, 16 & 18
Audio Techniques for Documentary
How to Capture Good Location Sound
By David Appleby

PRODUCTION JOURNAL

PAGE 20
Good Morning Filmmaker
It's a Great Day to be Alive.
By Shane Stanley

AUDIO

PAGE 3
Award-Winning Filmmaker/Producer
Carey Missler Talks Beachtek
Interview conducted by Jody Michelle Solis

PAGE 24
The Scoring Process
Behind the Scenes of a Film Score
By Kristen Baum

POST-PRODUCTION

PAGE 27
Resolve's Cut Page
Cut Quickly, Move Faster
By Bart Weiss

DEVELOPMENT

PAGE 30
Step Away from Your Work
To Do Better Work
By Mark Simon - Storyboard Artist

PAGE 38
Development Phase
Our Roadmap
By JC Cummings

PAGE 37
How to Kick Off a Film
Where Do You Start?
By Richard La Motte

PRE-PRODUCTION

PAGE 44 - 45
Framing Your Shots as a Visual Device
Give Your Shots Added Depth with a Professional Gloss
Drawings by John Hart

SCREENWRITING

PAGE 32
How a Meaningful Theme
Creates Drama
By Scott A. McConnell

PAGE 34
CINEMATIC TECHNIQUES
Love of Art, of the Land, and of Adventure
By Pamela Jaye Smith
& Monty Hayes McMillan

DISTRIBUTION

PAGE 28 - 29
Smart Phone Filmmaking
Distribution for Mobile Filmmakers
By Susy Botello

FILM BUSINESS

PAGE 40
Small Talk
Important Tips
By Tushar Unadkat

PROFESSOR'S CORNER

PAGE 41
Cinematic Employment
vs. Cinematic Art...
By David Worth

STUDENT WRITERS

PAGE 42 - 43
"Out in the Woods"
The Making of the Film
By Emily Peacock

NEW TECH SPOTLIGHT

PAGE 23
Azden PRO-XR
Professional Grade 2.4 GHz
Wireless Microphone System

CONTRIBUTING WRITERS

PAGE 46 - 47
MANY THANKS
to Our Awesome Writers
In This Issue...