Every Story Starts Here @nabshow with us, THE EXPERTS OF PURE WHITE LIGHT

Lights Camera Action, the @FLUOTEC LightWarriors will be showcasing the NEW CINELIGHT QUAD, a professional LED DMX Luminaire, specially designed for Student Filmmakers. Be our guest at NAB Show, BOOTH C12316, in Las Vegas, April 8 - 11, 2019. https://lnkd.in/eNWbPBr – This is THE global Media, Entertainment and Technology marketplace. Use our Guest Pass Code LV9265 for a FREE Exhibits Pass – giving you access to the Show Floor and select educational presentations.

FLUOTEC …WE LIGHT.



---
For over one hundred years, ZEISS has been on the forefront of lens technology.

Now we are bringing the technology directly to you. ZEISS is proud to announce the opening of our new Cinema Lens Demo Center in Sherman Oaks, California. We are focused on supporting the cinematography community by creating a state-of-the-art facility, complete with a showcase of cinema lenses, camera prep area, lens projection bay and a 4K HDR theater. For more information, or to schedule an appointment:

[email protected]



We can't wait to host you.



---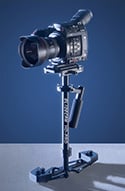 Glidecam Stabilizers:
Glidecam HD-PRO

Glidecam Industries introduces the Glidecam HD-PRO. For cameras weighing up to 10 pounds (4.53 kg). With 25 years in the making, the Glidecam HD-PRO represents the most affordable, full featured, hand-held camera stabilizer Glidecam has ever offered. Machined out of experience, and forged with the operator in mind, the Glidecam HD-PRO once again delivers the state-of-the-art sophistication and design that Glidecam is famous for. No batteries. No software. No firmware. Just simple mechanical reliability.

www.glidecam.com



---

The New Standard for Recording Audio on RED Cameras: DXA-RED from Beachtek

Super Compact and Easily Mountable Dual XLR Adapter for RED DSMC2 Cameras

* Ultra Compact Chassis
* 2 balanced XLR Inputs
* Phantom Power
* 40db or 60db Gain
* Main and Aux 3.5mm Outputs
* Bracketing Ability
* 2-pin LEMO Power Jack
* Micro USB Power Jack
* Good / Over LED Indicators
* Versatile Mounting Options

For more information, go to beachtek.com



---
JVC GY-HC500
Create. Capture. Connect.

* 4K UHD 60p/50p Apple ProRes 422 HQ 10-bit recording to SSD
* Newly-developed 4K lens with 20x zoom
* HDR recording, HLG or J-Log1 (10-bit)
* 1-inch 4K CMOS sensor

http://pro.jvc.com



---
Azden Introduces New Gear at NAB 2019, Booth #C7306


"At Azden, we don't just make microphones; we make innovative audio solutions for filmmakers like you. Solutions like the uniquely versatile SMX-30 microphone which offers the ability to switch between mono-shotgun and stereo pickup patterns. And the PRO-XD: a compact digital wireless microphone that offers excellent sound quality at an affordable price."

www.azden.com



---
At BandH.com:
NEW Panasonic AG-CX350 4K Camcorder

The Panasonic AG-CX350 4K Camcorder is designed for what Panasonic is calling the fusion of communication and broadcasting. A compact professional UHD 4K camcorder packed with features that you would expect to find in a full-sized camcorder. The AG-CX350 features a 1" MOS sensor recording in UHD resolution (3840 x 2160), in the MOV format using a variety of data rates including 400 Mb/s, as well as in HEVC at up to 200 Mb/s. The camcorder can also record HD in MOV, as well as HD/SD in AVCHD format for legacy productions. You can choose from eight different gamma settings including HLG, which provides an HDR output in the camera.

Visit BandH.com for the most
current pricing >>






Download Your Digital Edition
of StudentFilmmakers Magazine


PDF Format. Need Acrobat Reader to view?
Get Adobe Acrobat >>



Download Your Digital Edition
of StudentFilmmakers Magazine

SELECT YOUR VIEW
Download options: Forums | Global Network | Store | Resource Links | Post Jobs | Post Reumes
Meet and Network with StudentFilmmakers Magazine at the 2019 NAB Show, Las Vegas, Booth #C8944, located in Central Hall.


Table of Contents


Page 5
Must-Visit Booths |
2019 NAB Show, Las Vegas


CINEMATOGRAPHY


Pages 3 & 18
Observations on 10 Years of Teaching
Includes a short list of things for the cinematographers to carry in their kit.
By Thomas Ackerman, ASC


EXCLUSIVE CLOSE-UP


Pages 6 & 8
A Conversation with Tom Houghton, ASC


Pages 12, 14 & 16
A Conversation with
James Chressanthis, ASC, GSC


CAMERAWORK


Page 10
The Master Scene Method
With an example using the short sci-fi film, "Skimmers".
By John Klein


Page 17
Documentary Filmmaking
Get Close
By Rustin Thompson


Page 20
Why You Need to Learn to Drone
8 Things Drones Can Do for Your Film and 17 Beginner Drone Tips
By Sherri Sheridan


Pages 26 & 27
Anamorphic Lenses: A Primer
By John Klein


Pages 28 & 29
Shooting Plans & Shot Lists for Different Subjects: 14 Ways to Capture the Perfect Waves
By Sherri Sheridan



DIRECTING

Page 22
Filmmaker as Magician:
One of the Greatest Jobs on Earth
By David K. Irving


And more in this exciting edition!


* STUDENT FILMMAKERS FORUMS
* CLASSIFIEDS
* DIGITAL MAGAZINES
* GLOBAL NETWORK
* POST JOBS
* POST RESUMES
* LATEST INDUSTRY NEWS